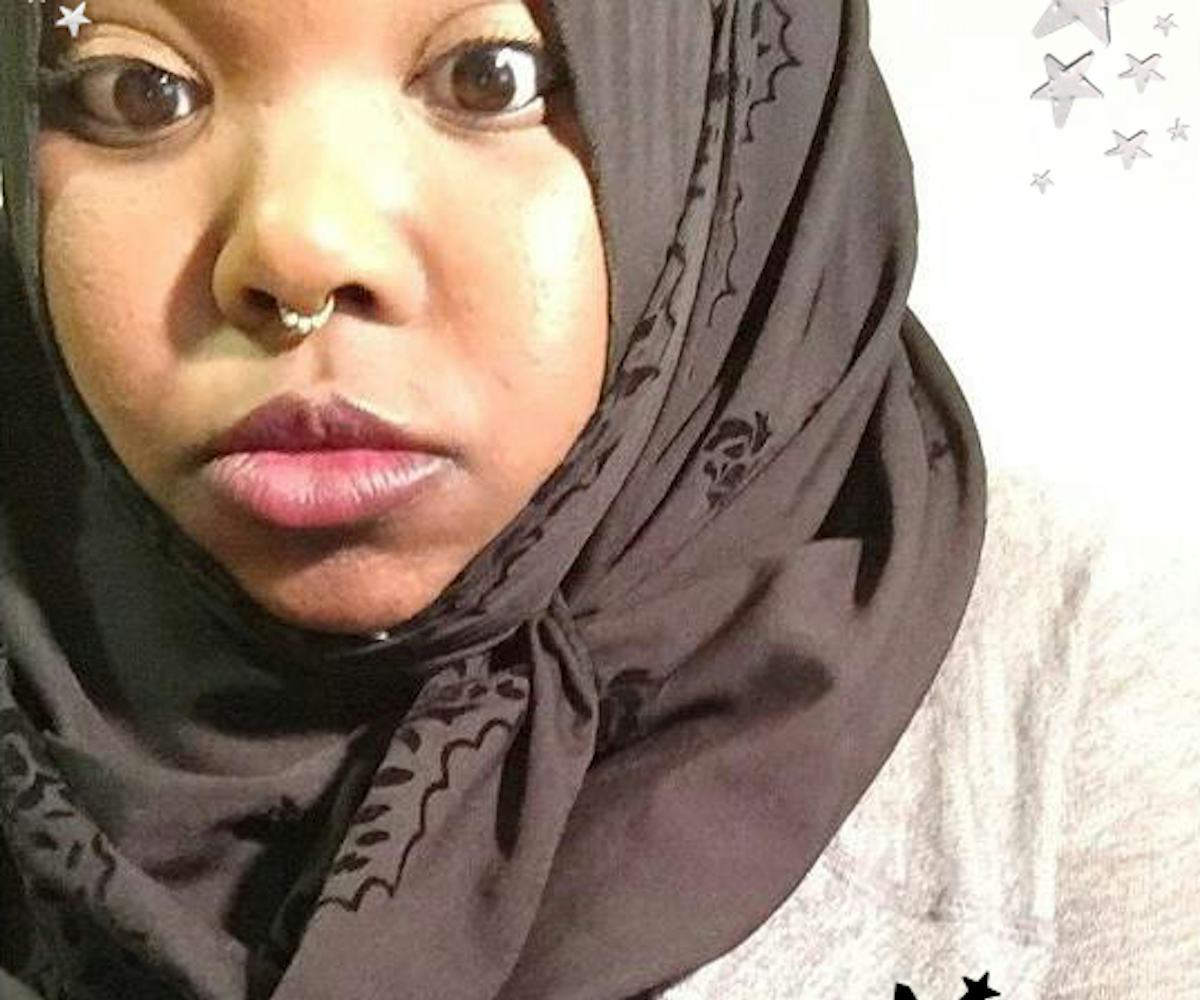 Photo courtesy of Kameelah Janan Rasheed
Kameelah Janan Rasheed Explores Her Curiosities Through The Visual Arts
In celebration of Black History Month, NYLON is running a spotlight series called Black Girl Power... The Future Is Bright. Every day, phenomenal black women from different industries will be featured to tell their stories—revealing how they became who they are, showing what they have accomplished, and pinpointing how they navigated their careers. Black women deserve to be celebrated 365 days of the year, and we hope that this series will inspire everyone to believe in the power of #blackgirlmagic. 
The first time I came across Kameelah Janan Rasheed's work was on Tumblr. Images of her STRAIGHT FLEXIN'/Flexin' My Complexion series had been reblogged hundreds of thousands of times—unfortunately, many of those thousands of users had ommitted to attribute credit to her. The artist, writer and educator is currently based in Brooklyn, New York by way of East Palo Alto, California. "My upbringing was a very syncretic and cross-pollinated experience," says Rasheed. "I was a Muslim kid enrolled at a Catholic school and attended Mormon school dances, who went to shabbat dinners and attended Sunday church services with friends. I am grateful for the experience to occupy several spaces simultaneously because it has broadened my curiosity."
Rasheed is also a part SPOOK Magazine, Mambu Badu, and NURTUREart Registry. Last month, her format print series HOW TO SUFFER POLITELY (and Other Etiquette) was on display at the Museum of Contemporary African Diasporan Art. It closesly examined how "expressions of anger and resistance to racialized violence are regarded as 'impolite' in order to maintain social order" and how "satirical sayings command the performance of exceptional self-control under traumatic circumstances" in the wake of uprisings like Baltimore and Ferguson. Ultimately, she asks us to consider the "inappropriateness of respectability in a state of emergency." 
"Zora Neale Hurston is known to have said, '[r]esearch is formalized curiosity. It is poking and prying with a purpose.' I like this idea," said Rasheed. "I am certainly an artist, but before anything else, I am a really curious person who and working to visual arts to process a lot of this curiosity." 
Catalyst Projects, a collaboration with artists Meredith James and Casey Tang, is currently on view at the Queens Museum. Rasheed's work is also featured in Project Row Houses' Small Business/Big Change: Economic Perspectives from Artists and Artrepreneurs and at The Studio Museum in Harlem's Black: Color, Material, Concept. The spaces that she creates encourage exploration, experimentation, and empowerment. Learn more about Rasheed's background in the interview, below!
What is your background in art? Can you tell me about your creative process?
My creative process is deeply embedded in the mundane routines of everyday life. I've been reading about leaky sensory gating, or the inability to filter out filter out "irrelevant" sensory information and impact this has on creative processes. Typically, by the end of the day my brain is crowded with everything from a sermon I heard from a self-appointed prophet on the train to a sign at a fish market advertising fresh shrimp to the smell of weed and peppermint body mist on the B44 bus. A lot of the sensory information I may collect in a given day may seem irrelevant but I end up hoarding as much of it as possible in audio recordings, notes, or sketches, then I try to map a relationship between all of it. I like the challenge of drawing relationships between seemingly distantly connected ideas and stimuli. Often, I am reading several different books simultaneously while listening to different tempos of music, taking different walking routes to the train and watching a lot of X-Files.
I like what happens in my brain and in my art practice when all these different ideas ferment together. I know that many of the ideas that emerge from this process would not have surfaced had I not chosen a path of cross-pollination and openness to peculiar associations. Sometimes I am reading a book and I come across a name that leads me to another book which leads me to an article with a footnote that leads to poem that conjures up a particular image that directs me to a specific piece of art. Octavia Butler calls it a "primitive hypertext" which I think is a beautiful idea. 
What made you want to get involved with teaching?
My professional training is in public policy, history and secondary education. I have spent the last twelve years working in public schools as a classroom teacher, program development and now curriculum writing. It wasn't until five years ago that I began to take myself seriously as an artist and began to pursue projects and funding. Having never gone to art school, much of my practice is centered on pulling from my background in research, pedagogy and historiography to create visual art pieces that exist in the form of installations, photography, printmaking, essays, publications, large-scale outdoor installations and discursive programming.
Growing up, where did you look for inspiration? Who or what inspires/motivates you now?
As a visual artist who is transitioning into work that is much more text-based, I draw a lot of inspiration from poets like Harryette Mullen, Yona Harvey, Emily Dickinson, and Thomas Sayers Ellis. Beyond the typical sources of artistic inspiration, I find myself drawn in by less expected influences. In a 1990 interview with Randall Kenan, Octavia Butler said, "[a]ll sorts of things influence me. I let things influence me. If they catch my interests, I let them take hold." In many ways, I am similar. I like the rabbit hole. I like being consumed by an interest. In no particular order, currently I am rather inspired by cordycep fungi, invasive species, religious cults, street preachers, religious uniforms, dystopia as lived experience for black & queer bodies, death technologies, the Neolithic Revolution, the post-racial industrial complex,
Wednesday
Adams, X-Files, de-pigeonholing strategies, alliteration, Oulipo, libraries and information dissemination systems, lucid dreaming, decommissioned medical institutions in upstate New York, the MOVE bombing, drones, plug and play patriarchy, atavistic afrocentrism, and unwelcome reminders of how to be a polite Muslim woman.
My parents only allowed us to listen to three artists until I was eleven years old: Gil Scott Heron, Stevie Wonder and for some reason, Babyface. I remember singing, "What's the word? Tell me brother, have you heard From Johannesburg? What's the word? Sister/woman have you heard From Johannesburg? They tell me that our brothers over there Are defyin' the Man" and eating bean pie before
Sunday
Asr prayers. And I remember feeling a strong sense of pride in being a black person, a black girl who had this shared history of building new worlds here and across the Atlantic. Growing up in an assertively black and Sunni Muslim family inspired me to be assertive and unapologetic about how I pursued my art practice.
How do you maneuver your respective industries as a black woman?
I am involved in several overlapping industries and communities. As a black woman, there is always a concern about being spoken for or pigeonholed. It's important that I know how to speak about my work and field questions about my work to ensure that my work is not flattened into caricatures or tropes. Beyond concerns around representation is a concern about longevity, patience and depth. Maneuvering has always been a matter of balancing a compulsive specificity about where I want my practice to go with a curiosity for all the possibilities of which I am not aware. Being attuned to experimentation outside of what's familiar has allowed me to take on fun research projects, play with new mediums, teach in unexpected settings and even perform. Being elastic in my practice has introduced me to really sharp thinkers and has challenged me think about myself as more than a visual artist. With elasticity comes the possibility of become overstretched so it's been important in my work to know when to say "no" to preserve my energy to pursue only passion projects.
Could you describe a moment where you felt like you defied the odds or broke a barrier?
I used to work 60-70 hours a week as a high school public school teacher in New York City. Three years ago, I transitioned into my current position as an instructional coach and curriculum writer. My hours are still long. While holding a full-time job, some side gigs doing museum education, editorial work and consulting, I managed to keep up an active studio practice, write, lecture, sit on panels, etc. I am not sure if I broke a barrier, but I do think I have done more than I thought was possible for myself as a person with limited time and no formal art training. I am excited about having taken a different route to the arts because the detours have provided a lot of time for reflection.
How did you grow into your black identity? (Or, if you're multiracial, how did you grow into your identity as such?)
I am still growing into it. The smartest thing I've done in the past few years is simply refusing to allow my blackness to be dictated by external expectations. Black Muslim girls from small former-rural towns can love Emily Dickinson and Aretha Franklin.