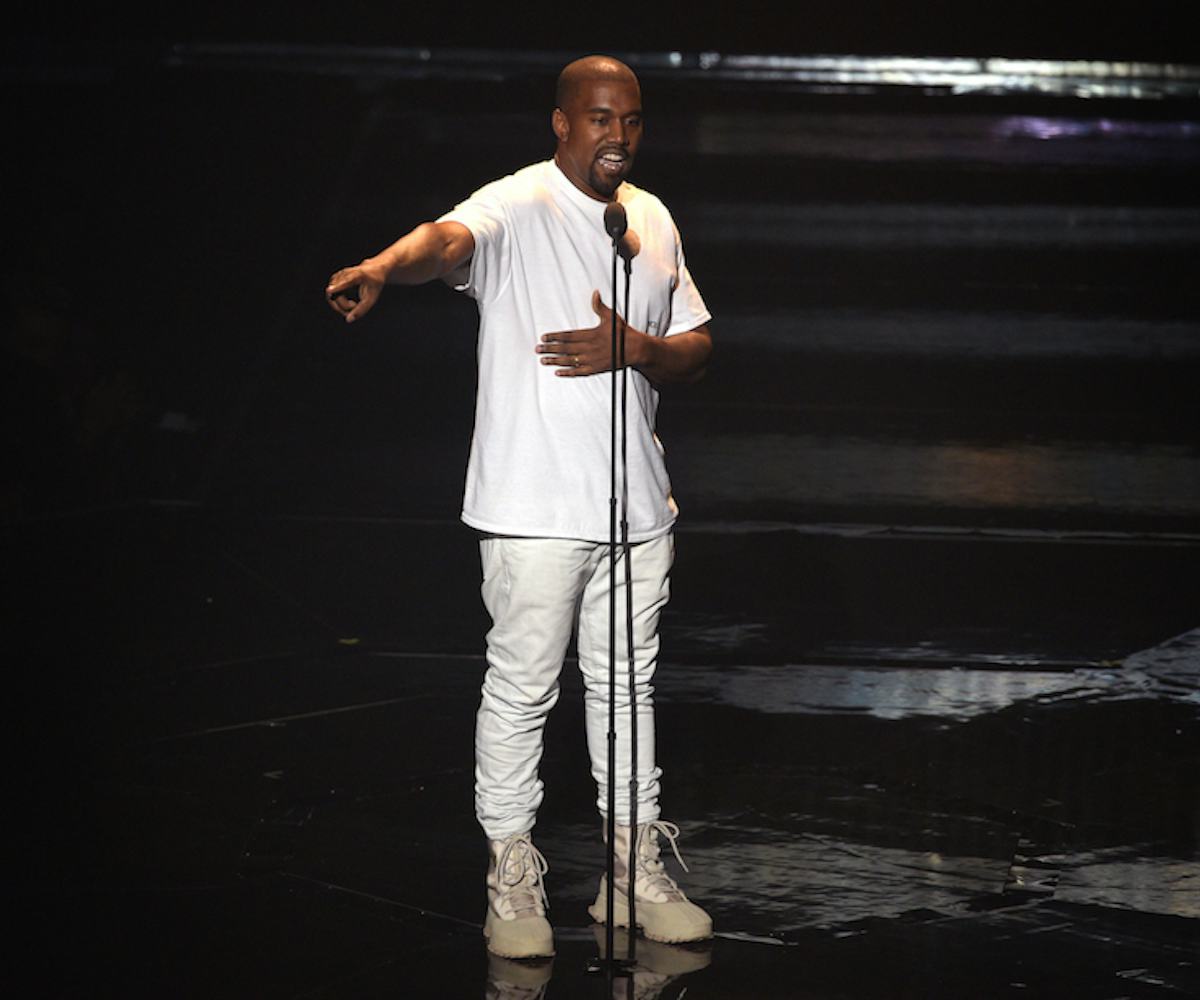 Jason Kempin / Stringer
Kanye West Shades Taylor Swift, Debuts Glorious Teyana Taylor Video For "Fade" At VMAs
It's hard to say what we were looking forward to the most about 2016's MTV VMAs. This year promised performances by Rihanna, Britney Spears, and Beyoncé, but also... ALSO... it promised four minutes of Kanye West doing, well, doing literally whatever he wanted to do.
And because there's nobody who has done "unscripted appearance on the MTV VMAs" better than Kanye, there was plenty of reason to be super, super excited for his speech this year. Plus, to add to the anticipation, Kanye and Kim Kardashian West showed up on the white carpet looking very, very much in love, with Kim also looking like she maybe took a quick dip in the Hudson River on the way to the awards show. But whatever, the wet look is in.
Anyway, finally, it was time. Kanye took the stage. And how did he use his four minutes? Well, he paid no mind to the fact that his archnemesis/wood snake Taylor Swift was not in attendance, throwing some major shade her way by referencing his now infamously recorded phone call with her about the lyrics referencing their relationship in his song "Famous."
But Kanye threw out a few positive namechecks too; notably to his ex, Amber Rose (who responded with a glorious smile and shrug), and to wife, Kim, who is, Kanye recognizes, a G.
Mostly, though, Kanye took his four minutes to talk about... himself. And how he is an inspiration to himself because he is part of the long tradition of "artists and merchants" that, you know, influence the world. Or something. We don't know! It's kind of hard to even remember what Kanye talked about because, following his four minutes, he introduced what is now probably one of our three or four favorite music videos of all-time for his song "Fade," featuring the glorious Teyana Taylor, who riffed on Jennifer Beals in Flashdance and Rosie Perez during the opening credits of Do the Right Thing, capturing our hearts in her very own way because, holy shit, can she move. 
She was also joined in the video by her fiancé, Iman Shumpert. And then she turned into a cat. And there was a sheep. It was everything.