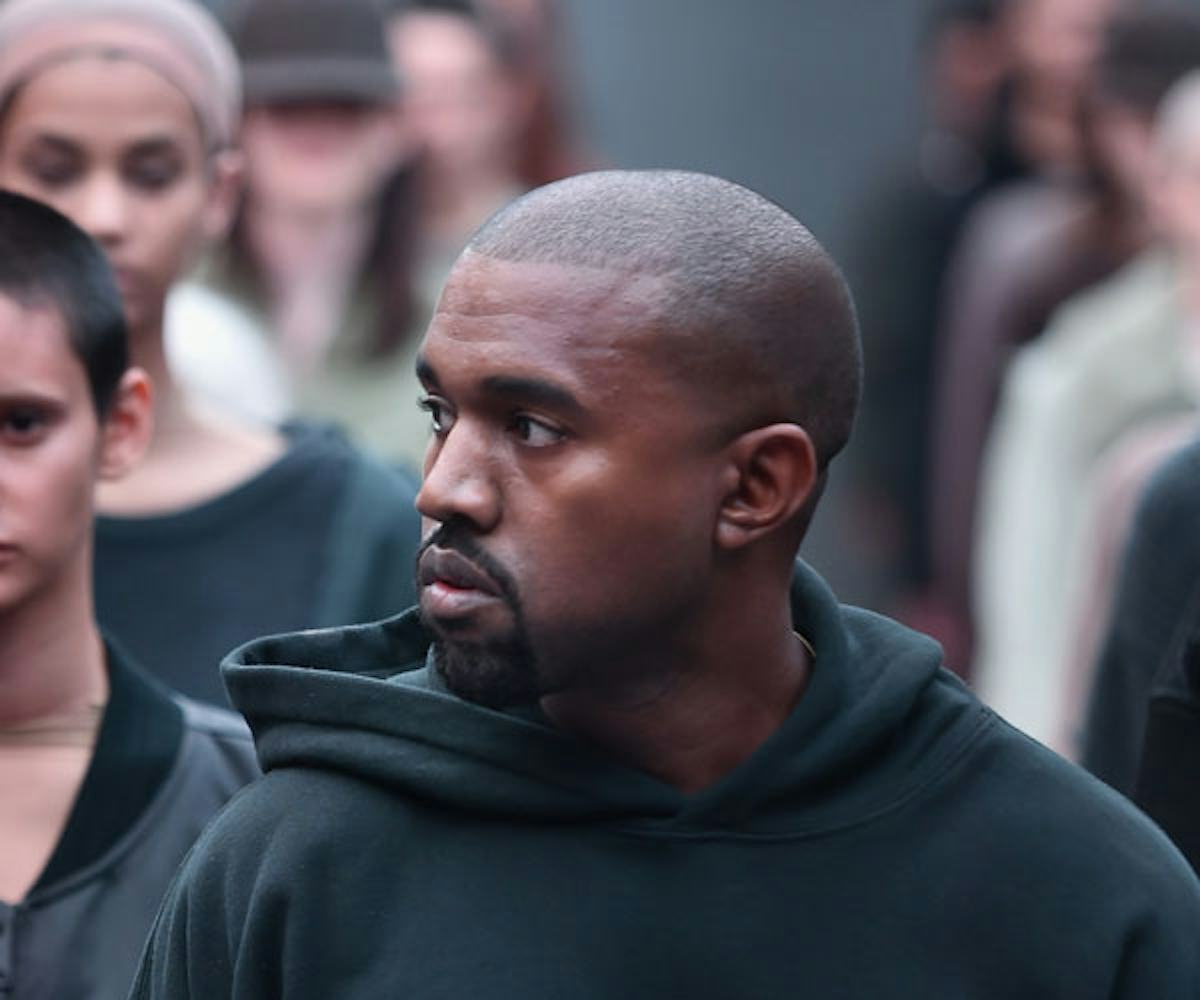 photo by theo wargo/getty images for adidas
leave yeezus alone!
why fashion is unfair to kanye
Last week, Kanye West revealed a spectacle in the way only he knows how: With Kardashians in tow, a supremely A-List turnout, and a Jenner on the runway. His clothes were, for the most part, not particularly groundbreaking, but it was adidas streetwear, and streetwear with that special Kanye twist. Proportions were amplified, sleeves were too long, necklines too deep (something he may have learned from his wife), and the models were as diverse as any seen on the NYFW catwalks. The athletic designs aren't changing any games, but they are smart, wearable, and highly marketable. 
So, two things happened after the curtain drew on his collection, and Fashion Week in general: One, a couple of notables quipped about Kanye's appearance—specifically the High Priestess of Fashion Week, creator Fern Mallis. And secondly, in true Kanye form, he took to Twitter to write an impassioned rebuttal against said criticism in which he basically asked the powers that be to leave him alone. And he kind of has a point. Kind of. Let's discuss. 
Fern Mallis, who is perhaps the definition of Old Garde New York Fashion, also acts as the unofficial historian, remembering every notable show or happening since its inception. (She once told me about how Alexander McQueen's only NYFW appearance was marred by the fact that he presented a collection in what could have been a hurricane.) About West's star-studded show, she said, "I'm kind of over Kanye…I mean, I'm not a fan of his music, and the attitude and the agenda is not my style." Fair enough. Fern Mallis is a 66-year-old woman who is probably not adidas Boost's target audience, which is totally, absolutely understandable.
photo by theo wargo/getty images for adidas
By presenting at New York Fashion Week, West asks the critics to treat him as a designer, not as a celebrity, which is clearly difficult. But remember that at New York Fashion Week, which is a total of 260 shows, 
. 
Four
. West's AM twitter rant indirectly highlights this point: In fashion, black men are welcome only as spectacle, and a fairly illegitimate one at that, even as the narrative and market shifts from what is Mallis' "style" to a high-fashion interpretation (and appropriation) of urban street style—with things like baby hair and cornrows showing up on white models. (Remember, the other celebrities—Olsens, Holmes, and Beckham—who've taken a serious stab at fashion did so in the safest manner possible—by going straight to highbrow luxury while making sure their pop associations were nonexistent.)
Kanye took to Twitter to write: "To Fern Mallis: I just want you to understand that attempting to do clothing has been very difficult and I have encountered countless amounts of bigotry along the way. I have millions of ideas and I represent a new generation just trying to express themselves in a broken world." This 'Broken World' concept was something that West earlier iterated in an interview he did with Style.com, where he remarks, about racism, "When someone that's like, racist, comes up to me at A.P.C. and says, 'I thought it would be a bunch of animals on your shirts,' because they heard that I rapped. But it just makes the journey interesting. We came into a broken world. And we're the cleanup crew. And we're only cleaning up by helping each other."
He then invited Fern to have a drink with him (at The Spotted Pig, no less—which is a pretty hard table to grab) to talk shop, which is pretty democratic. 
The contradiction of Kanye is that he says he isn't a designer (because he "wasn't allowed to go to Saint Martin's"), but then he responds when the hallowed keeper of Fashion Week criticizes him. To quote an excellent piece at Flavorwire, "[Kanye's actions] all seem to come back to a desire to which a lot of us can relate: wanting to be accepted by the establishment while at the same time wanting to tear it down. It's perhaps no surprise, then, that it's his ongoing obsession with fashion, and specifically the new line he's created for Adidas, that have thrown these contradictions into the sharpest relief." Kanye's last album, which I thoroughly enjoyed, unpacks this struggle: "Doin' clothes you would have thought I had help/ But they wasn't satisfied unless I picked the cotton myself. You see it's broke n***a racism, that's that 'don't touch anything in the store' / and it's rich n***a racism, that's that "Come in, please buy more." The thing is, fashion wants Kanye at the party (you could see by the fact that every critic, Anna Wintour and, heck, NYLON Magazine, included, stormed his show), but only on their own terms. In the end, the question whether or not fashion hates Kanye because he is Kanye or if because he isn't that good at it is clear: He isn't bad, per se, and the vitriol is not deserved.
Unlike his rap presence, in fashion, Kanye is the perpetual freshman trying to get a seat at the seniors' table, no matter his prowess or ideas. Sure, maybe he doesn't deserve unadulterated praise, but, as Washington Post's Robin Ghivran writes, "…Just because he did not succeed at the lofty goals he set for himself, just because some elements of his collection failed, that doesn't mean he should stop trying." So, try Kanye, even you are the king of braggadocio, no matter what the fashion elite do. Because the end, the Boosts are definitely hot.
As for his comments about Amber Rose? Well, that's a whole other story...