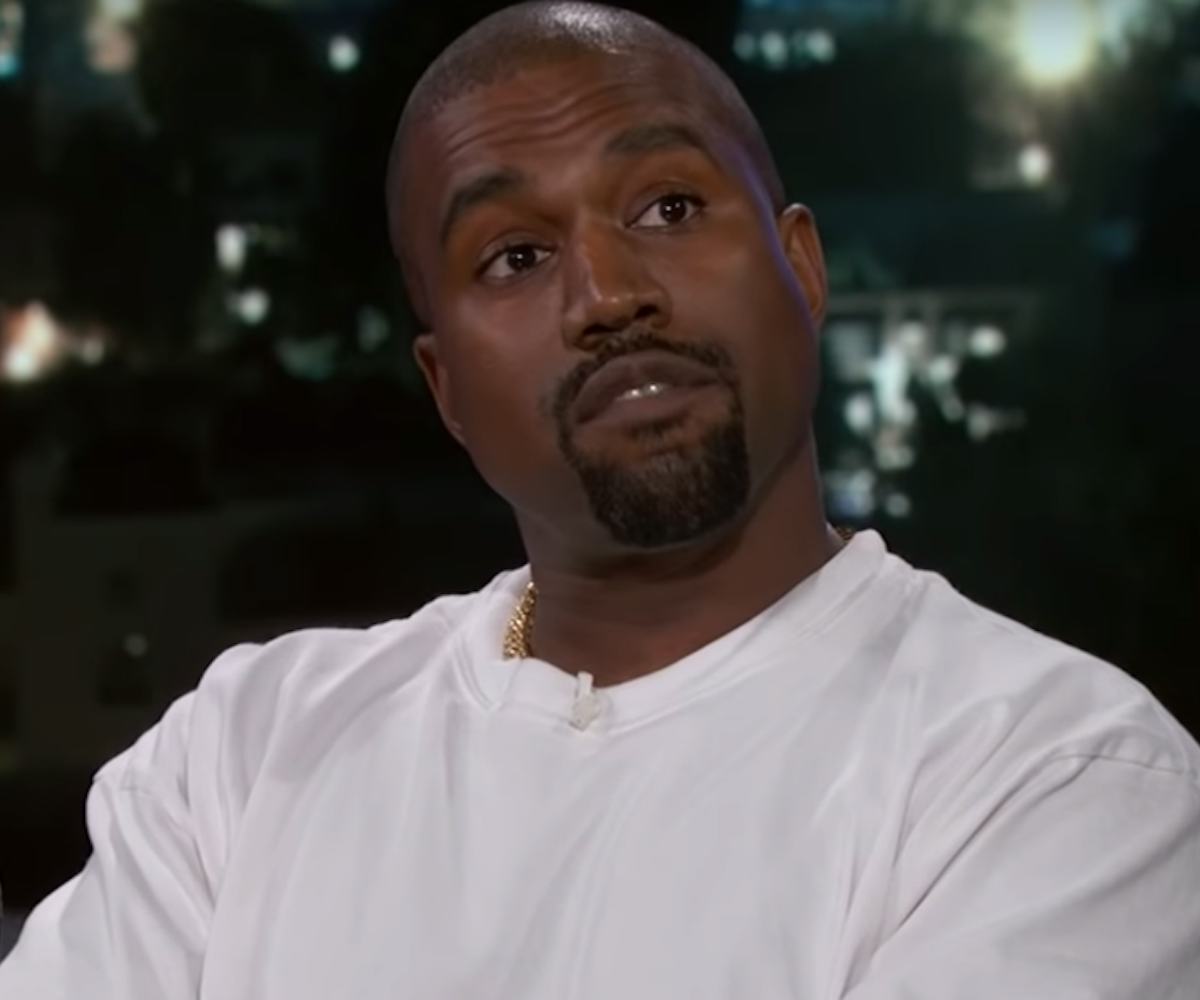 Photo Via YouTube.
Kanye West Says He Enjoys When People Are Mad At Him
Stays silent when Jimmy Kimmel asks him whether Trump cares about black people
We assumed Kanye West's appearance on Jimmy Kimmel Live! would be eventful when it was first announced—and were we right.
West, in typical West fashion, jumped from topic to topic, addressing whether he was concerned about his wife being in the same room as Trump ("Well, he is a player," he told Kimmel), and whether or not he thinks he's a good president. To that, the rapper went on one of his jumbled monologues, touching on love and fear. He mentioned that, even when someone does a bad thing, you can still love them, and brought up his cousin who is in prison for murder.
"It took me a year and a half to have the confidence to stand up and put on the hat, no matter what the consequences were," West said, referring to the controversial Twitter post and photo that led many people to cancel the rapper. "And what it represented to me is nothing about policies, because I'm not a politician like that, but it represented overcoming fear and doing what you felt, no matter what anyone said, in saying, 'You can't bully me.' Liberals can't bully me, news can't bully me, the hip-hop community, they can't bully me. At that point, if I'm afraid to be me, I'm no longer Ye. I actually quite enjoy when people are mad at me about certain things."
At one point, West directed his attention to the audience. "I'm sorry," he told them. "I know you guys wanted to clap, but everything I say is gonna be amazing." He then went on a rant about breaking "the fucking simulation" that's just as confusing as it sounds.
The kicker comes when Kimmel brought up West's 2005 comment about George Bush not caring about black people. The late-night host first mentioned the many families being torn apart at the border of the country, as a result of Trump's inhumane policies, then said: "You so famously, and so powerfully said, 'George Bush doesn't care about black people.' What makes you think that Donald Trump does, or any people at all?" The camera then shifted to West, arms crossed, at a loss for words. Realizing he has nothing to say in response, Kimmel cut to commercial. The host moved on to a different topic once the break ended, but West's silence speaks volumes.