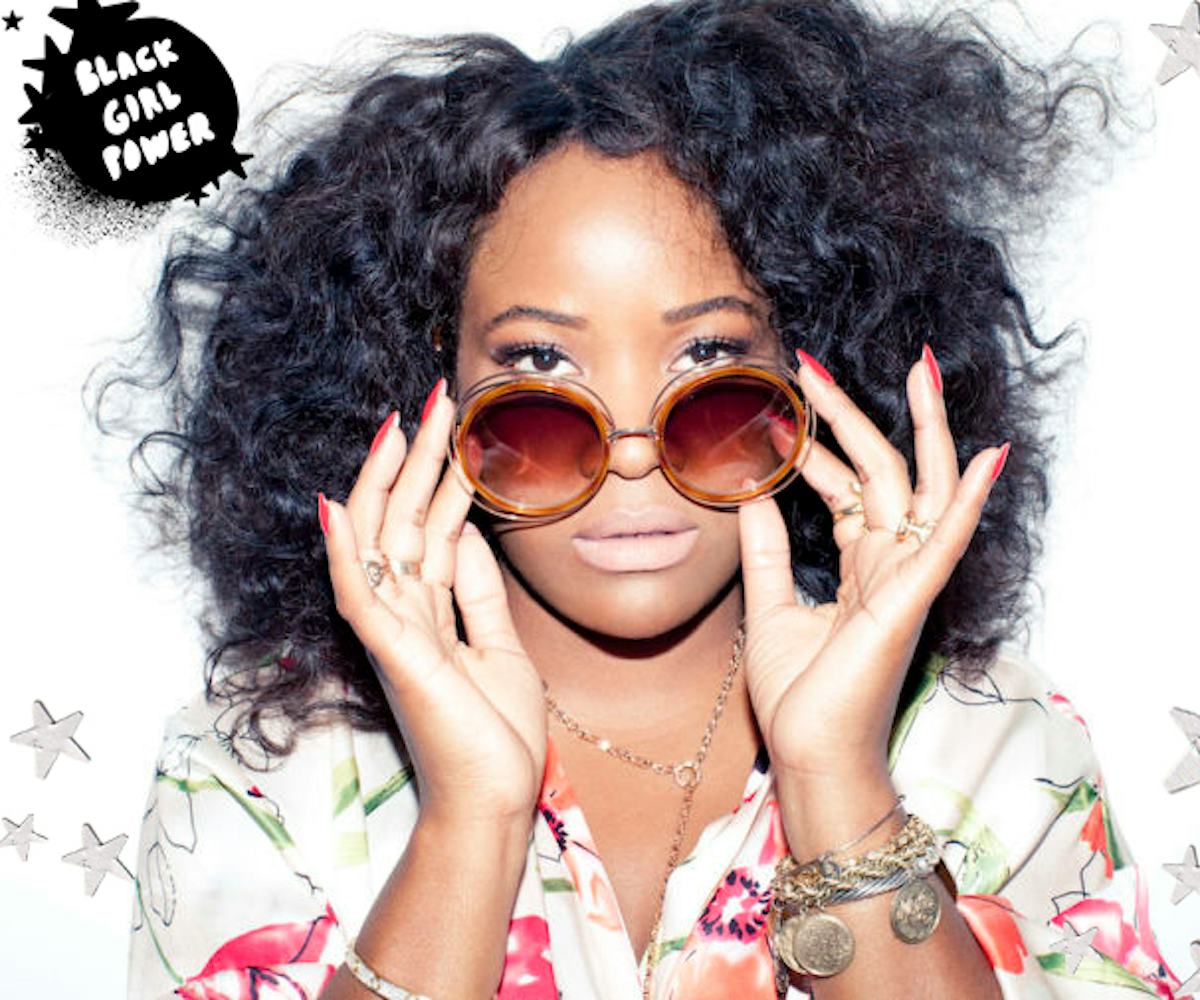 Photographed by Erik Tanner.
Karleen Roy Is The Ultimate Girl Boss
"you have to stand for something"
In celebration of Black History Month, NYLON is running a spotlight series called Black Girl Power... The Future Is Bright. Every day, phenomenal black women from different industries will be featured to tell their stories—revealing how they became who they are, showing what they have accomplished, and pinpointing how they navigated their careers. Black women deserve to be celebrated 365 days of the year, and we hope that this series will inspire everyone to believe in the power of #blackgirlmagic. 
Most people can't say that their big break was being an assistant to Sean Combs, aka P. Diddy, but Karleen Roy can. (Prior to that, she had a publicity gig at Island Def Jam Recordings, no big deal.) After working at Bad Boy Entertainment for six years, she went on to become the founder of her own successful company, The Vanity Group (TVG). Now, she runs a luxury lifestyle management company that specializes in event production, concierge services, and talent relations. Roy's clients are some of the most high profile individuals across the entertainment industry from artists to musicians to actors. She's capable of turning her clients' dreams into their realities because she never takes "no" for an answer.
Roy has single-handedly become one of the most in-demand lifestyle and experience experts in New York City, and the reputation of her agency is unmatched. Needless to say that business is booming at TVG, and it'll only keep growing from here as her network continues to expand. If anyone holds the keys to success, it's this woman—read up on Roy's background in the interview, below! 
What is your creative process?
I'm a super visual person. I find inspiration from just about everything around me. I am also a dreamer. As such, all of this makes my creative process so much more involved. When I start any project I have to visually see it first in my mind, then next I become obsessed with it. Once I have in my mind whatever "it" is for the project I'm working on, the next layer is that I probably obsess about it and will start sending out rapid emails for the team to get moving on it! I work with a great team of art directors, creatives, event designers, etc. so we often collaborate to establish the creative for whatever we are working on—it could be anything from a birthday invitation, to a unique gift, to an interior design project that a client has asked us to commission on their behalf. It takes a village to get it all done.
Growing up, where did you look for inspiration? Who or what inspires you now?
Growing up, I was inspired by the women in my life. My grandmother was a hairstylist so I've had a taste of the whole beauty world from a very young age. My mother was always impeccable with her clothes, and the way she carried herself—I've tried to mimic that in my adult life. My aunt was big into jewelry, she always wore a ton of bracelets on one arm, way before the arm candy trend we have today. She was your quintessential fly girl from the '80s. I'm pretty much a hybrid of all of them today.
It's important to keep my eyes open. Today, I'm inspired and intrigued by the young boys walking down Lenox Ave in Harlem—their style and swag to the woman having lunch at Fred's at Barney's in her Chanel suit. I have been blessed to meet some amazing people in my life who have not only inspired, but also motivated me.  I recently visited a client's estate, which was nothing short of breathtaking. It's one of the largest homes in the United States actually. As I walked through the house, I was so inspired by their level of success that it lit a fire inside me to work a little harder.
How do you maneuver your respective industry as a black woman?
I love being a black woman and I will not downplay it or shrink that for anyone. I am both feminine and firm in my approach. Growing up in the South, naturally I'm a bit racially sensitive. More times than I care to count, people have come to me egregiously offensive for a situation I know is rooted in race and gender bias/stereotypes. I have no hesitation politely checking those people. My thinking is that if I don't address it right then and there, they will think that type of behavior is acceptable. I'm here to remind them that it's not.
Could you describe a moment where you felt like you defied the odds or broke a barrier?
We had a pretty big pop-up shop event this past summer in SoHo for a client who is a big rap artist. The location of our shop happened to be right next to a popular sneaker retailer. Every day, I watched as hundreds of white kids crowded the streets waiting for new sneakers to be released. It was like a mob of sneakerheads, I'd never seen anything like it. Fast forward to our event the next day, hundreds of young, excited black kids come out for our event. Unlike our neighbor, we had the proper permits for the crowd, street, sidewalk and noise and security fit for the president. Not enough. Seconds later, a gazillion police show up intimidating the crowd and told us we had to end our event early because of the "disturbance that was making people uncomfortable." I refused… A long, explicit story later, the event went on. The kids in the streets cheered me on. You have to stand for something.
How did you grow into your black identity?
I thank God for my parents and my upbringing. I don't think I ever grew "into" my black identity—it just always was. Black identity and what that means culturally was enforced and celebrated within my household. My mother is an educator and my father was a successful business owner, so I grew up with powerful influences in my home. My parents instilled in me to be culturally aware from a very early start. They also made sure that I was involved and understood key experiences that were culturally rich to black Americans. Attending Howard University was the icing on the cake. Those were integral experiences that shaped me.