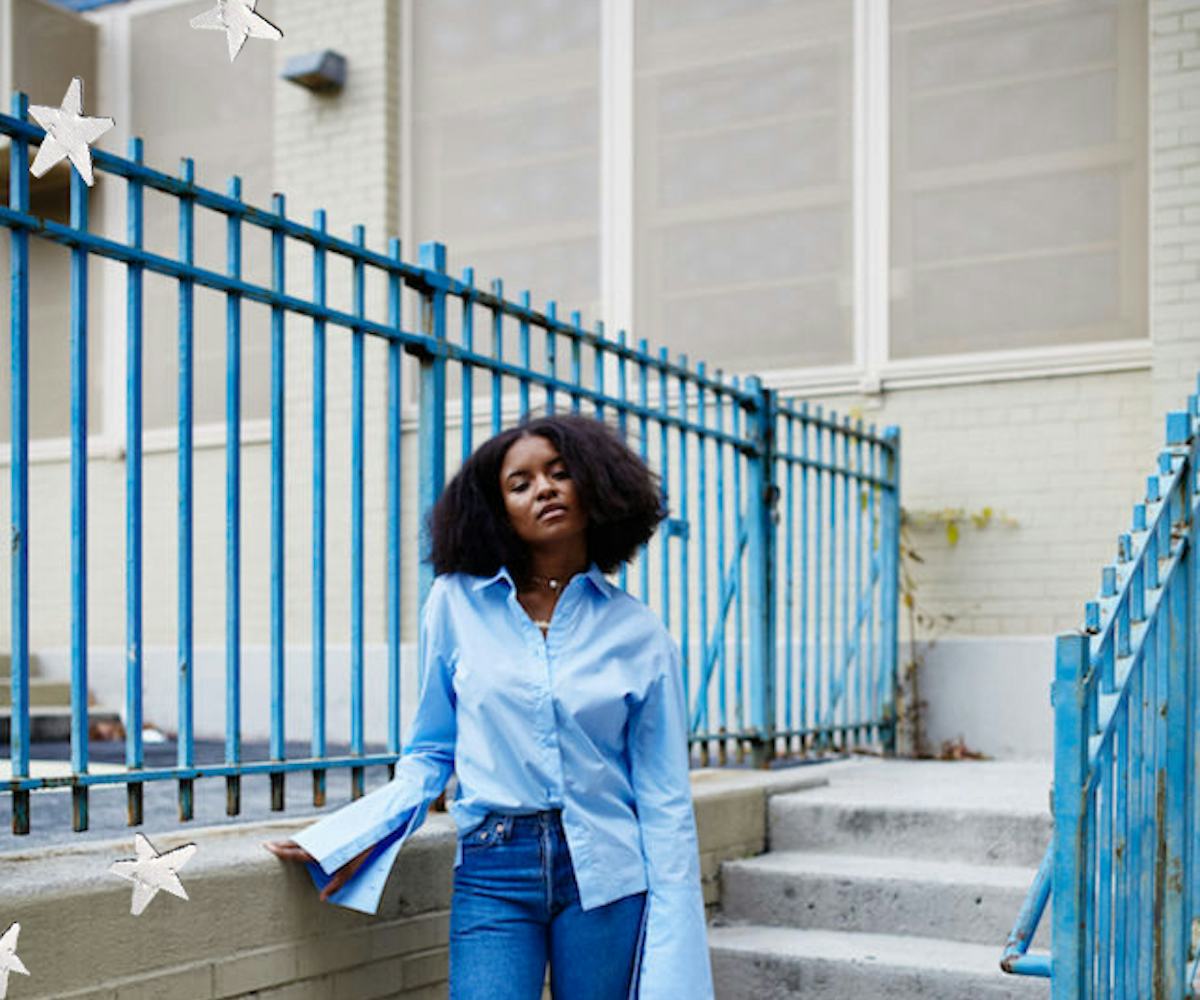 Photographed by Brad Ogbonna.
Kai Avent-deLeon Turned Her Store Into A Community
In celebration of Black History Month, NYLON is running a spotlight series called Black Girl Power... The Future Is Bright. Every day, phenomenal black women from different industries will be featured to tell their stories—revealing how they became who they are, showing what they have accomplished, and pinpointing how they navigated their careers. Black women deserve to be celebrated 365 days of the year, and we hope that this series will inspire everyone to believe in the power of #blackgirlmagic. 
Kai Avent-deLeon is the founder of Sincerely, Tommy, a concept store tucked away in the heart of Bed-Stuy. Having grown up in the area on Tompkins and Jefferson, it only felt natural for the 27-year-old to open her store on the street where it all started. The concept for Sincerely, Tommy came to Avent-deLeon about three years ago when she recognized a gap in diversity in terms of what brands were being sold in stores that she frequented. "New York is this hub for creatives to come and designers to come and be discovered and I wanted to know where those brands were and where I could shop for those," said Avent-deLeon. "I decided that I was going to be that place for the emerging lines that weren't carried in other stores in New York."
Avent-deLeon entered the retail field after she landed her first job at Addy & Ferro when she was 16 years old. "I started off as an intern and then I was there for three years and by the time I left, I was doing buying for them," she said. "It was in that environment that I knew that I wanted to own a store and be a buyer. I really fell in love with that world. They really took me under their wing and I gained a lot of experience there. I think I kind of realized that one of the best ways to learn how to own a store is to actually work it."
From there, Avent-deLeon went on to study at LIM and FIT for two years, but decided that there was more to be learned by working in the retail space. She tried everything from operations to management. Now, she's running her own store where womenswear meets lifestyle, fashion, and art. Get to know more about Avent-deLeon in the interview below!
How do you maneuver your respective industry as a black woman?
I grew up working in retail, I never really thought of it as the fashion industry because it wasn't a corporate environment necessarily. I guess in a sense it is because you're still dealing with brands and the trade shows and all of that. Even now, I don't say that I work in the fashion industry. I like to think that I've created my own world that allows me to be a lot more flexible and do things as I please. I think that if I were to say that I worked in any industry specifically, I would just feel like there were certain standards or guidelines that I would have to follow and certain things that I would have to do. For me, I do what I'm passionate about. That could be anything from art, to clothing, to traveling. I kind of put that all in this space that is just a platform. If anything, I look a the store as this platform to showcase all the things that I love. I create my own world, and my own reality, and what I want to do is what I do. It makes it a lot more fun and exciting and liberating to be able to do that and not think I have to do things a certain way because this is what it is. 
Growing up, where did you look for inspiration?
I would definitely have to highlight my grandmother and my mom because they were my Bed-Stuy experience when it comes to enterpreneurship and women making their own life and setting their own rules. Bed-Stuy as a whole is such a reflection of Brooklyn and being this place for so many different kinds of people. I know it's definitely a brand now, Brooklyn itself, but even growing up here, you're exposed to so much. You kind of have to be creative, you have that vibe here. It's New York, and Brooklyn is just so special because there's just so many things to discover here. Whether you're exposed to it in your upbringing or in school or wherever, I think it's inevitable that you embrace some of that culture. I would definitely say that for me, Bed-Stuy was so special in the sense that I wanted to open a store here because I felt like it's a place that people really connect to. You feel at home even though it's in this huge city. It's really special. 
How did you grow into your black identity and develop your sense of style?
I always had a strong sense that I was a black woman because my parents were very pro-black. I went to an African-centric school for a little while so I learned a lot about my culture and my history at home. That's always been engrained in me. My mom and grandmother both have a sense of style—clothing is a big part of their life in the sense that they both use it as a way to express themselves. So naturally growing up, I kind of developed a love for it as well. Just as I have been growing into who I am, my style has stayed the same in the sense that I love classic pieces. I'm playing around more with different things that I may not have worn a year ago or two years ago. That's what's fun about fahsion, you can just do whatever you want. I always look at it as a reflection of what you're feeling, what you're thinking versus just clothing.
Could you describe a moment where you felt like you defied the odds or broke a barrier?
A really poignant moment for me personally with the store was this past summer when we did our Girls Field Trip. We invited 25 girls from low-income homes to come and hang out at the store. We had a few racks of clothing, some donated from the store's past seasons and then other lightly used clothes that were donated by women in the industry, so they were able to take whatever they wanted from the racks for free. We had a nail art station for them, and a table full of anything a young girl would want to eat. We also had a few mentors there so they were there to learn too. That moment was really special for me because these girls were so excited and so shocked that something like this was happening for them.
To me, the store is obviously a retail store, but when I opened it, the intent was for it to also be this community center for young people to come and hang out and discover constantly. So being able to do that for girls who are 15 to 19 years old was really important for me. To have them understand the importance of giving back, and supporting one another, and creating this community where if they have questions that need to be answered, they can as whoever they want to ask because there's not enough of that I think with us. I personally don't see a lot of support or mentorship in a sense, I still feel like there's a lot of competition which is very unfortunate. I think too often, when one of us "makes it," we kind of forget that we also went through a process, and part of that process involves people who helped us along the way. Doing that is really important for me.