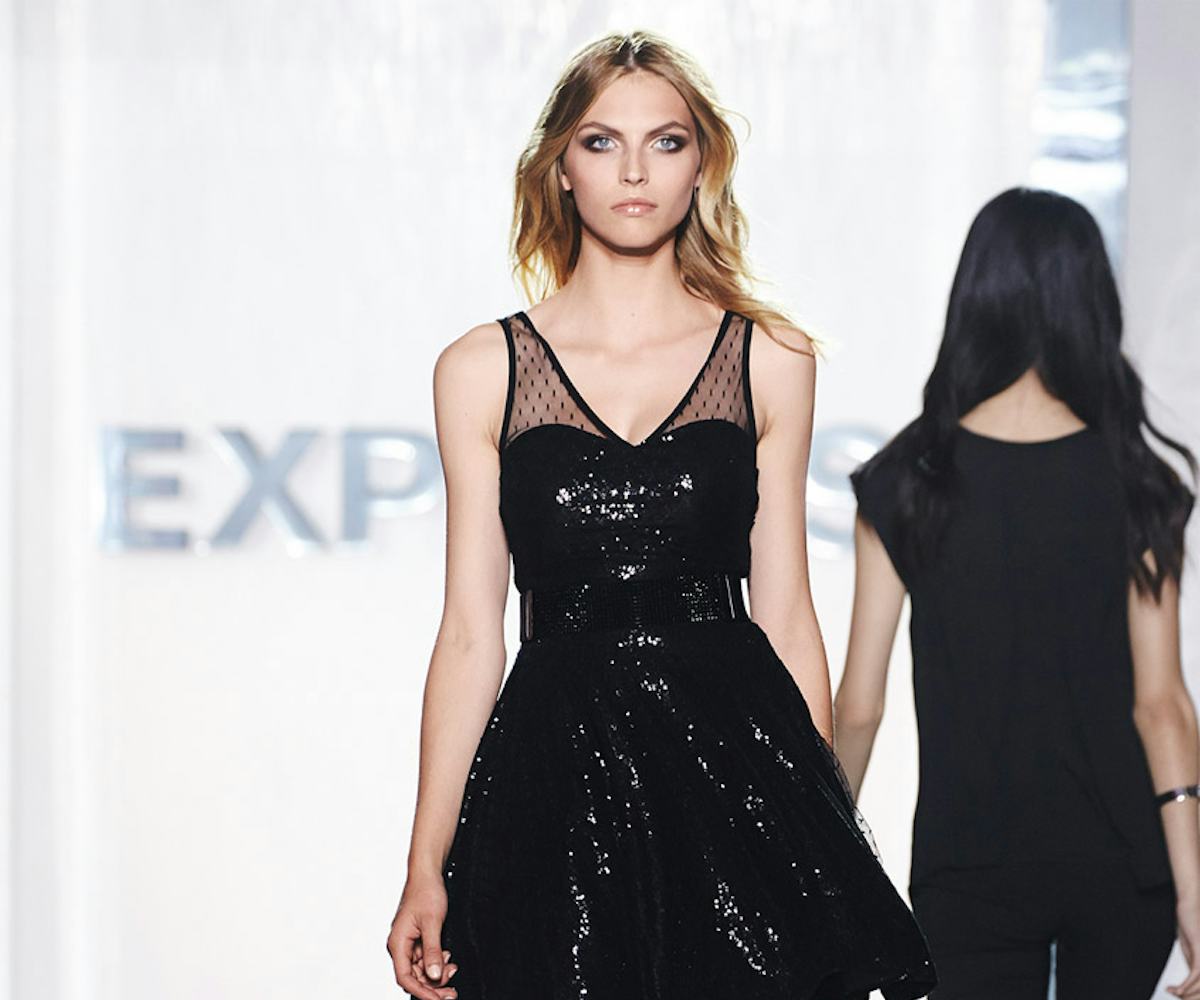 the insider: karlina caune
the ford supermodel of the world winner talks ballet class and being a bad cook.
It takes a lot to win Ford's Supermodel of the World competition, but that's just one of the many victories under the belt of 20-year-old Karlina Caune. The Latvian-born model took home the title in 2010, and since then has walked runways for Stella McCartney, Celine, and Miu Miu, and fronted ads for Tom Ford, MAC, Just Cavalli, and Jil Sander. Oh yeah, and she also appeared in NYLON's March 2010 issue. Do we know how to pick 'em or what?
Caune also just moved to New York City, which she celebrated by walking in Express' holiday '13 runway show in Times Square over the past weekend. There's really no better welcome to the Big Apple than to be the centerpiece of a massive production right in the busiest part of Manhattan, is there?
In between hair and makeup we pulled the Latvian model aside to pick her brain about her favorite foods, her Fashion Week plans, and how she chills out on her days off. Turns out that models, really are just like us.
What are you looking forward to about being on a runway in Times Square?
I've done an Express shows before in Puerto Rico, and it was really fun because the music always gives you a cool energy. It's actually really relaxing and it's fun. How often do you get to do be on a runway in Times' Square?!
Do you ever get nervous before runways?
No. Well, if the shoes don't fit...[laughs] For me, it's when I get too-small shoes and they're suffocating my feet. When I walk I'm just thinking, "Don't make the pain expression!"
Do you have model buddies that you prefer to go around the shows with?
I think we're pretty much loners. You get dressed back into your clothes after a show and then just scream, "Are you going to dinner?" And whoever says yes if your buddy.
Are there certain things that you always throw in your bag to help make it through the day?
My phone. It goes day by day; when I know I have a really busy day I just grab a lot of stuff from my apartment and throw it in. It's hard to plan. During Fashion Week I've gone four crazy days when I literally don't eat anything.
That sounds like a nightmare.
It's like that for everyone. Even the backstage guys who are doing photography, often at the last show you talk to the guys and they're like, "I haven't eaten the whole day!"
I've definitely been there too. A lot of the backstage catering at fashion week is just unhealthy and gross.
The biggest problem for me is super-early mornings with 5 or 6 am call times. When it hits 8 or 9 am, and you've been there since 6 am, you're already really hungry. At that point the only food you get is bread or cupcakes, which are not really a proper meal. I get that it's easier to just get that sort of stuff delivered, but it's really hard to deal with.
Do you like to cook?
I love cooking!
What's your dish?
It depends on the season. Winter is more for heavy, French cooking. I love soup, but I don't really cook that much soup because my mom is great at making them. I always screw them up. The last thing I tried to make was a tomato soup...it went from the stove right down the toilet. I just moved to New York, and it's hard to adapt to how different food tastes here than how it tastes in like home [in Latvia] or in Paris, where I used to live. There's still a lot of experimenting for me between how I cook things here and how I would cook them somewhere else.
Are there things you have to pack in your suitcase that you can't go without?
I think it's more that I can't go anywhere for the weekend without being packed for at least a week because I never know where I'm going to actually end up. Am I going back to New York or am I going to end up being in--I don't know--Tokyo? At any time my booker could call and I could be on a flight.
What are the emergency items you need to have in those situations?
I always make sure that I have an extra layer to be warm just in case I'm going to a colder country and a bathing suit for the opposite.
What's the best model freebie that you've been given?
Usually we get to pick trade ourselves, but I love certain designers who pick for you and send you the trade. It's kind of nice because it's a surprise, and they always pick stuff that's really, really cool and so you.
It's like a Christmas present.
Yeah. Surprise trade is the best when you've worked with people before and they know you're going to love something.
What's the one job that you would get out of bed for no matter what?
You have to take it by the day. I'm really happy for every single job I get because I'm being picked out of hundreds of thousands of girls. You just have to appreciate everything you get.
Do you have a favorite piece in your closet?
Every single pair of my shoes. Actually, my favorite place to go shoe shopping is Jeffery's. They have amazing shoes and amazing staff that helps you out. Those guys are legit.
Are you a heels person or flats?
Heels. Definitely.
What do you like to do on your days off?
I love going to take ballet classes. There's this awesome place in West Village, around Washington Square Park. They do adult ballet classes and it's really cool because the age diversity of women and men who go there is awesome. You could see women in their late 50s, early 60s just nailing it, and they've never done ballet before. It's a beginner class. I like it because you get to stretch out, and there's this woman who comes in and plays piano during the whole thing. It's awesome.