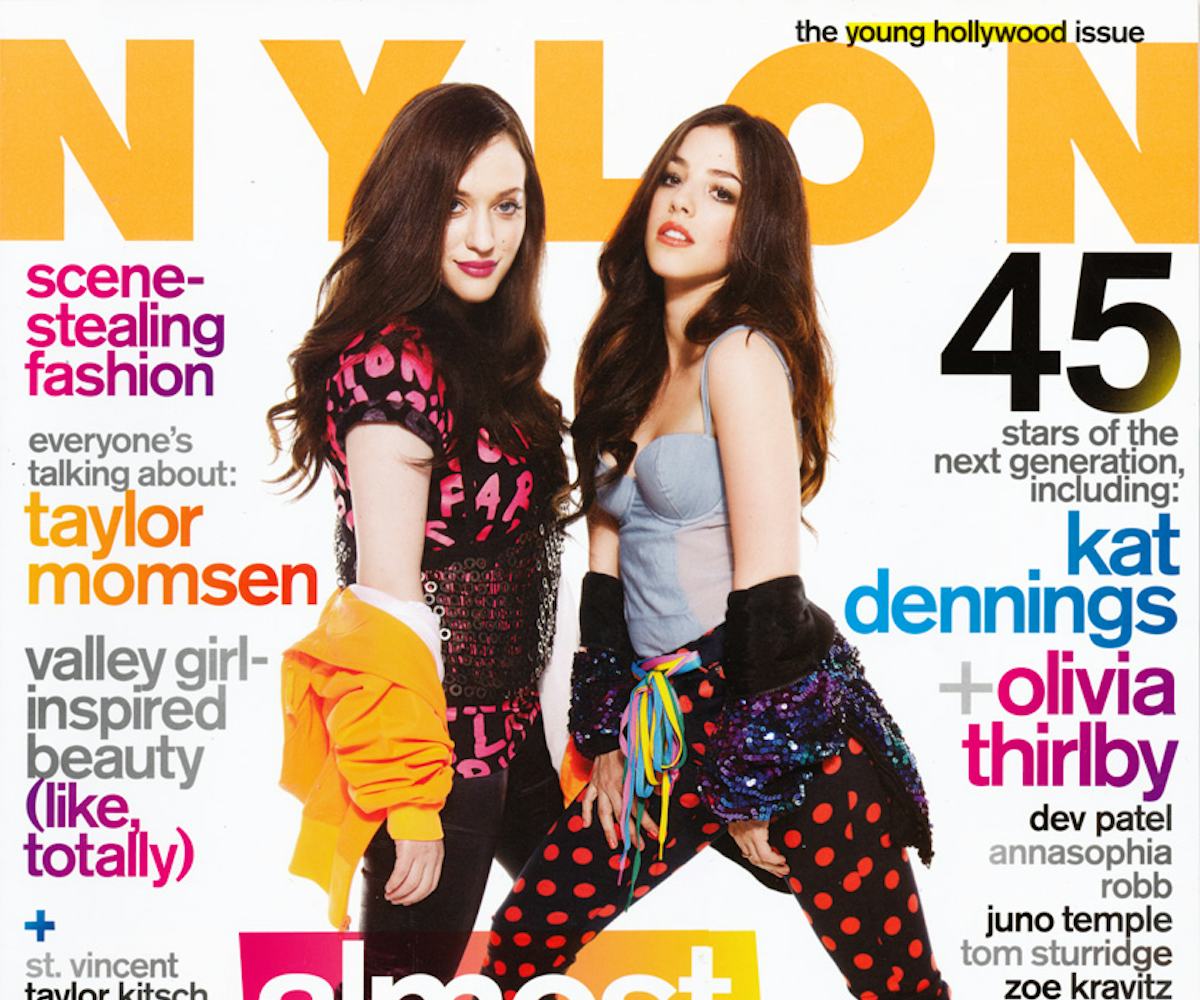 photographed by marvin scott jarrett
flashback friday: it takes two
time travel to our may '09 issue with kat dennings and olivia thirlby.
We're celebrating May this week with our 2009 Young Hollywood Issue starring Kat Dennings and Olivia Thirlby. Read on to find out what they told writer Stephanie Trong.
KAT DENNINGS
"This is the first fresh air I've had in days," says Kat Dennings, who is sitting on a bench on a strip of sidewalk that extends into a three-way intersection. We have settled here after grabbing iced tea from the nearby Priscilla's coffee shop in the Valley, hoping to squeeze in some late-afternoon sun. The light makes Dennings's blue eyes even clearer and lends her fair complexion the kind of radiance only seen in skincare commercials. Dressed casually in a navy cardigan over a gray T-shirt, paired with black pants and worn-in Frye boots, she's stunning--her beauty not diminished one bit by the cold she's fighting off, or by the fact that she's in the middle of moving hell. 
"My back is killing me," she says, of her packing efforts, then studies her hand. "Ugh! I broke my nail! Oh, wait. No, no, no…just grazed it. Everybody relax." She delivers this last line with the sarcasm and astute comic timing that you've seen from her on-screen, most notably in last year's Nick and Norah's Infinite Playlist. However, more vexing than a ruined manicure, is Dennings's quandary about how to handle her myriad of books. "Do I alphabetize? Do I not? What do I want more accessible? Books are very stressful, really," she says. Again, her tone is playfully hyperbolic, which is key in her ability to turn even the most mundane of topics into a hilarious mini-monologue. Quite impressive for a girl whose childhood friends were mostly plants. 
Dennings grew up in rural Bryn Mawr Pennsylvania, in a big, brick rectangle of a house at the top of a steep hill in the woods. The remote surroundings, coupled with the fact that she was home-schooled, led to the creative company she kept. "There were a few shrubs that I thought looked like people, so I named them," she says, laughing. "It was, like, Mr. Tree Stump and Stumpy." There was her family, too: her father a molecular pharmacologist and biochemist, her mother a speech therapist-turned-poet, and four siblings. An exceptionally bright kid, Dennings got her high school diploma at 14. And with that out of the way, she could focus solely on her true calling in life.
"I've wanted to act since I could talk," she remembers, "which my parents were really not OK with. They were like 'Oh, that's just like all the other shit you wanna do--like you wanna be a mermaid, don't you?'" Considering Dennings was 10, this doesn't sounds all that unreasonable. But eventually they relented and let their daughter try it out for a month. She got a manager, whose husband happened to be an acting coach, and took one of his courses. "It was the worst," she says, cracking up. "I had to read a Chiclets commercial to the class, and he was like, 'You will never be an actor.' I was like, 'Fuck you, buddy. You're judging me 'cause I can't sell you imaginary Chiclets?'" Dennings charged ahead, taking the train to New York City three times a week with her mom to go on auditions. She got her first big break on a little show called Sex and the City when she was 14. "I had no idea what it was," says Dennings, who wasn't allowed to watch TV growing up. "I was reading at the audition and just having a good time. Then on the cab ride home, my mom and I saw a billboard for it the size of a building!" Dennings played a spoiled daughter of a New York restauranteur who hires Samantha to do PR for her bat mitzvah. The Dennings family got cable that month, and she had her friends over to watch the episode. And there she was on-screen, dolled up in Patricia Field's finest-sequined dresses and zebra-print leggings--delivering risqué (and grammatically incorrect) lines like, "I've been giving blow jobs since I'm 12." "It was an explicit episode," she says, chuckling. "Kyle MacLachlan jerking off…my parents were like, 'Oh, Jesus Christ. Don't look!"
Dennings has since moved on to less-brassy roles, playing wickedly smart girls who are, in some sense or another, outcasts (see The House Bunny and Charlie Bartlett). And then there was the aforementioned Nick and Norah. It cemented Michael Cera's image as an indie poster boy, and Dennings became the princess. She did a wonderfully endearing job playing Norah, who thinks she can't possibly get the guy, but it was a bit painful watching her character get so down on herself. "It's funny because during filming Pete Sollett, the director, told me, "I don't like you having to say [self-depreciating] things like this,'" Dennings recalls. "And I was like, "Dude, forget it, whatever.' He's just  like. 'You should just know that you're the best.' He was just so wonderful to me during that." Dennings adds that she's been going through a bit of a real-life confidence crisis lately. "I'm trying desperately not to read my IMDb message board--anything you can throw, they throw," she says, shifting her gaze toward the traffic whizzing by. She rattles off a litany of insane complaints about herself. "All I get is that I'm too fat, my nose is weird, my teeth are bad…" She says these things with a casual, "eh, whaddya gonna do?" attitude. But she admits the insults can hurt. "I never thought about my looks that much because of how I grew up--it was not important. So all of a sudden, I'm hideous, and it sucks." 
Well, a lot of directors and producers would beg to differ. Along with Robert Rodriguez's upcoming Shorts, she just finished filming Defendor, in which she stars opposite Woody Harrelson. (Dennings claims she beat the actor at poker during a private tournament at his house. "I came in second to Woody, who cheated--he bought somebody else's chips to stay in the game--so I am actually the winner!") She's also got this summer's The Answer Man, which premiered at Sundance with the title Arlen Faber. In the film, which also features fellow cover-girl, Olivia Thirlby, Dennings plays a spacey hippie with her usual charm. Although she and Thirlby only have bit parts, their presence is important, if only to give screen time to these interesting actresses--in all of their oddball, dark-humored glory. "Hopefully, the tide is going to be turning. Personally, when I see a movie starring the perfect blah girl with the perfect hunk guy, I'm just like, "Oh, screw this. I don't wanna watch this. Who cares what happens to you guys?'" she says, laughing. "I love my career, and I know that looks are a huge part of it--but people are so obsessed. Like, 'Don't you have other things to do than not eat and go to the gym, you freak?'" On a roll now, with her bravado and wit in full force, she adds: "I mean, ask any size-0 twit if she's read a book lately." If she hasn't, Dennings has plenty to spare. If only she'd just finish unpacking them.
OLIVIA THIRLBY
"I apologize for stripping in front of you," says Olivia Thirlby, who's sitting on a couch in a suite at Hollywood's Roosevelt hotel. Seconds earlier, she had been discussing her favorite female characters in the Shakespearean canon (Beatrice from Much Ado About Nothing, Constance from King John, and Portia from Julius Caesar, for the record), when she suddenly stops and pulls down the neck of her white T-shirt past her shoulder. "Ah man, my bra strap is, like, majorly twisted and, uh, it's kind of hurting. You know when it's just stabbing you? It sucks." The dark-haired, porcelain-skinned actress then sets about doing a sort of locker-room trick, weaving her hands underneath the bottom of her shirt, popping one out of the armhole, and then--voila!--errant strap magically fixed. She flashes a triumphant smile and mock-sings, "Victory is mine!"
This particular display, and the fact it came on the heels of chatting knowledgeably about one of the world's literally greats, perfectly illustrates the dichotomy that makes Thirlby--outfitted today in high-waisted black-and-white gingham capris and black sneakers ("they're like if Keds and Vans and Top-Siders had a baby!")--so intriguing, both as a person and an actress. With her polished diction and breathy, late-night radio voice, she has the poise and intelligence to easily hold her own with industry executives and to charm at dinner parties. But she simultaneously possesses a goofiness and salty spark that can light up a screen, as evidenced in Juno, in which Thirlby played the hilarious, nutty best friend of Ellen Page's titular character. She's a petite sophisticate crossed with an around-the-way girl, if you will. 
The Brooklyn-based actress is in Los Angeles for two weeks of meetings and is also taking advantage of the sunny weather to relax and read on her friend's porch in Los Feliz, where she's crashing. Born and raised in Manhattan, Thirlby is suddenly finding the palm tree-lined city quite appealing, sacrilege for a true East Coaster. "I'm eating my words. As a New Yorker, I've spent so much time hating Los Angeles. I used to really not like it here," she says. But today, she is truly blending in with the locals, having brought a backpack full of exercise clothing to go hiking in Runyon Canyon later. "It's the greatest workout. And it's a fun way to reward yourself because when you get high enough, you get the amazing view," she says. "As I get older, I'm having more of an urge to be near nature." 
Such a statement may sound a bit rich for someone who is only 22, but since New York City kids grow up fast, it makes sense. Born to a contractor father and a mother who wrote commercials, Thirlby grew up in Manhattan's East Village, then a stomping ground for scrappy artists--not the sprawling tapas bar and imported-beer garden playground it is now. "Most of the store fronts were abandoned, and most of the people in the street were junkies or punks, or both. It was awesome--it was dirty and dangerous," she says, with a mischievous grin. Weekends and summers were spent at her family's country home on Long Island's North Fork, where she would run around among beach dunes and ride horses. (Thirlby started competing on the equestrian circuit at 8--blazer, ascot and all--until she got injured during a jump a few years later.) But her favorite pastimes were playing dress-up and make-believe. "Maybe it had something to do with being an only child and having to amuse myself," she ponders. She still remembers a "movie star" costume that her aunt and uncle bought her when she was six. "It was my favorite!" she exclaims. "It was this little, strapless, shiny, pink snakeskin dress with a big, white fur coat and a pink boa." 
Clearly destined to be in some sort of spotlight, Thirlby, who attended the rigorous Friends Seminary school, landed roles as a card and an oyster in the school's production of Alice in Wonderland when she was in the fifth grade. "It infuriated me that I had to wait that long," she says, half-jokingly. Soon after, she went to a few summer camps for acting, where there was a "huge contingent of musical theater kids"--Thirlby throws out a strong pair of jazz hands to punctuate this point--and did a stint at the Royal Academy of Dramatic Art in London between her junior and senior years. "It was an amazing summer. I was 17 and on my own," she remembers. (Thirlby was well-equipped to fend for herself, having learned the "slap, grab, and pull"--as in, an attacker's nuts--in self-defense class years earlier.) Around that time she got an agent, landed a few commercials, and eventually scored the lead in The Secret with David Duchovny and Lili Taylor. "I got the phone call and I screamed," she says, collapsing back. "Oh, God, I will never, ever forget that feeling. I stayed home from school, I was so excited." 
Five years later, Thirlby is still only getting started with her career, gaining attention for her smart and funny performances--she has a knack for infusing characters with a magnetic, vibrant energy. There was last year's turn as Stephanie, a popular, weed-smoking girl who has an unlikely summer romance with a shy and awkward pot-dealer in The Wackness. "I was very much just being myself. That was pretty much the only direction that I got," she says. But her character breaks a guys's heart! "Shit happens. He was the one who went and fell in love with her after knowing her for, like, two weeks. I mean, come on!" She breaks into a laugh. "It was funny. We did a big press tour for the movie, and every guy interviewer across the board was like, 'You're the heart breaker! I hate you!'"
Up next is The Answer Man with Kat Dennings (Jeff Daniels and Lauren Graham play the leads), and in it, Thirlby does a buttoned-up and nerdy to convincing effect. Other upcoming projects include New York, I Love You (a companion film to Paris, je t'aime), out this fall, and Margaret, a big-budget venture starring Matt Damon. She also recently wrapped Safety Glass, along with Hilary Duff and The Wackness' Josh Peck. Thirlby says the role was her most challenging yet. "It's really dark…just a girl who's in a lot of pain, really miserable," she says. It certainly sounds like a good part for a rising star to sink her teeth into, especially one who wants to be known for her body of work, not her body. "It seems that in the present day, more so than in the past, there's a shift in Hollywood toward idealizing women who are perfectly groomed. I guess it was always that way, but I don't know…" Thirlby trails off. "Honestly, I feel like in order for an actress to be a bankable movie star, it means that she has to look really good on the red carpet. And it is so depressing, because when you think about it, looking pretty really has nothing to do with acting." However, when told that her own success--and that of her cool indie-girl peers--seems to be diversifying the leading-lady playing field, Thirlby says with a thankful smile, "I hope so."
KAT & OLIVIA'S Q&A
How was posing together for the cover shoot?
Olivia Thirlby: I felt  like we had extreme chemistry. 
Kat Dennings: Extremistry! I felt our chemistry was palpable. 
OT: Me too, you could cut it in the air like butta. 
Did you guys first meet on the set of Answer Man?
OT: Yes, we were shooting in this bookstore. We were hanging out  behind it and eating all sorts of junk food.
KD: Chips, yeah. It was so gross.
OT: We were having a marathon Cheetos session. 
What were your first impressions of each other?
OT: Well, Kat was styled like a crazy person.
KD: Wasn't I wearing that pink sea-urchin hat?
OT: She had colors in her hair--purple and green--and she was wearing this really strange hippie dress and, like, a beanie. 
KD: And you had your peacoat. 
OT: I was also styled in a way I don't normally dress.
KD: I thought you were classy. Really, that was my first thought. 
Tell us a little bit about whom you each play in the film.
OT: We're kind of foils for each other. I play Anne, who is very tightly wound and is very much a people pleaser. 
KD: And I'm just a nutcase, really. I think John [Hindman, the director] and I talked about how Dahlia, my character, was homeless before she got this job at a bookstore. Kind of a space cadet. 
What do you think of each others' acting styles?
KD: I just think Olivia gives out the vibe of--excuse the term, because this is the best compliment to give out--a down-ass bitch.
OT: Thanks, bitch. 
KD: You do. You just seem like a down, awesome chick who isn't thinking about actressy stuff when you're acting. Just not worrying about being all posey. I see that sometimes when actors, not just young actors, but actors. And it annoys me. 
OT: Well, to say something that John Hindman said about Kat--she is not capable of having a dishonest moment. It's so true. My favorite thing, actually, is your sense of humor. 
If you guys could hang out more, what could your dynamic be?
OT: We would probably just sit around providing our own commentary on the world around us. 
KD:I'd say.
OT:It would be like Coffee Talk With Linda…what was her name?
KD: With Linda Richman!
One last question, chocolate or vanilla?
OT: Chocolate!
KD: Vanilla!
Need more NYLON? Follow us on Pinterest!