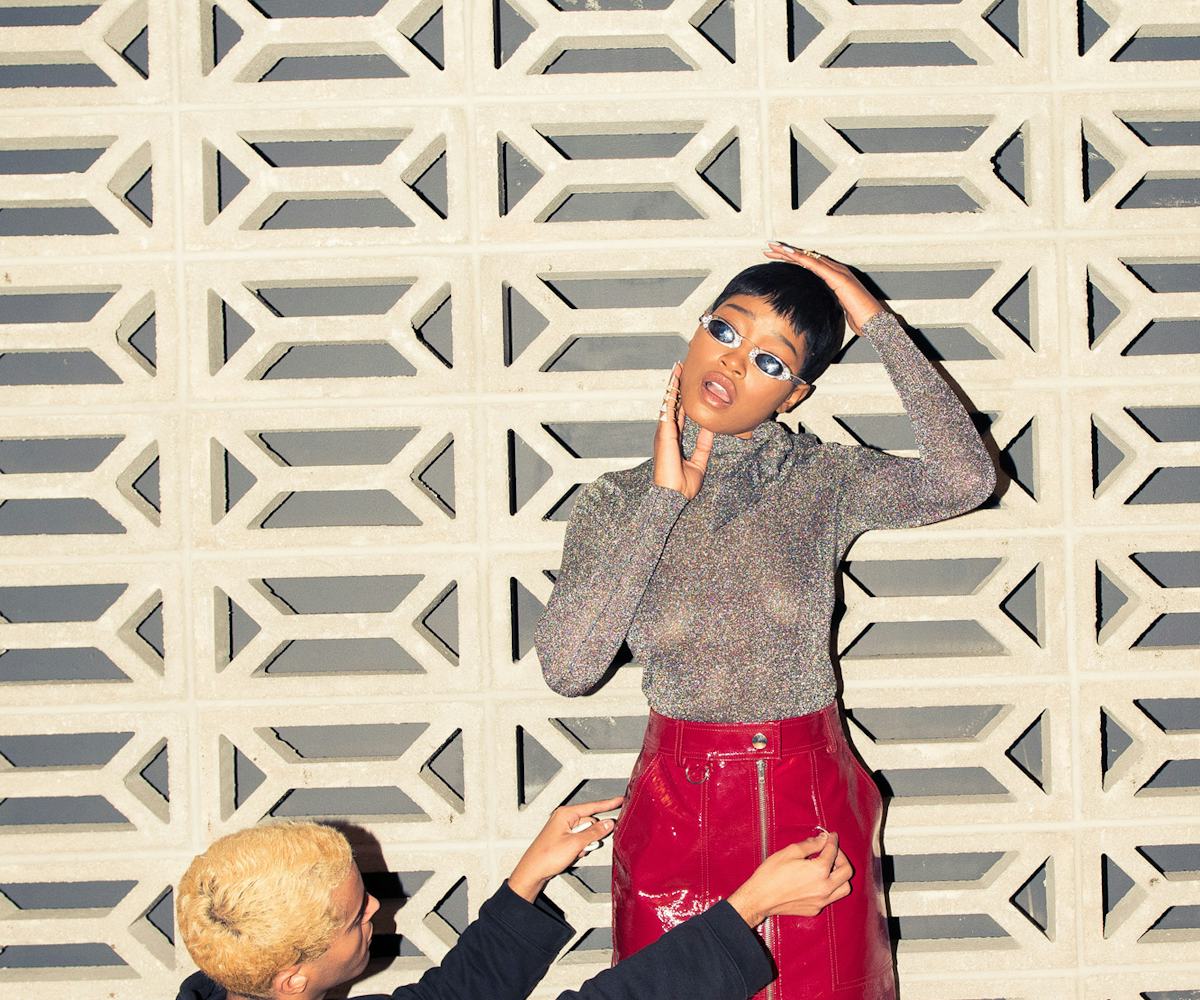 Photographed by Jake Rosenberg.
Get To Know The Stylist Behind Keke Palmer's Latest Looks
Michael "Maikeeb" Benyamin's journey from NYLON intern to rising stylist
Over the past week, Keke Palmer has made some pretty daring sartorial choices during her stay in New York City, winter weather be damned. And as it so happens, the stylist behind her out-of-the-box ensembles, Michael Benyamin (known as Maikeeb), got his introduction to the industry thanks in part to NYLON——just six months ago, the 22-year-old New Jersey native was learning the ropes as an intern in our fashion closet. It's undeniably early in his career, but Maikeeb possesses the confidence of a seasoned stylist—a quality that's not only apparent from his own wardrobe, but from the looks that he has created for his growing list of clients, which also includes Cardi B and Kit Keenan. Here, he discusses what it was like to work with Palmer and the lessons that he has learned so far in his budding career.
Keke has been getting a lot of attention for wearing the denim bra top with Leonardo DiCaprio's face on it. How did that look come together?
That look actually came about really last minute. We weren't even planning for her to wear something like that. We were at Elle because she was doing an on-camera segment with them, and then we changed her—we pack up garment bags every day and wait for her to be done, then bring the garment bags to her. She said, "Put me in the blue look." So we put the skirt on her and then we put on the top. Originally, we wanted to do the full runway look by Namilia. It was a top and bikini bottom and a red latex jacket down to the floor. If she would've done that, that would've been really crazy so I'm glad she didn't do it.
It was also 20 degrees that day.
Yeah, she would've been freezing! But she loved it so much. We went downstairs and the paparazzi were still waiting for her outside. She walked out, and pretty much everyone was going nuts. Then, we went downtown in that same outfit to meet her fans. The minute she walked out of the car, I could see all of their eyes like, [gasps] "Oh my god, what is she wearing?" Everyone was so happy. Seeing something like that has always been my dream, to see someone's fans react to a look the way that they did.
What's been her reaction to everything? I don't think we've seen her get this much attention for her looks before.
She's really, really happy. She texts me every morning with articles, and I text back when I find more. Everywhere that we went, she saw that there was paparazzi waiting for her, so she was like, "Let's change the look. Let's make it crazier. Let's show out." She gagged them.
So how did you first start working with her?
A good friend of mine, Brittney, actually knows Keke. She connected us because Keke was coming to New York and needed someone who was in the streets and knows the styles to pull. I sent some options to Keke, and she loved what she saw.
Are you going to continue to style her?
Yeah, we're prepping for her promo tour in January. It's really hectic. We have to get 100 outfit options for her to look through.
You've styled Cardi B, too—and literally kissed her in an Instagram photo. How did you end up working with her?
We met at Fashion Week because we were going to all of the same parties, and, at one point, I was like, "Girl, I need to style you." So I talked to her manager—a friend of mine who actually now manages me—and she brought me onboard to style the visuals for her upcoming album and print features. At the end of the shoot, she was like, "Let's take a photo for Instagram." I said, "Okay." She said, "Kiss me on the mouth!"
Just like that?
Yes! But I said okay. [Laughs]
What's your general approach to styling your clients?
I always like to give my clients more options than they're looking for, so if they want three outfits, I'll get 10 or 20, then let them look through the rack and help put outfits together. I love having my clients feel very free. I don't like to dictate their image; it's not for me to say. I'm employed for you to make your vision come to life.
How do you describe your aesthetic?
My aesthetic is "bubblegum pop"—very colorful, but very weird. I love wearing brands that are exclusive—not to feel like I'm better than anyone else, or anything like that. I love the aesthetic of streetwear that's grunge or punk, that you can only find off the runway. I've become more enamored with the culture of streetwear that is super-high fashion, so I'm really attracted to Vetements. I've loved them since their first season. I bought a hoodie of theirs back in 2015, and have just been wearing it since then. You know how you feel when you look in your closet, and you have one piece that you just want to wear every day of your life? That's how I feel about my whole closet.
Tell me a bit about how you got interested in fashion.
When I was younger, I was a big fan of Lady Gaga. I started to get into the clothes that she was wearing, and soon I was able to point out what brands she was wearing. I'd be researching all the time and looking up runways. I was 16 or 17 then, but things took off when I was 20 and started to intern.  
Who are some of the stylists and magazines that you interned for?
I worked with Jen Patryn—she did a lot for Vogue Mexico and Elle Mexico—that was my first internship. From there, I went on to Mel Ottenberg and Brandon Maxwell. I learned a lot from those people and a lot about the business. It's very tight-knit, and you have to apply yourself to learn. You have to be a sponge. My last internship, actually, was six months ago, here at NYLON. I owe a lot of my success to NYLON. It's where I really got a head start, and learned about what it means to be a stylist. I knew nothing about fashion, really, when I worked for stylists. And I learned nothing about fashion in school.
What was the most memorable moment of your intern experience?
It was here! I went on set with Tinashe. That day was amazing. I got to work with Shiona [Turini], someone who I admire, and I was only 21 at the time. I learned a lot from just being there. It was definitely a turning point from being a boy who was looked down upon and told I wasn't going to make it anywhere, to be on set assisting someone working with a celebrity. And, in her own right, Shiona is a celebrity herself.
What was the greatest lesson that you've learned so far?
Your reputation is all that you have. Don't burn any bridges, even if someone treated you like a garbage can. You can have internships where you just do pick-ups and drop-offs, and [the person you're interning for] is like, "Don't talk to me. Don't even look at the people in the office." This industry is really tough. It took a big toll on me. I cried a lot, I was sad a lot, and I never get like that. Starting to work in this industry with stylists who were legendary to me took a toll on me because I felt like I wasn't good enough. People were telling me, "You're not good enough," so it discouraged me. But I knew that if I kept going with what I had and what I built for myself that I would be bigger one day.
Who's your dream client, or place to work?
Well, my dream is to work for myself, to have an office in New York and one in L.A. My dream client—I have a lot. Number one, Gaga, of course, because I was such a huge fan that that would be full-circle. But my dream client is just someone who is very confident with themselves, enough to take fashion risks and get photographed, and end up in all of the headlines. Keke was a dream client, and it just so happened that [getting to work with her] happened quickly for me.
What's the best piece of advice you have for someone who's looking to break into the industry?
You have to have a mentality so strong that nobody can break you down. People are going to be rude, but don't take any of that to heart. And stay on your grind: Go out to events and introduce yourself to people—obviously to an extent; don't just walk up to someone huge and show them your Instagram [laughs]—because you never know where it could get you. Try to expand your circle of connections. Try to go to after parties during Fashion Week. Post more online. It's really crazy, I can't believe how much social media matters to people. It's a little sad for our generation, but you gotta do what you gotta do, so if it takes a certain amount of photos or followers, and really good content, to have people look at you, then, hey, you've achieved your dream. Just understand that you have to work your way up for people to not be rude to you, but once you make it, don't treat people like that. It's not worth it.