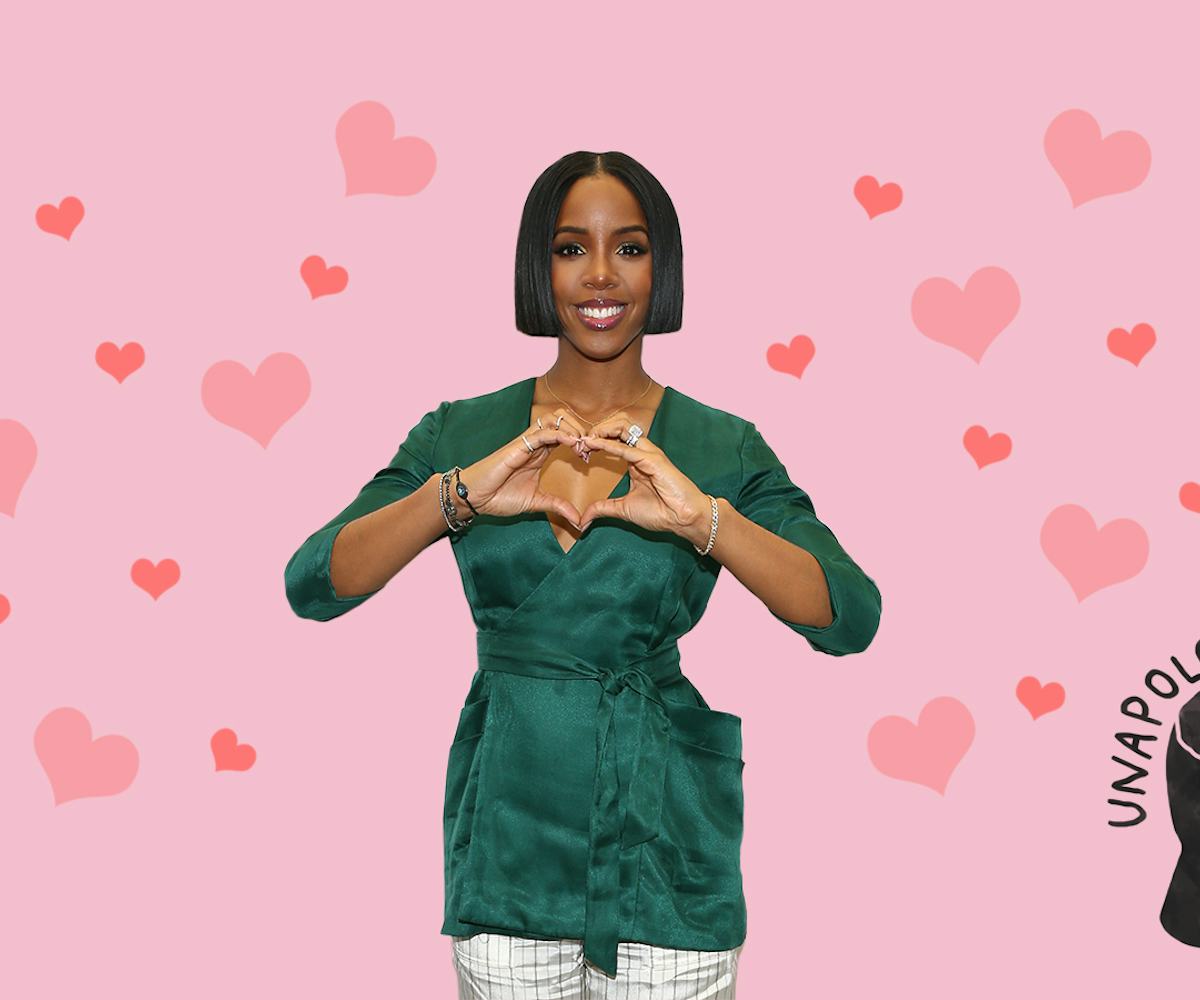 Kelly Rowland Has A Message For Young Black Men And Women
"Midterm [elections] are coming up, get focused"
In celebration of Black History Month, NYLON is running a spotlight series called UNAPOLOGETIC. Every day, w
e'll celebrate different aspects of black culture through
profiles, interviews, roundtables, reviews, videos, and op-eds
. #Blacklivesmatter and we hold that truth to be self-evident.
Kelly Rowland isn't one for idle time. She recently starred in the Lifetime film 
Love By The 10th Date,
has a forthcoming book 
Whoa, Baby
due out in April, just wrapped up the television show 
Chasing Destiny
this past summer for which she searched the country for the next big girl group (she might have some experience in the department), and is now working on a makeup line for women of color. In between all of the above, she somehow managed to partner with Burlington and WomenHeart on an initiative to educate women about the importance of heart health. We're tired just thinking about all of those Google Cal notifications. 
Through all of her projects, Rowland has proven that she's so much more than just a singer—even if she was one-third of one of the biggest girl groups of all time. She's an entrepreneur, an actress, a mom, and an author. She's also one of the more charming and down-to-earth celebrities out there. We had a chance recently to sit down with Rowland and chat about everything from politics and being black in America to her upcoming birthday. And in case you were wondering, Rowland gets emotional talking about former President Barack Obama. Celebrities, they're just like us! Except, you know, we don't happen to have Beyoncé's number in our phone. Read our interview with the multihyphenate superwoman below.
You're partnering with Burlington and WomenHeart on this heart disease awareness initiative. I recently learned that heart disease disproportionately affects African-American women; are there any food or exercise habits you've adopted to help lower your risk?
For me, it was just being aware of what I was eating. I exercise on the regular, about four to five times a week—if I'm lucky, five—and just try to de-stress, whether it's through meditation or prayer. There are so many meditation apps out right now; they have three-minute meditations that you can do daily if you'd like. If you have a second, you should take a moment to meditate and just zone out. I think that you approach your day in a different headspace and with a different intent as well.
Do you have a favorite meditation app?
Russell Simmons has a
. There's another one called
. 
You were a big supporter of the Women's March, which was obviously a beautiful time for women to join together. Are there any women in your life who helped you stay grounded throughout your career?
Yes, between my mother, God rest her soul, and Tina Lawson, and all of the women in Houston who used to be in Headliners hair salon. That was my first glimpse of how women can do anything. There were women in the salon with different backgrounds who owned art galleries, who had their own law firms, who ran banks; they were 'bout it women, about their business and very smart and so stylish. It was my opportunity to see all of these African-American women be so powerful and so poised and beautiful and intelligent above anything.  
You've talked about your fears of raising a black son in America before. Have you and your husband discussed how or when you're going to approach the conversation of growing up black in the U.S. with your son?
Definitely. My husband said that his mother had that talk with him early on. He didn't actually give a specific age, but he did say that he wanted to have that talk with Titan as soon as he started understanding the world around him. We don't want to wait for Titan to come to us with questions, we want to already have that talk with him. He's still two and has so much innocence and is only speaking Spanish to us because he's bilingual [
laughs
]. But we feel like it's necessary because I don't want the rest of the world telling my son who he is and trying to identify him as something he is not. I'd like to raise him as the man we want him to be and for him to know who he is in the household first. So, that means a lot to us. 
Is there one piece of advice you'd give to a young black girl or boy living in America right now?
Midterm [elections] are coming up, get focused. It's so funny because I think that when I talk to the newer generation now, they're like, "Our voices aren't really heard, and I don't think that's fair." I think that there were a lot of things not put into place and everybody has their own opinion right now and a lot of things affected the way that everything panned out for us, but it was fear that got us here. And I feel like it's important, moving forward, to not move in fear but to move openly; to move with intent to change and to be part of that change. But you have to do the work behind it, and part of that is letting people know what's going on with midterm elections. 
And, as women, we can't say, "Oh, well, we like this, and we'll stand behind this," but then not actually show up for something else that another woman, maybe of another race, is going through. It affects all of us. I don't care who you are or what it is; as women, it affects all of us. It's important for us to support each other on everything because then they know that we're unified, they know we're not taking no for an answer and are demanding change. And I think women are a great part of that. 
Intersectional feminism was a big issue before and after the Women's March. A lot of black women didn't want to attend the march because they didn
'
t feel like it was inclusive enough.
I think that anything that we're going through right now, it affects [all] women. Whether in the black community, the LGBTQ community, white community—I don't care what color you are, it affects us all. And I feel like it's important to be as passionate about those things as anything else. And it affects our next generation! I don't want my son… I cannot have my son see this. I want to have another baby, but you could understand why this could put one off of having one because you want to focus maybe all of your energy into one and not eff that up. Or, have the world try to eff it up. You just want to make sure that you're being an example. I want to be a great example for my son. 
You were and are a big Barack Obama fan, what do you miss most about him being in office?
Class, integrity, kindness, I just feel like he operates in the biblical definition of what love is. It's not about the dollar to him, he really cares about the heart of America. I'll start crying if we continue this conversation. If we just start this whole Obamas period conversation, it ends in tears. I think we're all still grieving. 
Hypothetically speaking, say a Destiny's Child biopic was coming, who would you want to play you?
I don't know. I don't even think about it because I feel like I'm just getting started. I feel like it's still being written, so I feel like it's premature. 
Your birthday's coming up. I once read that, for you, at age 30 sex got better, 31, life got good, and 33, you stopped caring so much. What was 35 for you?
Balls to the wall. Just, go HAM on everything that you want to do and don't doubt yourself. Whatever you do, be great at it. It doesn't matter what it is, you should just want to be great at it. You shouldn't want to be mediocre or just be okay with being okay. Thirty-five ain't the time to be okay with being okay; 36 ain't the age of being okay with being okay. You should want to be great at everything it is that you want to do. And I'm so grateful because I have other women around me who show that. 
Throughout the month of February, women can receive a free heart health exam and screening at select Burlington stores (listed at BurlingtonStores.com/HeartHealth). Stop in to also donate to WomenHeart at any Burlington location from February 1 to March 31