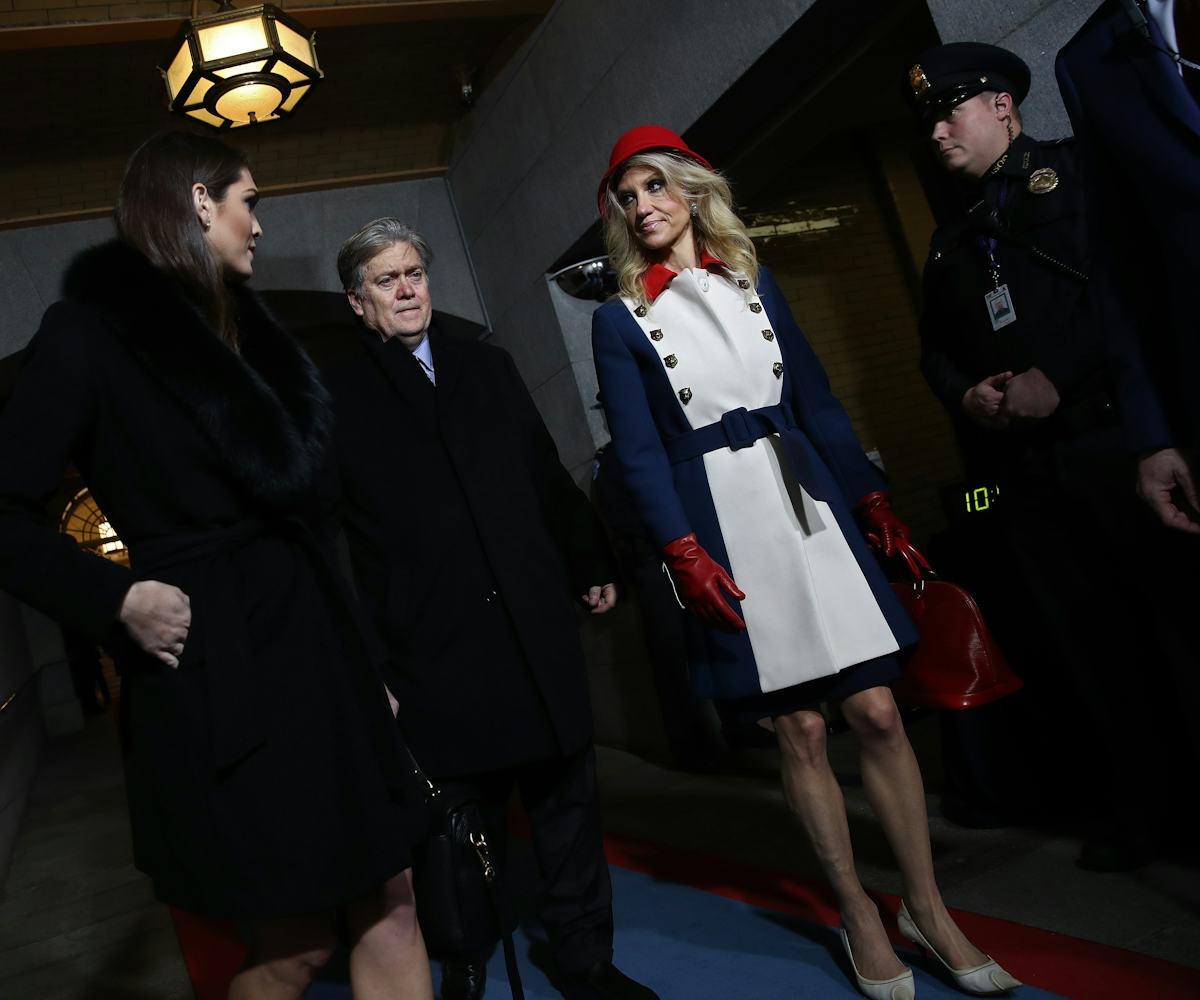 Photo by Win McNamee/Getty Images
Kellyanne Conway Shades "Black-Stretch-Pants Women" Following Criticism Of Her Inauguration Outfit
Kellyanne thinks she knows how to read, but she's once again making a fool of herself
In a recent interview with The Hollywood Reporter, Donald Trump's newspeak majestrix Kellyanne Conway responded to criticisms of her ridiculous Gucci inauguration outfit. In the feature, Kellyanne says she's "sorry to offend the black-stretch-pants women of America with a little color." Homegirl, when you come for the black-stretch-pants women you think you're just coming for yoga moms, but you're bringing health goths, streetwear connoisseurs, and red carpet celebs in tow, and together we will read you down with the force of one thousand libraries.
First of all, Conway's outfit was pulled off way better by Yolandi Visser of Die Antwoord, who beat her to the dystopian outerwear six weeks prior to Trump's ascension:
Second of all, the £2,907 dress in question was meant to celebrate the city of London—not the reds, whites, and blues of the American flag—according to Gucci's lead designer Alessandro Michele, who said he was inspired by the Westminster Abbey. If you're trying to be an American anti-hero, at least get your homages right.
With that out of the way, as far as fashion criticism goes, Miss Kellyanne's comments are still way off. Black stretch pants are hardly an insult. Futurism-minded celebrities have been embracing monochromatic elastic blends for a while now. Vetements X Juicy have been pushing opulent athleisure steez for a hot minute, and fashion icons like Jaden Smith, Rihanna, and our very own NYLON editors have been rocking the sports-inclined cyberpunk look on runways and red carpets since at least 2016, with, you guessed it, killer black stretch pants.
Here's the thing though: not just rich people are wearing black stretch pants. Everyone is wearing black stretch pants. Kellyanne and the entire Trump team are pretending to be populists but seem to have no problem shading the homegrown style of most Americans, considering black stretch pants are easily one of the most worn acoutrements in our aesthetic arsenal at the moment. Much like Trump himself, who has been called "a poor person's idea of a rich person," Conway thinks she's showing off sophistication, without realizing that she's dissing a lot of her base and at the same time, exposing herself as essentially out of touch with how elevated this staple item has become. What a combo.
Since the entire Trump administration is pretty good at propagating retrogressive falsehoods, it's not exactly unexpected for Kellyanne to be pushing her backwards taste level on to all of America. Here's an #AlternativeFact for ya, mama Conway: Trump's advisors are the best dressed people in the world. (Get it? Cause they all look terrible.)
The library is now closed.