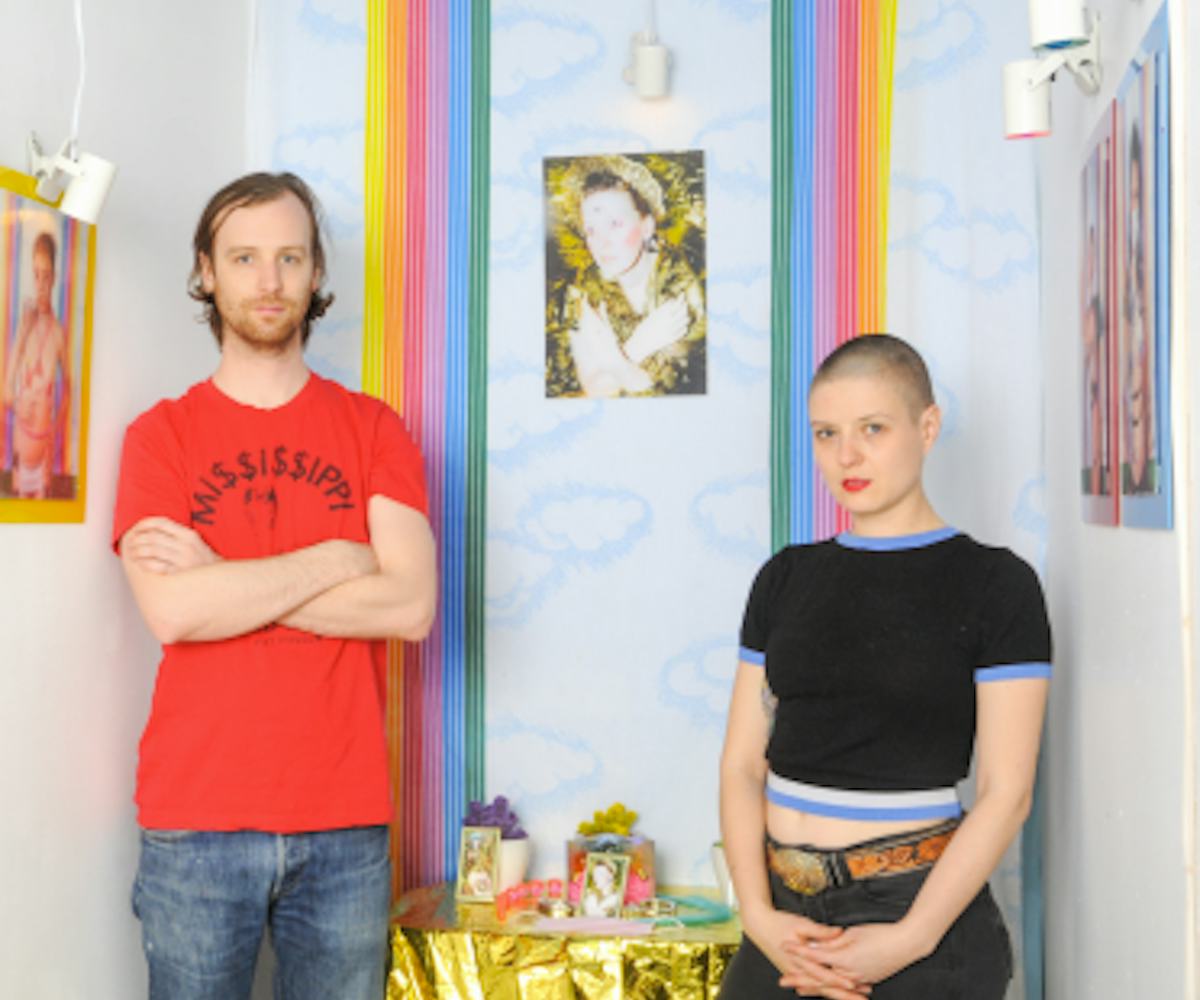 Photo provided by Kelsey Bennett
Kelsey Bennett On Her Fascinating, Feminist Glory Hole Art Show
enter the artist's dystopian sexual fantasy
Don't expect Kelsey Bennett to follow the rules. Her recent art installation, Glory Hole, was best visited with an open mind and no preconceived notions about what it means to be an artist, a woman, or a sexual being in 2016. You can get a taste for Bennett's own perspective—and her rebel spirit—at her chapel of "Sorry Saints," a collaborative interpretation of the interaction between sex and technological dependence.
Glory Hole, which wraps today, is an installment at this year's SPRING/BREAK Art Show in NYC, featuring multimedia works by Rémy Bennett, Michael Bible, Sam Cannon, James Concannon, Maria Candanoza, Brooke David, Anna Del Gaizo, Nick Des Jardin, and Tafv Sampson. Each artists' contributions interpret society's collective obsession with technology through a primal lens, creating an "immersive experience exploring the subversions of intimacy, sexual catharsis, worship, exhibitionism, and violence" in our rapidly evolving world. We caught up with Bennett to learn more.
Tell us a little bit about your background as an artist. How has your experience in different mediums (photography, videography, design) lead you to curate this particular piece?
I've always been attracted to sexuality, fantasy, and childhood. My pieces, and the others in the show, all deal with these ideas in one way or another. 
What drew you to the SPRING/BREAK Art Show in particular? What about its message resonates with you as an artist? 
I co-curated Glory Hole with Kaitlyn Parks and my sister, Rémy Bennett. The three of us were drawn to the immersive qualities that SPRING/BREAK looks for in an exhibition. With Glory Hole, we wanted to create something beyond the white walls of a gallery and give the viewer an experience that allowed them to interact with the art. When I was about five, my parents took Rémy and I to see the Red Grooms exhibit at the Whitney [Museum of American Art]. My experience was super enhanced by the fact that you could walk through the sets and "sculpto-pictoramas." I wanted to give a similar unique experience to Glory Hole viewers. 
The exhibit calls into question the relationship between progressive art and technological dominance. Where do you think your brand of artwork fits into our increasingly technology-dependent world? Why do you think the interaction of sexuality and violence is so relevant when it comes to tech, especially from a feminine perspective? 
Technology can be intrusive, and through it, we are experiencing a new means of collective intimacy that almost feels voyeuristic. People always have been, and will be, after sex and violence, and with the progress technology has made over the last decade, it's offered a forever-expanding platform for people to find, express, and interact with both of these behavioral extremities. Rémy, who is showcasing her short film EAT ME, about a cannibalistic webcam girl, is subverting the gender roles in that scenario and creating exploitative imagery in the reverse, with the woman taking control. The technology of the webcam allowed the character a level of control, and we watch her take advantage of that as we have seen men do time and again.
What is the inspiration behind the name Glory Hole?
The "hole" acts as some kind of transporting transformative portal leading to a sexually charged majestic higher state. Aside from the symbolism, which I could dive into forever, we like the term Glory Hole just for the fact that it makes people laugh. 
How did you select the collaborating artists in the exhibit? What do you think they each add to Glory Hole, both individually and as a collective work?
Sam Cannon's digital human transmutations evoke equal amount desire and discomfort, testing our concepts of beauty. James Concannon personifies the role of a zealous Catholic losing touch with his religious reality and succumbing to sin. Painter Brooke David recreates the fleshy glistening textures of animal carcasses on her canvas. Tafv Sampson's photography comes to life in Nick Des Jardin's sets creating a place where snuff meets glamour. The phantasmagoric women in my lenticular prints are armed with hypodermic needles and shark fins—they are accompanied by prose by Michael Bible in the candy-colored lady chapel we constructed. With the video installation EAT ME, Rémy and Anna del Gaizo invite you into the bedroom crime scene, of a webcam girl who doubles as a serial killer, where digitized sex is pitted against tangible flesh. Maria Candanoza's documentation of a continuous Facebook exchange with her college boyfriend depicts both isolation and intimacy. Maria also constructed a Glory Hole collectors box with mementos she created, inspired by each artist in the show. The box is limited-edition and will also be sold in her shop, Object-ify 139. 
What do you hope people take away from the exhibit?
Glory Hole is about fantasy. You can climb into the La-Z-Boy [that] Tafv and Nick have in their set and feel as if you're in one of Tafv's '70s-era photographs, or lay in the bedroom that Rémy has modeled after her main character's room from EAT ME, or make an offering in the chapel I've created. There are no rules to break or roped off areas in our space.
Glory Hole wraps March 8, 2016, at 6pm, at Moynihan Station, 421 8th Avenue, New York, NY.