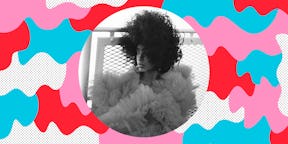 Kelsey Lu Is On A Long, Strange Trip Of Her Own Design
Kelsey Lu marches to the beat of her own drum or, should we say, to the tune of her own cello. First, she goes by Lu and not Kelsey, because she never identified with her birth name. She talks openly about experimenting with 'shrooms and acid. And she's made a name for herself by playing classical music, a genre typically associated with old white men.
For her songs, Lu's voice and her cello are often the only instruments. That's notable, especially when most artists her age are entering the music space by way of pop, R&B, or other more mainstream genres. It takes faith and gall to enter the industry as stripped and experimental as Lu has, and it takes true talent.
Artists like Kelela, Florence Welch, and Solange have taken note of this talent and recruited her to collaborate with them. She's gearing up to go on tour with Blood Orange at the moment and has an album in the works (her first EP was recorded in a single take during a live performance at the Holy Family Roman Catholic Church in Brooklyn). She takes those listening on a spiritual journey, and we're excited to see where her reverberating voice brings us next.
Below, we talk with Lu about how fashion informs her music, what she wants her fans to know, and who her own It Girls are.
You've talked about your relationship to clothes before. How does fashion and your style inform your music?
When one takes a shower, one gets wet. When the sky opens up into shower of rain, and you forget an umbrella, you get wet. When I sit at a piano, the trail of my body and the spirit of the wind overflows the bench to drag onto the ground behind me, around me, surrounding that which informs the notes I decide to play. The amount of jewelry I decide is appropriate for a person gauging the amount of time it will take to remove them as I pick up my guitar or record into a microphone in the studio. My conditioner runs out much faster than my shampoo does.
How have you come to define your music over the years?
Traveling wind-coasting on the wave of the ones who came before, and the electrical current of unknowingness of what's to come. A constant ebb and flow of change. A natural spiral. 
What do you hope your fans take away from your new songs and debut album coming out?
Opportunities for growth, individuality, hope, love, light, darkness, and whatever the fuck they want to take away from it because I'm not here to define anyone's feelings for them. It's their personal journey through some of my own.
Who was your It Girl when you were growing up? 
It's difficult to really put that all on one person because I admired a few for different reasons especially as I grew older, but if we're speaking on my childhood, I'd say Belle from Beauty and The Beast. She was strong, she was into the idea of being locked in a somewhat scary, dark, wet high tower because she wanted to save her dad's life, she was into getting dirty, she loved animals, she loved books, and, most importantly, she loved a beast that no one else would love.
Who is your It Girl now?
I wouldn't say I have one It Girl, BUT since I was speaking on the terms of Disney just now, that makes me think of the artist Klein. She's Nigerian living in South London making music that's totally fresh and unique. This past year, she debuted her musical fantasy opera at ICA, inspired by Disney princess and the U.K. care system. Her music is on another level that is constantly inspiring me.