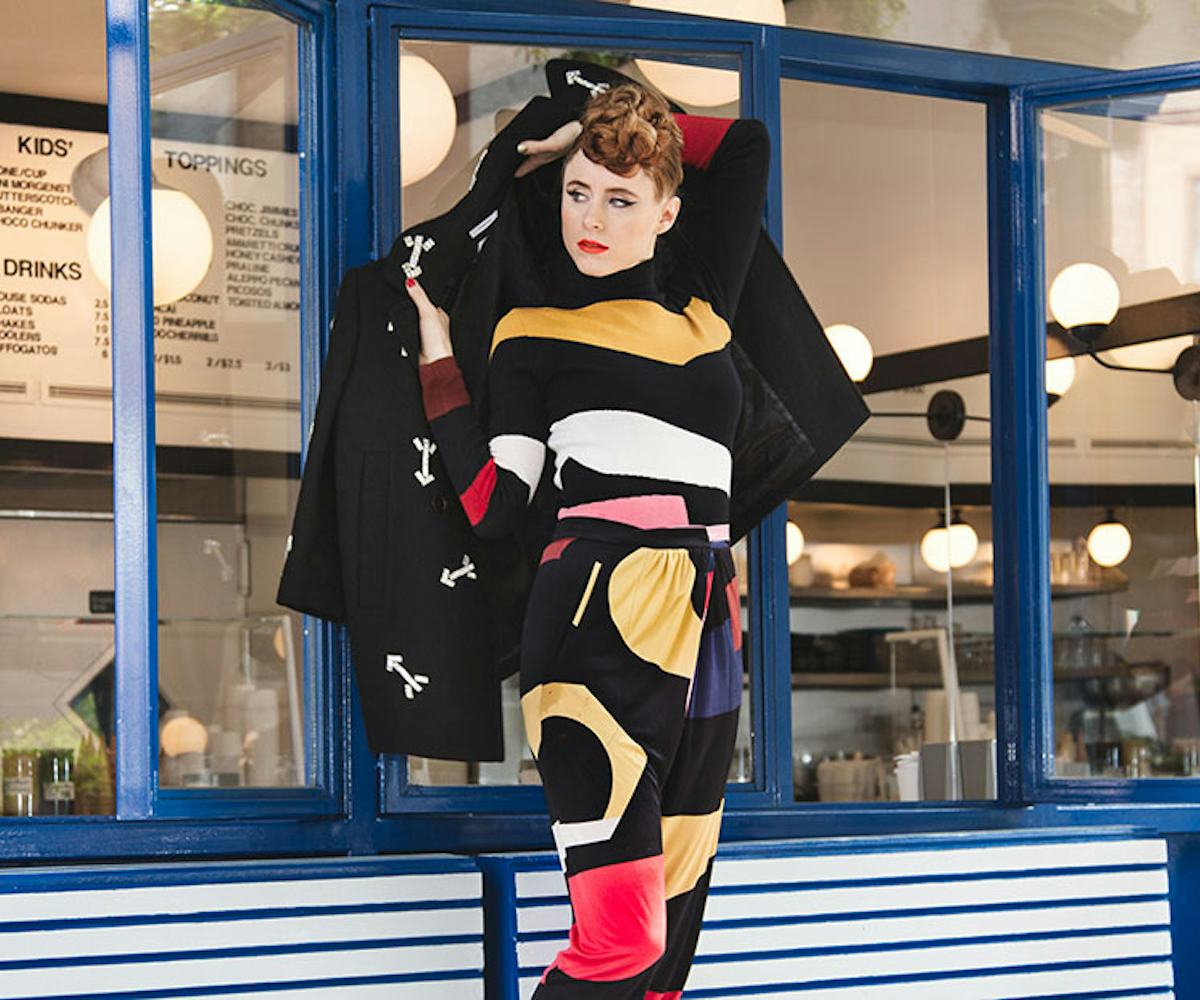 photo by sunny shokrae
meet the singer everyone wants to work with
skrillex, diplo, rihanna, kylie
Duran Duran and Rihanna have exactly one thing in common, and her name is Kiesza. Thirty minutes before 26-year-old Canadian-born Kiesza is set to perform at week one of Coachella—her first time at the festival—the media tent is hot as shit, baking in the afternoon sun, and the deep-house sensation is coolly recounting her merger with the Second British Invasion: "Simon Le Bon, the lead singer of Duran Duran, was running on a treadmill at the gym," she says. "He saw 'Hideaway' [Kiesza's monster 2014 song] and was like, 'Oh! I like her voice! I wonder if she'll want to be on my next album?'" Game recognizing game. "They kind of made the '80s what the '80s were," she says, chuckling.
What Duran Duran did for the '80s, Rihanna has done for the aughts, and Kiesza's got her hands in that pie too. Any second, in this balmy encampment filled with music journalists hammering on their Macbooks, Kiesza could get the call that the songs she's written for Rihanna will appear on the pop diva's newest record. "They'll say, 'Oh, it's on!'" she tells me. "In the writing world, things change so rapidly that it's not actually on until it's printed, you know?" I wish I did. Kiesza's writing credits include J. Lo's song "Feel The Light" and others for the likes of Kylie Minogue and Icona Pop. She penned the song "Cannonball" on the Home soundtrack for somebody else, but, smartly, the powers that be had Kiesza sing it instead.
Like Sia, Frank Ocean, and even Lady Gaga before her, the artist's transition from powerhouse songwriter to performer occurred because some tracks are just too good to hand over. "I was writing for other people mainly, so most of my songs I was giving away, and I couldn't give away 'Hideaway,' she says. "Hideaway" to date has over 220 million views on YouTube and debuted at No. 1 on the British Singles Chart. The track may be the big single on 2014's Sound of a Woman, but is by no means the only banger. In fact, Sound of a Woman Remixes EP was just released this month, and Kiesza is taking her show on the road, headlining a US tour, supported by Nylon fave Betty Who.
Experiencing the back end of the hit-making process, Kiesza is now in the rare position to properly vet her own producers, select the best accompanying musicians, and hone her high-energy onstage performances—as demonstrated with her massive video with electro super-group Jack Ü (Diplo and Skrillex). She is a prime example of how a new pop model, when put into proper action, will cause a ruckus. After our conversation, wearing a Wonder Woman onesie adorned with New York Yankees insignias, she heads onstage to show an eager squad of festivalgoers why it was high time she break out on her own. And if you're lucky to have tickets to week two of Coachella, do yourself a favor and get sweaty with Kiesza.