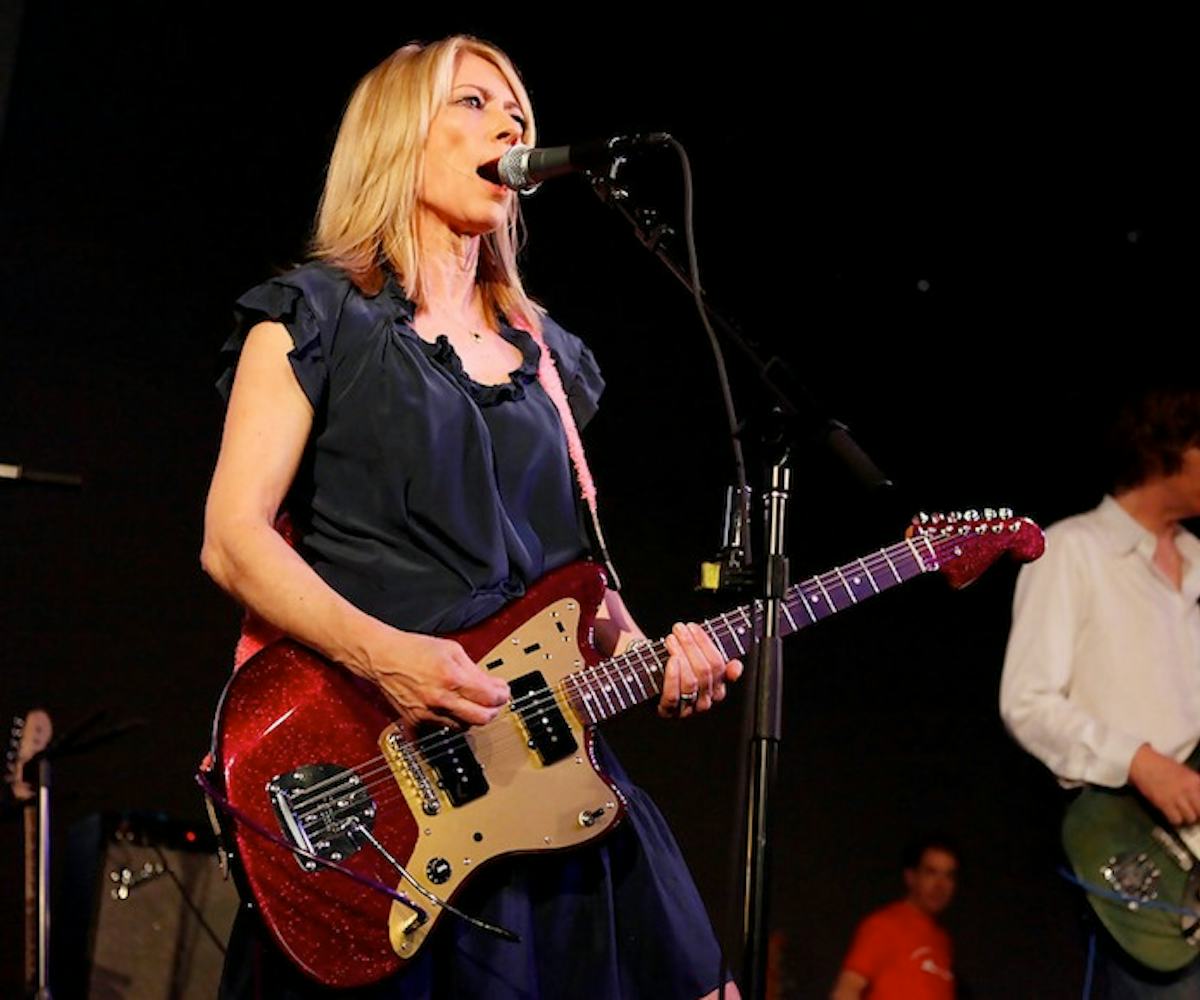 sonic cool
10 things you didn't know about kim gordon.
Since hitting the music scene in 1981 as the bass player and singer of Sonic Youth, Kim Gordon has changed the music world forever with her take-no-prisonaer attitude and unapologetically cool persona. With Sonic Youth a hiatus, she has performed with the group Free Kitten and is now touring with her new band Body/Head, an improvisational collaboration with guitarist Bill Nace. As if that wasn't enough, she's also played a massive part in fashion, art, writing, and film for the past thirty years, and is not slowing down any time soon. 
Over the weekend I took in a conversation between her and journalist Alex Halberstadt as a part of the New Yorker Festival, and, despite being a Gordon-ophile, learned a bunch of things about the icon I never knew, and probably wouldn't even believe had I not heard them come out of her mouth. (Like that she's obsessed with Friday Night Lights or once moonlighted as a therapist in the name of art.)
Read on to learn the 10 most unbelievable things, but true things about Kim Gordon.
1. SHE'S GOING TO APPEAR IN THE GIRLS SEASON THREE PREMIERE:
"I am a huge fan of the show. I know Jenny Connor, the executive producer who put the show together. I was just really impressed with Dunham as a director and how collaborative the whole production is. I think the role model for that show is The Sopranos instead of Sex and the City, especially in the second season."
2. SHE HAS A TIM RIGGINS FROM FRIDAY NIGHT LIGHTS MAGNET ON HER OVEN AND SHE REALLY LIKES SCANDAL:
"Bill [Nace] bought that magnet for me. I don't know, it just seems like there's a lot of good TV now! I'm an introvert and watching TV is a good way to recharge." 
3. SHE CAN BE YOUR THERAPIST, SORT OF
"I started this thing called 'Design Office' in the '80s because I didn't have a space to show art. It was doing I psychological interventions in people's apartments."
4. SHE DOESN'T THINK SHE'S A FASHION DESIGNER...
When Halberstadt introduced her as a fashion designer, she shook her head, even though she founded X-Girl, and has been collaborating with brands like Surface to Air for years. 
5. AND SHE CONSIDERS HERSELF A VISUAL ARTIST FIRST AND FOREMOST...
"It sounds sort of cliche to say, but I've wanted to be an artist since I was five. I do think really visually, and I did specially move here to do visual art. I felt a bit intimidated by the art world, though. I worked at a gallery and I got close with the commercial aspects of the art world." 
6. BUT SHE'S LIKES PERFORMING AS A MUSICIAN BEST
"Performing allowed me to be someone I couldn't be in art. Art was too intellectual and I knew everything about it, whereas with rock I didn't have a record collection that I studied, like histrionics of rock. [Being on stage] was almost a way to get out of my head." 
7. SHE'LL FORGIVE YOU IF YOU THROW A DRUMSTICK AT HER HEAD
A fan once threw a drumstick at Gordon's head during a Sonic Youth show, but she's not going to harp on it. "I mean, with the drumstick [incident], he was just excited. He was kind of a well-known character in Boston, and every time I saw him after that he profusely apologized to me. [laughs]" 
8.. SHE PAINTED A LENA DUNHAM TWEET
It reads, "I never thought I'd be such close friends with so many damaged men in their 40s." Can we consider that autobiographic, Kim?
9. SHE THINKS IGGY AZALEA IS THE LATEST AND GREATEST FEMALE BADASS IN MUSIC:
"I don't really look at mainstream music, but there are some people, like Iggy Azalea--I think she's kind of a badass. But I don't look at mainstream music that much. I could comment on Miley Cyrus, but truthfully, I don't actually know what her music sounds like, so I think that's kind of unfair." 
10. DON'T BELIEVE US? THEN READ BOTH OF HER BOOKS COMING OUT 
Sternberg Press is releasing a collection of her early essays from her art career and Harper Collins is publishing her memoir, so you can say goodbye to your free time while you're busy speed reading these two works.