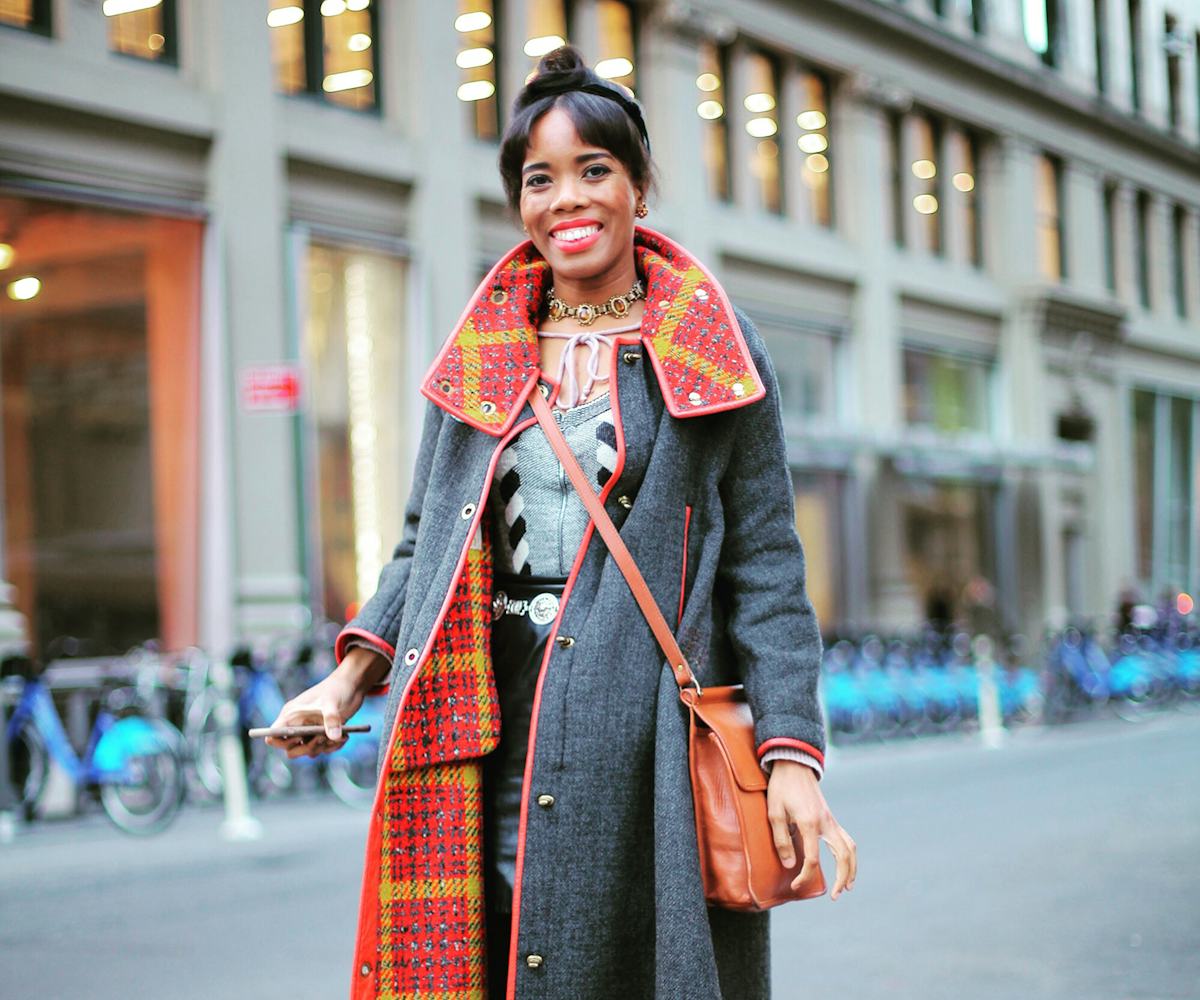 Photo by Kimiko Chanlk
Kimberly Jenkins Is Teaching Fashion At The Next Level
This professor applies critical analysis to how we dress
In celebration of Black History Month, NYLON is running a spotlight series called UNAPOLOGETIC. Every day, we'll celebrate different aspects of black culture through profiles, interviews, roundtables, reviews, videos, and op-eds. #Blacklivesmatter and we hold that truth to be self-evident.
Kimberly Jenkins can teach everyone a thing or two about fashion, and we mean that literally. The 36 year old currently works as a visiting assistant professor at Pratt Institute and a part-time lecturer at Parsons School of Design. For both occupations, she teaches fashion history and theory as a way of exploring "why we wear what we wear." Jenkins applies a critical analysis toward dress as both object and phenomenon. 
Back in 2012, Jenkins and a group of peers from her fashion studies program at Parsons launched The Fashion Studies Journal (FSJ). She states that the concept was "born out of necessity" and the urge to convince people in academia that fashion was worthy of scholarship.
"Fashion remains a stigmatized industry, and the dilemma for us was that we didn't really fit in the glossy fashion publishing world either," she says. "FSJ had basically become an island of misfit toys as we lay on the margins of the fashion world, but we kind of liked it that way and used it to our advantage."
Jenkins relaunched the publication in 2016 as a quarterly online publication. Now, the platform hosts columns, contributors, and social programming. Eventually, Jenkins wants FSJ to serve as a "magazine/academic journal hybrid that engages our readership with IRL events like a book club, cocktail hours, workshops, and field trips."
She's "never not working," so you can also find her participating in public speaking gigs and moderating conversations for the art and fashion community among all of the other things on her calendar. Jenkins' main focus right now is on "refining my work as a professor, developing my own research, and taking FSJ to the next level."
Learn more about this professor in the interview, below.
Tell me about your childhood and growing up. How has your culture or heritage shaped the person you are today?
"As a child, I was raised in predominantly white, upwardly mobile neighborhoods. My father, who grew up relatively poor, leveraged his proficiency in math during the Civil Rights Movement to become one of the first black white-collar engineers in early technology. Upon reflection, I sort of lived in a bubble, with my mom always at home, and I enjoyed all the things that came with '80s middle class suburban life. Admittedly, I took many things for granted—including 'the struggle' that my parents did their best to remind me of when it came to our cultural memory. The more sober recollections of my childhood involved me wishing I looked like all of the other (white) kids in the classroom, finding my appearance to be a handicap. It took years for me to reconcile those memories with the identity I eventually shaped as a proud black woman."
What initially sparked your interest in fashion and culture? Why did you decide to study both?
"As a kid, I watched Elsa Klench on CNN, and as a teen I developed a more nuanced understanding of the possibilities of fashion—that it was empowering and visually creative. Towards the end of high school, I was listening to Baduizm, reading Toni Morrison (thanks to Oprah's book club), embracing 'ethnic' design and desperately trying to make a connection between lived experience and material expression. Between the stylistic influence of the Neo soul movement in the late '90s and books about various world cultures I found at the neighborhood Barnes & Noble, I made some discoveries worth pursuing. As far as the decision to study both fashion and culture, that particular pathway hadn't become clear to me until many years later."
Can you outline your academic background? What was your undergraduate college experience like? What motivated you to get your M.A. in fashion studies?
"At the University of Texas at Arlington, I studied cultural anthropology and art history with a focus on non-Western art. I was pretty active in college, holding leadership positions in the anthropology clubs and combing the university library shelves for books on fashion and culture. My art history professor encouraged me to pursue grad school, since I was writing all of my research papers on dress strategies, ethnicity, and aesthetic expression. We'd sit in her office on the computer, struggling to locate a graduate program dedicated to the relationship between dress and culture (or 'fashion anthropology' as I called it), and eventually I stumbled upon a program at Parsons School of Design that had just welcomed its first cohort of students. The program was called Fashion Studies and I ended up in the second graduating class, able to enjoy the privilege of being a pioneering student in an emerging field. It was kind of a full circle moment once I thought about it—my father had also taken a risk as a young adult, leaving his job as a mechanical engineer to join a new field that they were calling 'technology.'"
What has your experience been like teaching at Pratt? What subjects are you covering in your courses?
"Upon graduation from Parsons, I was offered a class to teach at Pratt entitled, 'Contextualizing Fashion,' which introduced undergraduate fashion design students to fashion theories and concepts as it applies to global phenomena and everyday life. It was a dream. Since then, I've taken on the course 'Contemporary Fashion,' which is a survey and sociocultural analysis of 20th century fashion history. I love teaching fashion history because it involves storytelling, challenging us to reckon with our past and understand the iconic objects and figures that have influenced what we wear. I've been there for almost four years now and it's incredibly rewarding to see an entire class of students through to their graduation. I'm sure I'll be in tears at this season's graduate fashion show!"
What exactly do you do at your current jobs? What steps did you take in order to be prepared for your current position?
"Currently, I teach at Pratt and Parsons School of Design, my alma mater. The courses I teach at Parsons are fairly similar in nature to the ones I teach at Pratt. I'm going to be completely honest and say that I wasn't prepared for the work that I do! The teaching profession always appealed to me in undergrad, but in grad school I was anxious about job prospects, having thrown myself into such a niche academic field. Back when I applied to the Fashion Studies program, I interned at the Dallas Museum of Art on, coincidentally, two of their first-ever fashion exhibitions (one was on African headdresses, the other was the Jean-Paul Gaultier exhibition). The experience was invaluable to say the least, and elevated me to a high road of success throughout the program. In my final graduate year, I worked as a teaching assistant and that definitely prepared me for what I do today. Much like any profession, it really comes down to on-the-ground experience, improving as you move along. I also suggest finding a mentor—I wouldn't have the job I have without one."
What are some of your goals as an educator?
"Beyond the basic learning outcomes that we outline in our courses, my personal goal is for my students to come away with not only a sense of validation for their career path, but to leave school with a knowledge of self that can't be challenged or taken away."
Can you tell me more about the 'Fashion and Race' syllabus?
"In fall 2016, I developed an elective course that ran at Parsons entitled, 'Fashion and Race.' The course was waitlisted—in fact, students insisted that the course be offered on a regular basis. Earlier that same year, Rikki Byrd, a student in the program I graduated from, had co-organized a lecture series at Parsons entitled, 'Fashion and Diversity.' Rikki and I had a peer relationship, so she invited me to speak on a panel in February called 'Fashion and Race.' As I was leading my course last fall of the same title, Rikki and I decided to merge forces and create an online syllabus that freely published crucial resources for anyone who wanted to explore the intersection of fashion and race. Up until the launch of that project, we felt that fashion scholarship had not dedicated a great deal of effort towards organizing and democratizing the academic work being done to address the significance of race in fashion and the arts."
How do you feel about the direction that the fashion industry is going in terms of representation and diversity? How can this be improved realistically?
"It's improving, but—perhaps I'm going to state an unpopular opinion here—I don't think that it is every designer or brand's responsibility to insert a diverse cast into their shows. I think that the effort needs to be sincere, or else we're going to breed a great deal of resentment towards the 'D' word. No one wants to be merely tolerated or used to satisfy a quota nowadays (or perhaps that's just me?). I'd rather champion the work of designers and artists of color. What I do take issue with is how black people (and other people of color) are represented. How we are valued in society, and how we value ourselves. I think it's necessary to call people out when culture is appropriated without thorough research or collaboration. In my 'Fashion and Race' class we were overwhelmed with issues to discuss, and we only scratched the surface of hot-button topics like cultural appropriation and misrepresentation. This lets you know that critical education is an asset that will provide the change we want to see, given that my classroom was filled with emerging designers, PR hopefuls, photographers, and writers."
What motivates you to wake up and get out of bed every morning?
"The precarious nature of my work. I absolutely love what I do, and consider myself pretty lucky to be where I am. However, much like a freelancer, my field is incredibly niche and so everything is competitive. You love what you do, but you also deal with this anxiety of not being in a secure job situation. This is the reality for most contingent intellectual labors such as myself (meaning we are not tenure-track college professors with a secure salary who get to go on sabbatical). That's where FSJ becomes a refuge for my peers—it's a startup, in a way. FSJ is not just a passion project, but a space for us to support one another and further legitimize our work, hoping to gain increased visibility."
What is one piece of advice that you would you give to a younger version of yourself?
"Stop underestimating yourself."