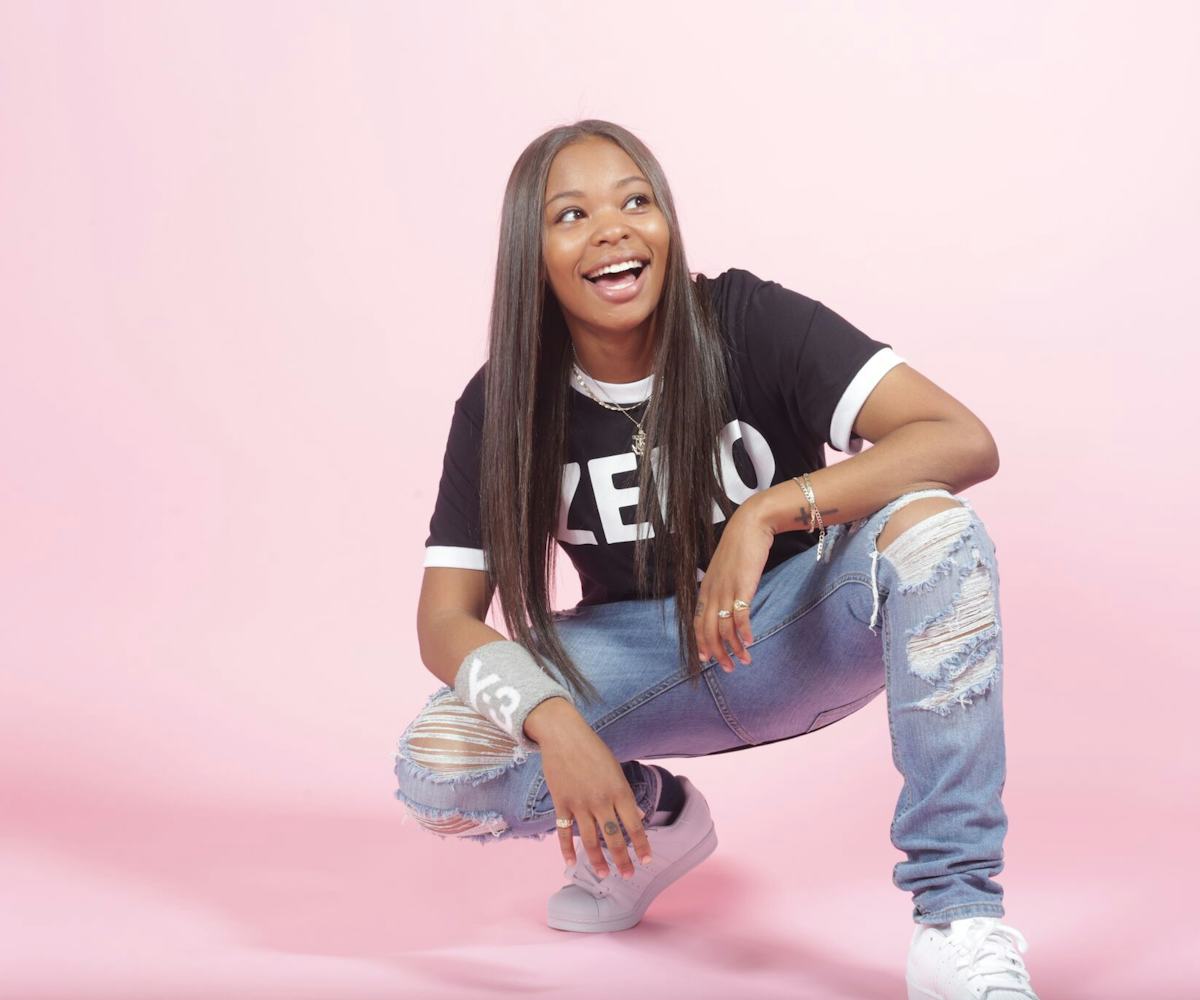 Photo courtesy of Epic Records
Kodie Shane On Her Rise To Rap Stardom
The First Lady of the Sailing Team speaks out
Kodie Shane comes from a musical family. Her older sister, Brandi Williams, was signed to a label before she turned 18. Though Shane, who's herself currently 18, was only a toddler when her sister was going on tour, she vividly remembers being a part of those moments.
Now, Shane is setting her own rules in the music game. Signed to Epic Records, she's completely in charge of the artistic direction in which she moves and doesn't limit herself to the confines of genres; Shane goes between singing and rapping, all with a mouthful of grills (she's wanted a pair since she had braces a few years back).
The singer describes her musical style as "unique," because there isn't really anything else that sounds like her music right now; she speaks with real fluidity as she expresses sexual openness on tracks like "Hold Up (Dough Up)", "Drip On My Walk," and "Losing Service."
"People are pretty much making any type of music that they want to make. There's no limits right now to your sound and how far you can go with your music, and I feel like that starts with being yourself as a person," she says. "If I'm 100 percent myself, I feel like I can go and create any type of music I want. I feel like people being themselves and not being scared of judgment, they're putting that into their music and it's like, 'Wow, they came up with something fire because they didn't care how you were going to feel about it. They didn't care if you were going to like it or not.'"
Shane became a member of Lil Yachty's Sailing Team shortly after meeting him at one of his shows in Atlanta. The young creatives wound up hitting it off and formed an actual friendship after doing "regular shit," like hanging out and chilling at his house, so collaborating on music was naturally the next step. Yachty played Shane a demo of "All In," and then asked her to be the First Lady of the Sailing Team.
"[The Sailing Team] is just a group of friends that want to be creative and help each other lay in and push each other in the same direction," she says. "Those are my guys right there." 
At this point, Shane expects to be asked about being the only girl in the group, but she's not particularly bothered by it. "I can't be annoyed by that 'cause it's like, 'Duh they're going to ask me that 'cause there's not a whole lot of girls, especially at my age, that's actually making any noise," she says. While Shane doesn't think that another girl will be recruited by the crew, she isn't necessarily opposed to it. She adds, "If she's fire, then I'm down." Last year, she dropped the Zero Gravity EP which featured Yachty on the hit single "Sad." 
As an artist, the message that she wants to send is to "push the envelope" and "not be scared." Shane adds, "You can do whatever you want. Don't be scared to be yourself. Just do it." And when she's not busy making music in the studio, Shane is battling with her little brother on PlayStation 4 and scanning for good things online. "I will really go looking at memes and be crying sometimes," she says. 
Shane's latest mixtape Big Trouble Little Jupiter is out now. Stream it in full, below.