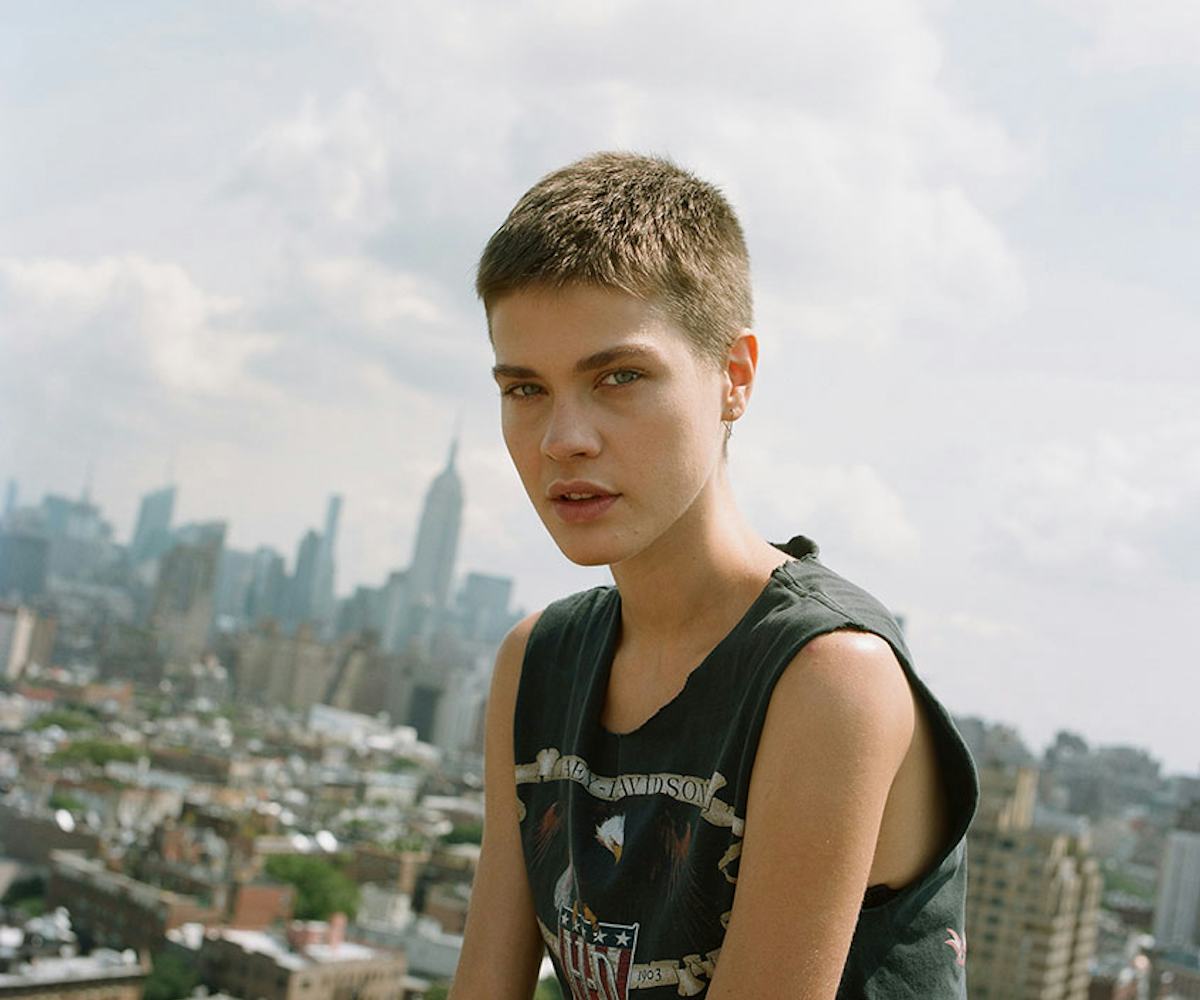 Photographed by Beth Garrabrant
this model is changing the face of the fashion industry
kris gottschalk's super-inspiring story
After a horrific motorcycle accident earlier this year, Kris Gottschalk was feeling anything but optimistic: "I was just thinking to myself, 'I'm going to die. I'm fucked.'" The 23-year-old, who grew up in a small town near Stuttgart, Germany, never could have guessed this near-tragic turn of events would end up kick-starting her career.
Gottschalk first began modeling in Paris and Milan, before moving to New York City, where she found herself doing very commercial work. "I had to grow my hair and [bleach it]," she says. "I was like, 'All right, just take the money.' But I didn't enjoy it." 
Feeling uninspired, Gottschalk began pursuing other endeavors. "At the beginning of the year I promised myself, 'I'm going to do what I really want to do, finally,'" she says. Part of this resolution was to learn how to surf, which brought her to Bali. It was this trip that would change her life. 
One night, an acquaintance convinced Gottschalk to accompany him on his motorcycle, sans helmet, to grab a drink—and that's the last thing she can recall. "Apparently there was a car coming and we had to swerve," she says. "We almost crashed into a wall, because I remember I was waking up and I was sitting against this wall, and I didn't know what was going on." 
The accident left her needing a plate in her collarbone and some teeth replaced, but she was able to return home after 10 days in a Balinese hospital. The stay gave her ample time to develop a new outlook: "I felt like I was trying to be someone that I wasn't. Life's too short to not be authentic," she says, her eyes lighting up. "It's so much better to be true, and be real, and be natural. Things are going to fall into their place."
photo by Beth Garrabrant
Fall into place they did: With a fresh perspective (and a badass buzz cut that revealed scars on her head and left shoulder), Gottschalk changed agencies and began actively pursuing more creative work—then the jobs started coming to her. "All of a sudden, I saw people that I had never seen before in my three years or so in New York, a lot of casting directors and photographers who were really interested in [my] story," she says. That led to an invitation to be one of the few women to walk in New York Fashion Week: Men's. And with her W Magazine feature hitting newsstands and the Big Four fashion weeks gearing up this month, her presence promises to
be ever-increasing. 
All of that attention aside, Gottschalk is just happy to finally be enjoying her work. "Before, I went to castings and I just played 'The Blondie.' Now, I go and I'm myself. I have short hair and I wear whatever I want," she says. "[Photographers] don't want to shoot with a girl that's completely insecure, doing something she doesn't enjoy…. Either do it because you like it, or just don't."