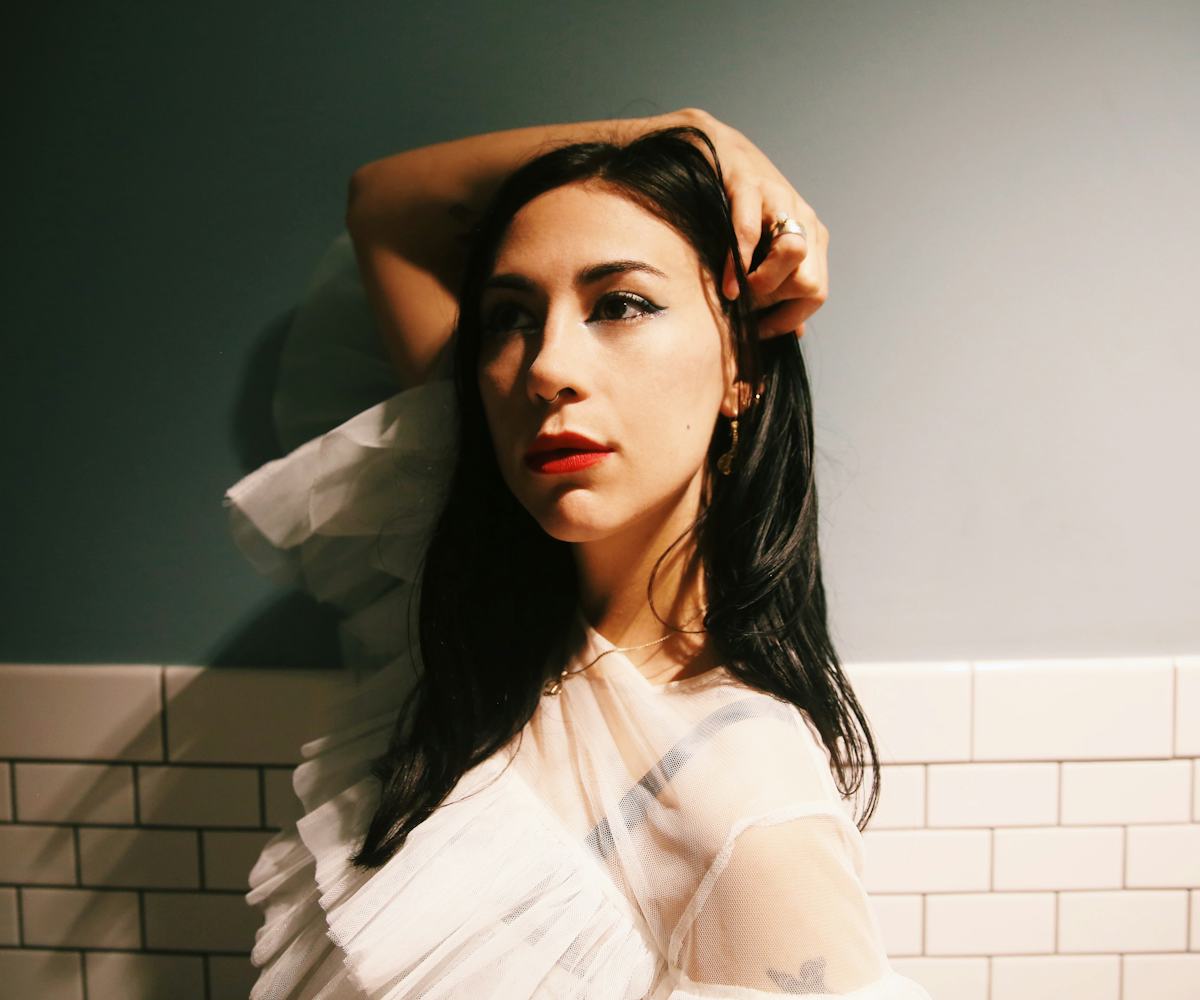 Photo by Gab Bonghi.
Kristin Kontrol And The Art Of Alter Egos
"This isn't a character, this is the removal of a character."
There's a bit of fan trivia fodder that Shirley Manson, frontwoman of alt-rock band Garbage, disclosed on stage recently. About five years ago, Manson was walking down the street in New York City when a brunette hopped in the cab Manson attempted hailing. It turned out that Garbage had been the first concert that young woman had ever attended. And now? That woman—Kristin Welchez aka Kristin Kontrol—is Garbage's opening act. 
Welchez recounts the story on a street in Philadelphia, smoking a cigarette she'd rolled minutes prior. The sky promises rain, cars whiz on the overpass directly above where Welchez stands. Tonight she would perform as Kristin Kontrol, preceding the first band she ever saw live. 
"I remember looking back and realizing we were stealing the cab she had just gotten," Welchez says of her first interaction with Manson. "I realized who it was and I apologized on Twitter and then we became friends." 
It's a new thing for Welchez to be the first artist to hit the stage. Her former band, Dum Dum Girls, had toured the world over since the group grew out of a bedroom project in 2010. It was a gritty garage-rock, '70s girl band retro sound, rooted heavily in guitar. Welchez stood front-and-center with swift strumming and unwavering vocals. She assumed the identity of Dee Dee, a chic, red-lipstick-clad rocker with shaggy bangs and an all-black wardrobe.
But Dee Dee is gone for now. As Kristin Kontrol, Welchez appears on-stage in Philadelphia wearing a ruffled, off-the-shoulder top—not black, but white—and without a guitar. She moves gracefully across the stage belting luscious pop tunes. And she's going by her birth name these days—at least part of it.
Kristin Kontrol is a far cry from the fuzzed out, dream rock sounds of Dum Dum Girls. X-Communicate, Welchez's first full-length release under the moniker, came out this May and features glossy production, synths, sax and bubbly melodies. From ecstatic lead single and title track "X-Communicate" and club-ready "Skin Shed," the album is an ode to a world of influences outside the classic rock realm. "Change is hard / but I need a change of heart," she sings on power ballad "What Is Love," a lyric bearing the thesis of her sonic transformation. 
Much like when Welchez began Dum Dum Girls, the emergence of Kristin Kontrol was born out of a dissatisfaction with her previous musical endeavors. There were electronic and dance elements she'd wanted to explore, but felt it wouldn't fit into the scope of the Dum Dum Girls sound. Rather than stunt her growth, she delved into these influences and emerged with a record that was written by her, featuring her vocals—like all other Dum Dum Girls albums—but wasn't inherently Dum Dum Girls.
"I was trying to take us out of the more simplistic view of all-girl, retro, guitar, garage rock-based thing," she remembers. "I thought I had moved on from that, but it was like everything we did was rooted in the context of that. Not, 'How does this record sound?' but 'How does this record sound compared to the canon that we used?' I didn't want to make a guitar record in the same way. I wanted there to be all the influences that I've been holding back or keeping out of Dum Dum Girls because it wasn't really appropriate." 
What resulted was not only an instrumental shift, but a vocal one. Exemplifying true reach, Welchez skips from note to note with ease, just as much theatrical as sultry. A classically trained singer, Welchez would previously write songs quietly on her guitar in her room. Now, taking advantage of the most comfortable parts of her range, she's graduated from band frontwoman to a performer who can command a stage through sonic projection and stage presence. Where Dee Dee was purposely guarded, Kristin is liberated, a chameleon within her own skin.
"The vibe of Dum Dum Girls, as much as I tried to be honest in the music I was making, it was tied up in the archetype," she says. "My stage presence initially was very reserved and almost stoic to compensate for being nervous. Over the years as I got more comfortable, it was almost how I felt like I should perform didn't fit into the character that people expected from Dee Dee." 
Cool and calm in demeanor, Welchez is quietly confident in her career, despite all the talk of alter egos. Pop music is distinctly polarizing. Existing within the same world are avant garde, out of this world personas alongside performers who pride themselves on their realness. Welchez exists in the in-between, shedding her old skin for new ones, even though underneath it's always her; the changes are on the surface.
"It was funny to have struggled to have people fucking call me Dee Dee—it's my Bob Dylan, it's my Iggy Pop. You don't get to call me my birth name, you're not my family member," she recalls. "Then to do this total 180 where I was like 'Fine!'"
The gimmick of Kristin Kontrol is that there is none. For the first time, Welchez is herself, free from the archetypes she'd built early in her career, the Dee Dee era behind her. 
"I had to undo the Dee Dee, I had to undo the Dum Dum Girls things," she says. "This just feels like me. This isn't a character, this is the removal of a character."