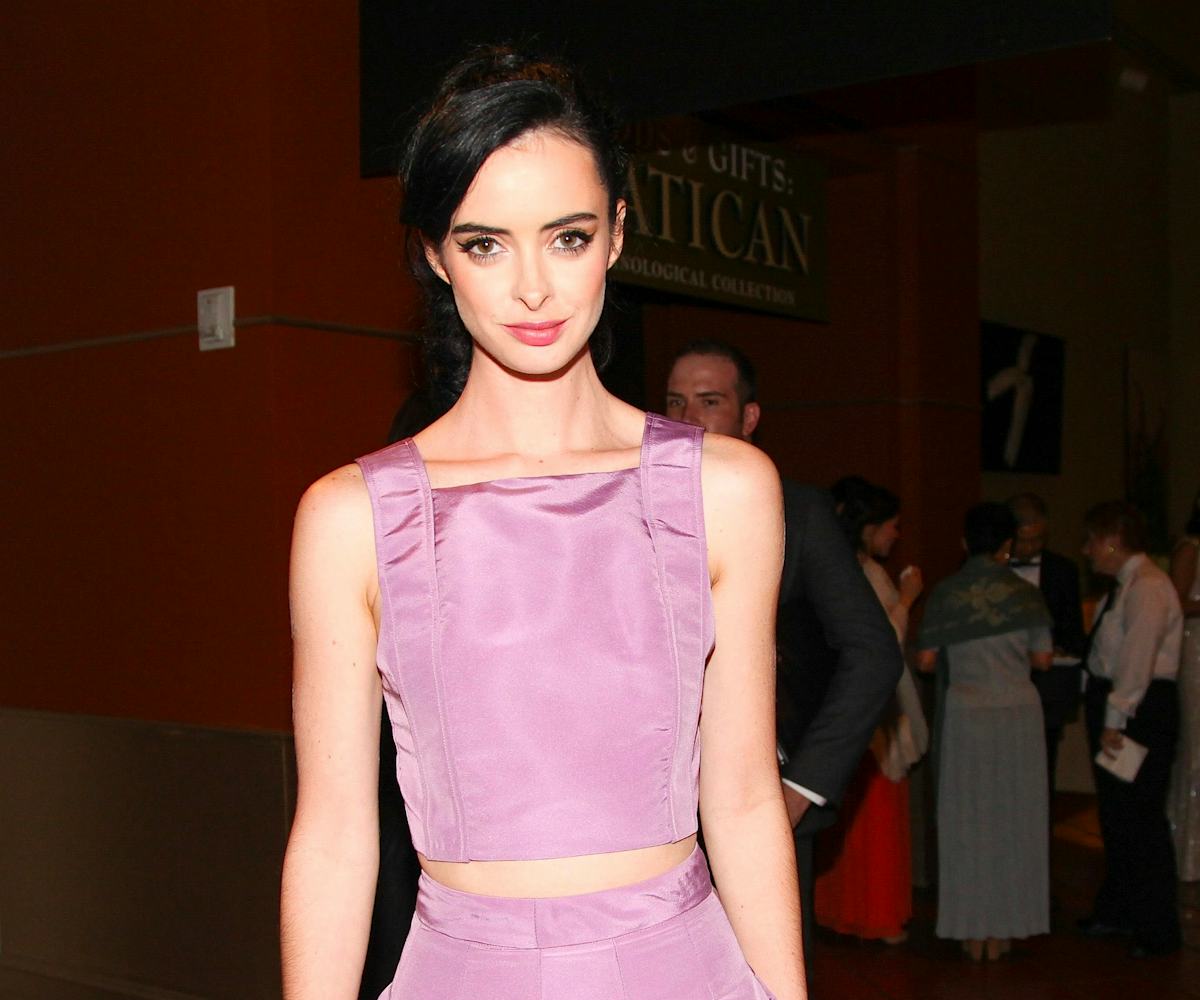 photo by bfa/bfanyc.com
get krysten ritter's romantic cat eye
the secret's all in the extra flick.
Think there's only one type of cat eye? No way. Considering the iconic makeup look's history includes everyone from Brigitte Bardot to Amy Winehouse to Lana Del Rey, there's about as many incarnations of the signature swipe as there are stars who rock it. You could go smudgy and smokey like Vanessa Hudgens. You could go super retro a la Rachel Bilson. Or then again, there's always the colored option, as showcased by Beyonce in her epic "Countdown" video. Bottom line: there's a reason the cat eye has continued to be so popular over the years (not to mention, why it never gets old). It looks good on everyone. 
Our latest inspiration comes courtesy of Krysten Ritter, who went the romantic route this weekend in Los Angeles. The actress pulled an Aubrey Hepburn with a bouncy ponytail, side-swept bangs, and a pretty, perfect cat eye. It's an uptown take on a downtown trend, and luckily for us, it's super easy to copy. Turns out, the trick is all in the extra flick at the end. See how to do it yourself below. 
SHADOW IT: Urban Decay Naked Basics Palette- $27
One of the keys to keeping this cat eye low key is starting with neutral, matte base. Take your pick from this super-wearable palette.
FLICK IT: Marc Jacobs Beauty Magic Marc'er Precision Pen- $30
Now for the fun part! Starting from the inner corner, draw a super thin line as close to the lashes as possible. Then, go over the outer part again to fill it in and make the second half a little thicker. Finally, add a final swoop at the end--make sure it extends past the lashes with an upward swoop.
LASH IT: Lash Blast Clump Crusher Mascara- $6.45
Swipe two coats on your top lashes and one coat on your bottom for that doe-eyed, Audrey Hepburn effect. Et voila! Modern-day Breakfast at Tiffany's, anyone?