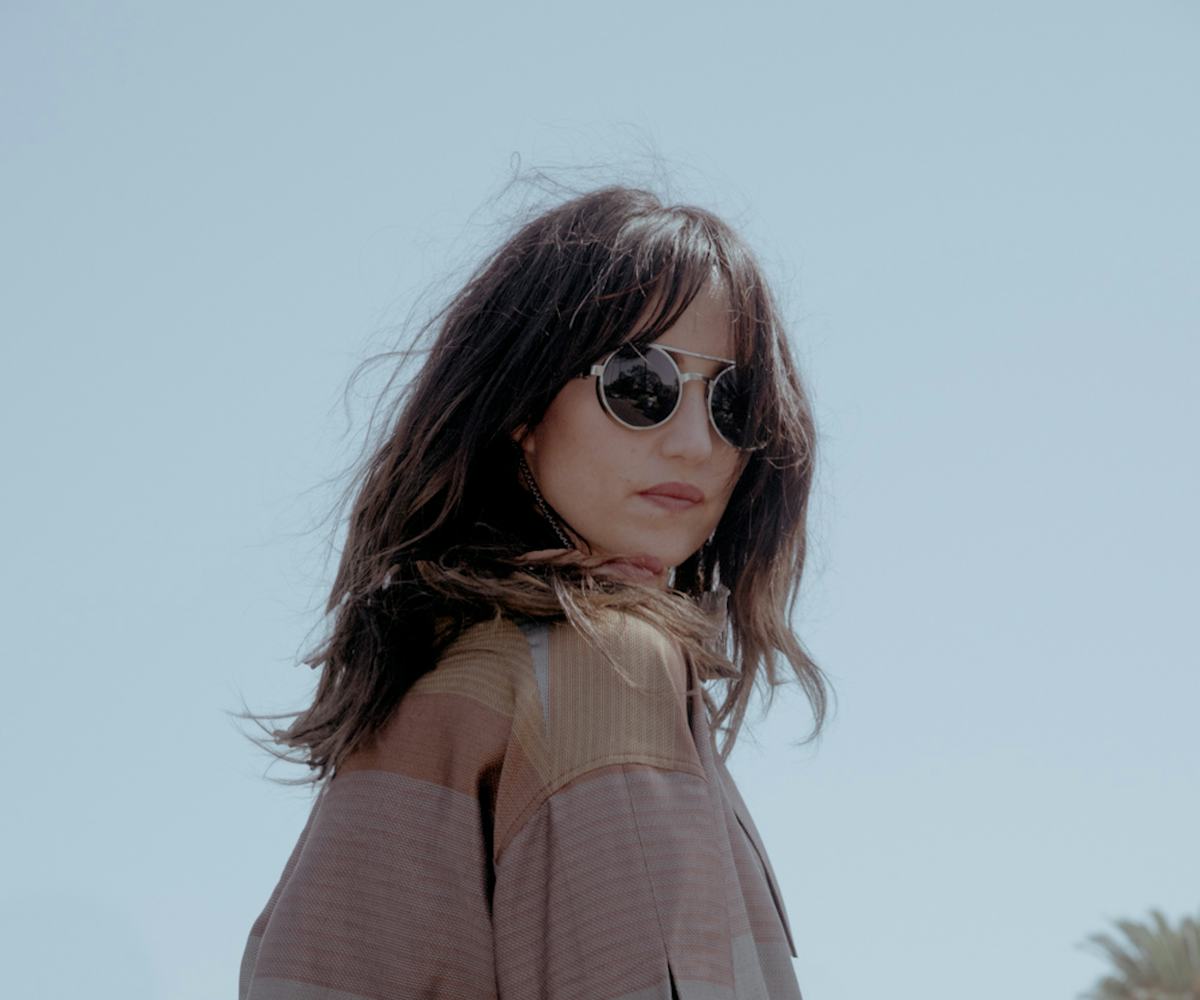 Photographed by Amy Harrity. Styled by Ashley Zohar.
KT Tunstall Is Back With A New Album
And stages a psychedelic pop-rock comeback on "Kin"
The following feature appears in the September 2016 issue of NYLON.
There's a song on KT Tunstall's new album Kin about the need to wear armor. "Hard Girls" basically sums up who she used to be: a guitar-wielding chick incapable of cutting the bullshit so she could just chill. "I felt like, 'I'm a pop star. I should be drinking and partying every night and hosting enormous parties at my house that cost thousands,'" she admits while giving a tour of her sick pad in Venice, California, where she's lived since 2014. "It was fun, but you don't have to do that all the time."
This home is no place for ragers. With its gray palette, wooden tables with raw edges, copious amounts of plants, and cool beach breeze, the house is a sanctuary, albeit a sassy one. On the wall in the living room is a framed temporary tattoo by Tracey Emin, Tunstall's favorite artist. "It's a little bird getting a ride on a cock," she says, laughing. "No one ever notices it!"
Tunstall, 41, moved here from London in search of a place where calm and quiet could prevail. "I can sit on my balcony in the nude after a bath and look up at the stars," she says, now barefoot and sitting on her couch in a black Michael Kors jumpsuit. "I can't hear traffic at night, and there are no street lights. It kind of saved my life."
After releasing four albums and feeling "burnt out for sure," she'd vowed to quit recording solo albums. "The whole process of leaving the U.K. was like a spiritual, mental, physical clearing," she adds. "I knew I had to start again because I'd fucked up."
How exactly did she fuck up so badly? "Mentally I couldn't handle anything," she admits, adding that her insecurities also held her back. After Tunstall's 2004 debut, Eye to the Telescope, went multiplatinum and her track "Suddenly I See" was featured in the opening credits of The Devil Wears Prada and used as Hillary Clinton's 2008 campaign theme, she was everywhere. "It was so weird when four million people bought that record and you know they're expecting something from you," says Tunstall, who began playing the guitar at age 15 back in her hometown of St. Andrews, Scotland. "Suddenly I go from, like, playing on the fucking street and living in a shitty little house on the edge of town in Scotland with no heating while eating pasta covered in ketchup, to having 15 to 20 people on the road with me, two tour buses—a huge production. And if I want to take a break, 15 people don't have wages, and they have children. It was not attractive to me to be in charge of all that." 
Click through the gallery to read the rest of this feature. 
All clothing by H&M, Tunstall's own sunglasses. 
By her second and third albums she'd become "standoffish and observational in the way that I wrote," says Tunstall. "It was less personal because I was feeling vulnerable." On 2013's Invisible Empire // Crescent Moon, her music had become very melancholic, quiet, and subdued. She toured that record wearing a tailored Dior suit and tie while performing in seated theaters to static audiences. While she loved rocking the high-end brand, she knew that the vibe of her show was too restrained. "The last album was like the soundtrack to my funeral," she says. "It feels like something died."
She was also coping with her dad's death and the end of her five-year marriage, both of which happened in August of 2012. "My dad dying was a massive wake-up call," she says. "We were close, but he was a total taskmaster. He'd grown up in the boarding-school system, so affection was conditional to your achievement. I taught him how to hug."
As a kid, Tunstall spent "every fucking minute" trying to impress her father. "It was all about trying to be liked," she adds. "I mean, why the fuck do you end up on stage trying to make thousands of people like you? It's not a normal thing to want to do." Her parents, who adopted her as an infant, never thought she'd make it as a musician. "I remember them telling me, 'You don't get to do what you like for your job. That's what hobbies are for,'" she says. "I was like, 'Fuck that!'"
Despite the hustle to become a successful musician, Tunstall had had enough and relocated to California to work on music for movies and attend the Sundance Composers Lab. Breaking into the scoring business didn't pan out, but she still enjoyed Cali life and would hike and drive along the beach and on Mulholland Drive while listening to Tom Petty, Fleetwood Mac, Tame Impala, Devendra Banhart, and Django Django. She started thinking about riffs and lyrics again, and soon she broke out the looper pedal she'd tucked away. "Evil Eye," a vengeful jam with a dirty swing beat influenced by African electric guitar players like Tinariwen and Femi and Fela Kuti, was the first track she wrote for her new record.
Dress by Suno, necklace by Luv Aj.
After about a year and a half, she'd completed Kin, which Tunstall says is "all about tribe and finding your people." It's a solid mix of folk, psychedelia, and pop-rock with a raw, sweet soul and hooks that are catchy as hell. "We went to Joshua Tree, and I sat outside and sang for the rocks, and I took a trip to New Mexico and chopped wood and sat by a fire for about six to seven hours for days and just wrote and wrote and it felt serious," she says. "It felt good. I think more than ever I understood that I had to be vulnerable and honest."
The track "It Took Me So Long To Get Here, But Here I Am" is "like the mission statement of the record," says Tunstall. On the second verse, she sings: "If I could do it/ Do it all again/ I can't safely say I wouldn't change it./ There were things that left me feeling ashamed." "That's a brave thing for me because you're meant to not regret a thing," Tunstall says. "I'm like, 'No, fuck that.' If I could do it again there would be things that I would do differently, and one of those things would be not listening to negative voices and just fucking giving them the middle finger, and being confident and not ashamed of parts of me that I think other people don't approve of, and know that I'm enough."
Tunstall's newfound confidence has also given her a fresh lease on fashion. "I always thought I'm just a Bob Dylan [type] who is going to wear a pair of trousers and a T-shirt," she says. Nowadays she dons ensembles that are loose but offer a tailored fit, by brands like Acne, Vince, and Scotch & Soda. But her drop crotch gold pants and silver Isabel Marant jeans are her faves. "I love wearing something that's going to make me stand out," she adds. "I like being a woman comfortable in my own skin."
All clothing by H&M, Tunstall's own sunglasses. Hair: Aaron Light at The Wall Group using Kevin Murphy. Makeup: Jenn Streicher at Forward Artists using Laura Mercier.