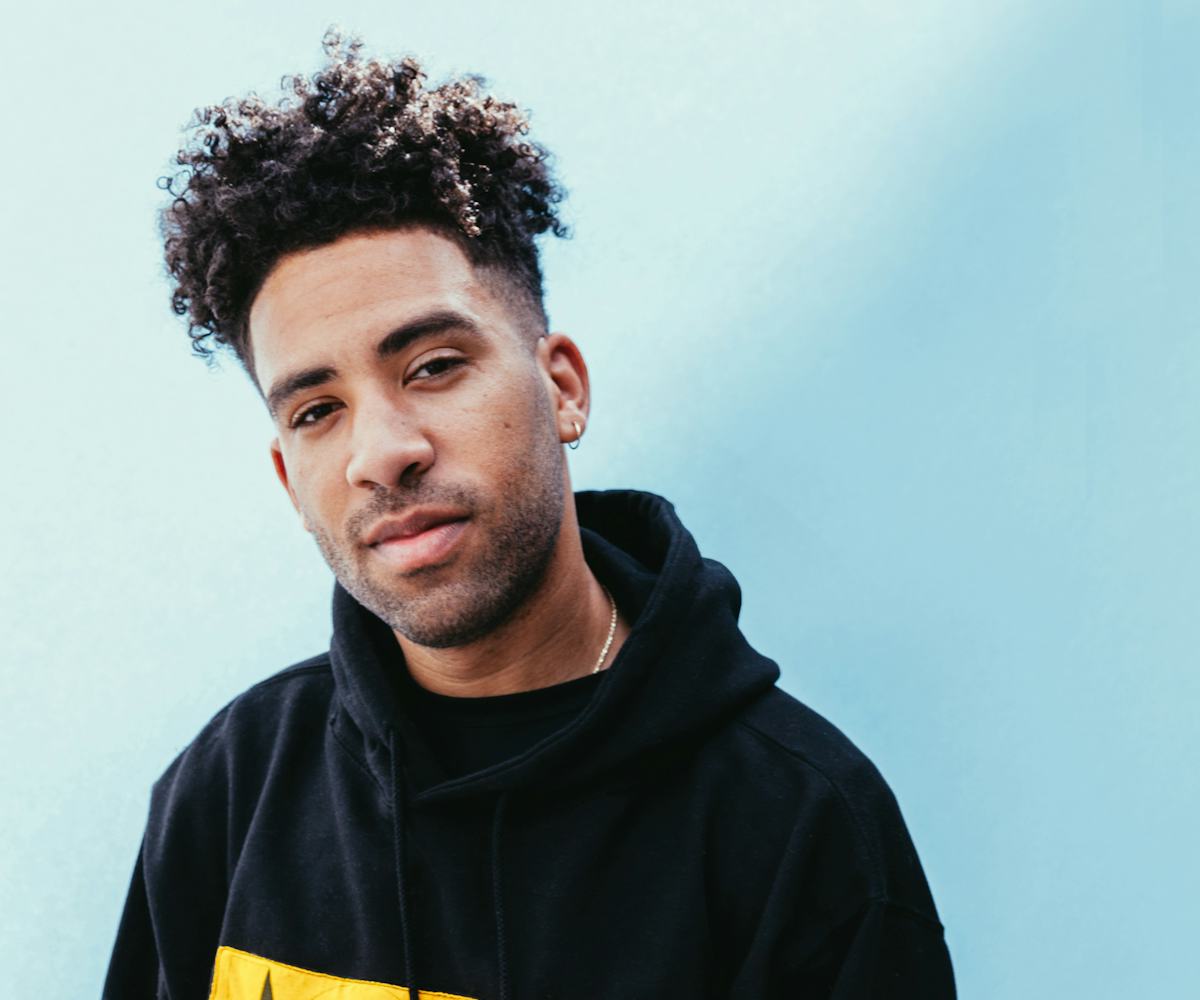 Photographed by Jimmy Fontaine.
Get To Know KYLE, The Friendliest Rapper On the Charts
He's got very strong feelings about 'AKIRA' and colonization
It's a pretty damn good time to be KYLE. The Ventura, California, rapper burst onto the scene roughly four years ago, when his videos gained traction on streaming site Worldstar Hip Hop, which erroneously compared him to Drake. "Worldstar did me dirty with that title, I'm not gonna lie," he says over the phone from Philly. "As soon as they did, the world went crazy," he continues, referencing the debates that blew up in the video's comments. But since then, he's been steadily establishing his own name, with clever wordplay and video game references abound in his Beautiful Loser and Smyle projects (released in 2013 and 2015, respectively), and his assertion for fans to embrace their individuality on songs such as The Social Experiment's "Wanna Be Cool," on which he cheekily reminds listeners that, "If a cool guy's cool in the middle of the forest/ Man, nobody fucking cares." (He can also hit a mean Running Man, as indicated by his guest appearance in Chance the Rapper's Optimistic Challenge dance video.)
His hard work has surely paid off: Earlier this month, his Lil Yachty-assisted "iSpy" became his first-ever song to chart on Billboard, climbing to the top of the Rap chart and peaking at No. 4 on the Hot 100. "I played Jadakiss' 'We Gonna Make It' and cried with my homies when we found out it was No. 1," he recalls. He's been continuing the celebration during his Super Tour with Cousin Stizz and SuperDuperBrick, crowd surfing on his yellow surfboard the whole way. Here, get to know KYLE as he waxes poetic about world history, freaks out when he finds out Jordan Peele may be directing the AKIRA movie, and explains how his teen years were like Spike Lee's version of High School Musical. 
What are you most proud of so far in terms of your career?
Getting acknowledged by Kid Cudi on Twitter. That's how much of a stan I am. But I'm proud of a lot of things in my career: Selling out the Ventura Theater, the hometown venue that I always went to. I opened up for Bone Thugs-n-Harmony, like, a million times in a row. And I would just sell $70 Bone Thugs-n-Harmony tickets to people to try and get them to come, and I got to perform for five minutes, and that was our routine. So when I got to sell that out myself, it was like a dream come true.
What famous person, dead or living, do most wish you could have as a roommate?
James Brown. Easy, are you kidding me? Imagine if James Brown was your roommate, what?! Do you know how much fun you'd be having all the time? Oh my god, he would have you looking the freshest. He would have you doing the funnest stuff for sure, easily. You'd be having the most crackin' parties.
What is your favorite driving music?
[Sings] "Nothing even matters, at all"—that Lauryn Hill and D'Angelo song. Find me something more calm than that. I am a pretty bad driver, so when I drive I need to be calm. I can't be vibing to DMX, all hype, in the car. 
Whose career would you most like to emulate?
It would be a mash-up of Outkast and Will Smith. Will Smith, in the sense of making music, doing movies, and being like just the best family man dude ever. There's nobody taller and cooler than Will Smith. He's the coolest tall person, so I'm trying to be like that.
What's your favorite place to write music?
Definitely in my room, when nobody's watching, because I do this weird thing when I'm writing music where I talk to myself so much, and I look crazy when I'm doing it around other people. So my favorite place to write music is definitely in my room with the door shut, with the sun coming through, during the day.
How would you describe your aesthetic in three words?
Fun, chaotic, and full-of-love. That's one word, in a different language.
If you had to wear one thing for the rest of your life, what would it be, and why?
A Pikachu onesie. I would tell people, "I am dressed, what are you talking about?" and that would be my thing. I'd just walk out in a Pikachu onesie. I would make people uncomfortable, but they'd still have to fuck with me. If you're in a Pikachu onesie and I see you on the street, what am I gonna do, be mad at you? 
Do you have any pre-show superstitions?
They're not necessarily superstitions, but my pre-show ritual definitely involves Hennessy. There's always a small amount of Hennessy involved, and then I just gotta get in a big circle with all my friends and then we start kinda rocking back and forth like we're a football team, but we're not, and then we just say a prayer. We've got everything; it's like, "Ooh, we're excited," and, "We're rappers! We drinking Hennessey," and then it's like, "We all still understand there's one mission here," and then we pray [laughing].
If you had to live in a past time, what do you think would be the most fun era and why?
It's hard because as somebody who's brown-skinned, other eras weren't necessarily the dopest for us, but I would say the Medieval times—like 1100s swag. Plus, I could see if dragons were a thing, fight people with swords, and all that. Or the 1920s 'cause the freaking '20s were lit. We think we're lit now? We don't even know what a party is. We're nothing. I would definitely be in the 1920s in Harlem. The fashion was crazy, the culture was crazy—the '60s were crazy, too, but the '60s came with a lot of responsibility. The '20s were when we started finding our swag. 
What activities do most enjoy doing alone?
Playing Elder Scrolls, completely mellow, with a little bit of sunshine coming through my window is the best ever. I also love taking walks, just putting my headphones on and walking. I'm very bad at directions, so I tend to wander, and then when I wander, I tend to get lost, but it's not like I'm really lost 'cause I'm happy where I'm at.
When are you most relaxed?
One pm on a Sunday. When I'm laying down and I have like four hours to like play video games or listen to Lauryn Hill. That's when I'm most relaxed.
I appreciate you having an exact time and day.
That's when my toes are just stretched out the most, you know what I mean? Just ahhh. Definitely, 1pm on a Sunday. A little bit of light coming through my window, eyes are kinda shut, and I'm playing Elder Scrolls. 
What was the last great thing you read?
AKIRA. I just finished that. Incredible. Do you know what AKIRA is?
Yeah, isn't that the one that Jordan Peele is going to be directing?
Yo, you're fucking lying to me. They're making an AKIRA movie? And Jordan Peele is directing it?
Wait, I don't want to lie and get you excited for no reason…. Yup, I just Googled it. 
My heart is thumping. I'm blown away. But you've gotta go get the AKIRA book. It's fire.
I will! So what kind of person were you in high school?
My high school situation was a little weird because I moved to Ventura, which was a predominantly white area. So they just assumed I was a superstar athlete when, in all actuality, I was trash. I was a jock, but I was really bad at being a jock, and on the side, I was the drama club kid. I was the kid that walking around in all types of bright-colored clothing, rehearsing Shakespeare and shit. I liked that, but it was a double life: I kicked it with the football team, but then I was like, "I really just want to go do drama."
It's almost like High School Musical.
Yes! Yes, but if Zac Efron was just way cooler, obviously. Like if Spike Lee had directed High School Musical.
I'd actually watch that movie. Can you tell me a quality about yourself that you are genuinely proud of?
I feel like I'm a good listener. I get that a lot from old people. They'll be like, "Son, you're gonna go far because you're a good listener." And I'm like, "Thank you!" 
Do you have any phobias?
I'm a complete germophobe. It's crazy. I won't share water even with my mom. If I was dying of thirst, and my mom had a water bottle and was like, "Here, honey," and it was already opened, I'd be like, "Mom, I can't. I'm sorry. You've got to let me die." Have you ever seen Aviator? With Leonardo DiCaprio? That's me. 
What's a side of you that people are unlikely to know about?
I really like history. I will go to the museum dolo. "Oh, where's Kyle? He's been gone for like two days. Oh, he's at the museum completely dolo."
Is there a particular time period, or country's history? 
All of it, really. I like world history. I like figuring out the history people don't necessarily know about, like knowing the history behind why Japanese people and Chinese people don't really get along. It's all interesting to me. Africa has some of the most amazing history, but you've got know about it. You've got to know about Mansa Musa—he was the richest man in existence. Period. People just don't even know that.
Yeah, for sure. I used to really be into ancient Egyptian history.
Oh, they were on some whole other shit. Every civilization back then caught a wave real quick. They were amazing architects and scientists, and they were spiritually dope, too. That's one thing: It seems like, now, nations that are leading in science are the least spiritual, but back in the day, these really intelligent ancient civilizations were not only intelligent, they were hella spiritual at the same time. They figured out how to weave the [spirituality and science]. 
I wonder what it would be like if those civilizations continued. What if North America was never colonized? What would the modern-day Native American community look like? That shit would probably be like Avatar! Colonization fucked up everything.
What are some hobbies you wish you could take on if you had the time?
I definitely want to make a cartoon or design a video game.
What can you tell me about your next project?
I got a new album coming out pretty soon. It's going to be better than my best work so far. I think it has the best songs I've ever written. I've never said something the way I've said it on this album. And I've got a song with Alessia Cara that I'm very excited about.
Where do you hope to be professionally in five years?
Hopefully, happy. I'm not worried about too many accolades, so I hope I will have mastered my craft, and I hope that I'm hella happy somewhere. I'm still learning. I have a long way to go before I'm really good at this. I want to become the best artist I can be in five years, and just be happy.
If there was one phrase that best sums up your approach to life, what might it be?
Hakuna matata.