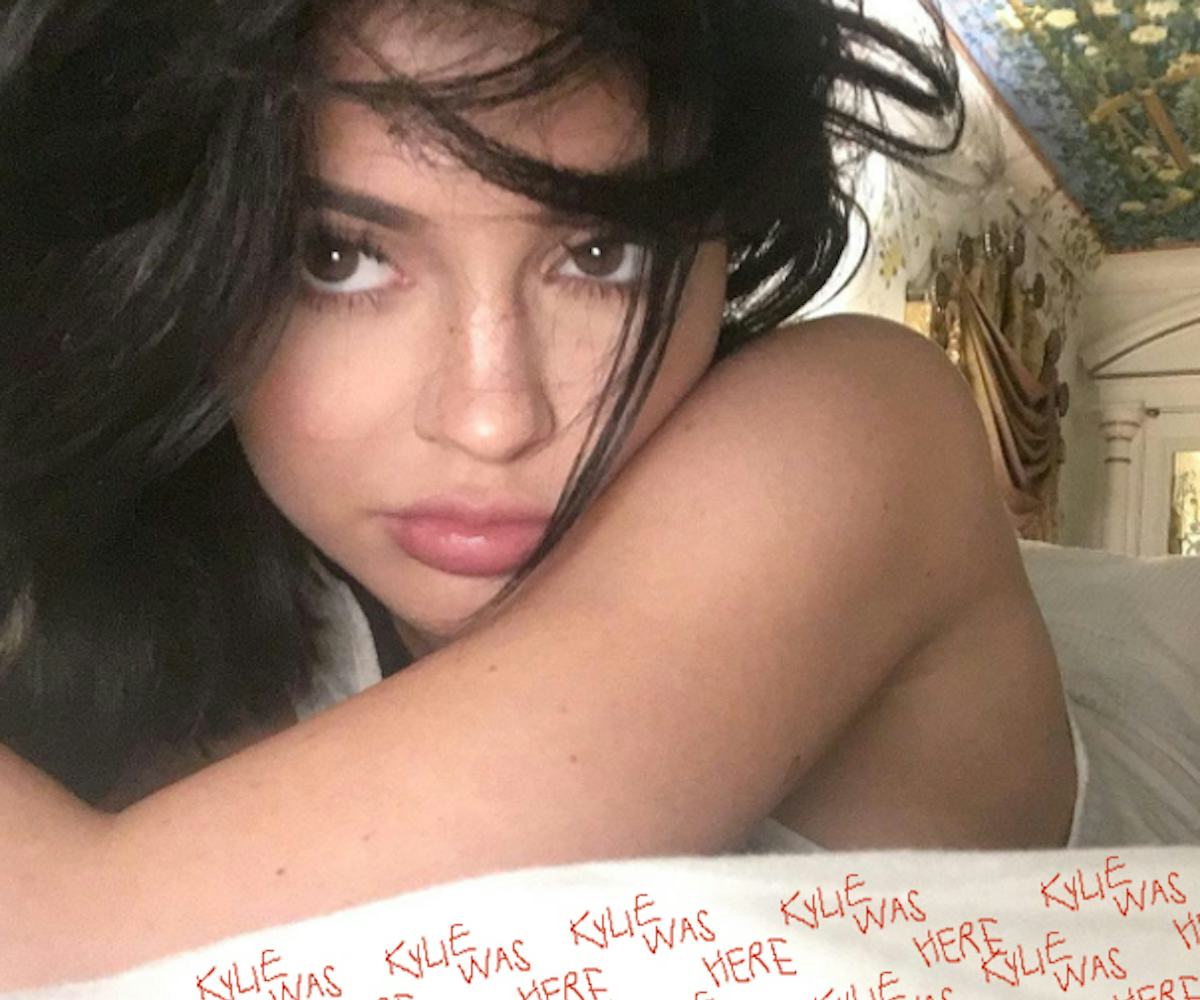 Photo via @kyliejenner on Instagram.
20 Historical Moments That Kylie Jenner Was A Part Of
Kylie Jenner has been all over the world and then some. But did you know that she's made history? She's been setting records left and right between the releases of her popular Lip Kits to the number of clothing collaborations with her big sis Kendall. Like all the cool kids these days, she even has her own app. Soon, she'll be one of the first young celebrities that we know of to install a larger-than-life sized self-portrait in her own home. (Because why not?) Of course, she's made a few questionable choices here and there, but she's only 18 years old. We probably haven't even hit peak Kylie yet. 2016 is most likely the mere beginning of an inevitable and unavoidable Kylie takeover.
This week, Kylie left her mark on one of the year's biggest yet-to-be-seen albums, her brother-in-law Kanye West's Swish, with her own "KYLIE WAS HERE" tag on a nearly illegible scribbled album track list. It reminds us of one ever-present fact: This is King Kylie's world, and we're all just vicariously living in it. If you've ever wondered what it would look like if Kylie had a hand in creating some of the most iconic pieces of history, look no further. We went ahead and created those images for you in the dope gallery, above! Kylie was here, Kylie was there. Kylie is, and was, everywhere.
The Declaration of Independence
On July 4 1776, a bunch of old white dudes gathered to formally outline 13 colonies that would become the greatest nation in the world—the United States of America. Somewhere along the way, Kylie stumbled into Philadelphia and signed off on the statement. All men are created equal, including Kylie.
Lascaux Cave Paintings
Are you really surprised that Kylie has visited the South West of France more than once in her lifetime? The cave contains about 2,000 figures that are estimated to be 17,300 years old.
Leonardo da Vinci's Mona Lisa
Mona Lisa is one of the most popular figures of all time. Clearly, Kylie has always felt threatened by her fame so she had to find a way to sabotage her...
The Galaxy
What's in the galaxy, you ask? Millions and billions of stars, gas and dust! In other words, it sounds like the kind of place that Kylie belongs. It's a system that she can truly shine in.
The Magna Carta
Also known as "the great charter," the Magna Carta was originally drafted by the Archbishop of Canterbury in 1215 to make peace between King John of England and a group of rebel barons. It promised protection of church rights and from illegal imprisonment, access to swift justice, and limitations on feudal payments among other things. Where does Kylie come in? You could say that she probably would have been an ally of the unfavorable king. 
The Berlin Wall
For 30 years, this barrier divided the city of Berlin. It stood as a symbol of the Cold War, and was finally torn down on November 9, 1989. Kylie hasn't confirmed whether or not she's an activist, let alone the political type, but we'd like to believe that she supports things like peace, love, and human rights.
Michaelangelo's The Creation of Adam
Man was created in the image and likeness of God, and Kylie touched down mid-bless up. (Lord, forgive me.)
The Dollar Bill
Dolla, dolla bill, y'all. Kylie's all about that paper.
The Zodiac Killer's Notes
What do Kylie and a serial killer have in common? Dilligent note taking, obviously.
Leonardo da Vinci's The Last Supper
If there's one definitive thing that we know about the Kardashian-Jenner family, it's that they never miss important meals together. They might not be the 12 apostles, but they all own up to their sins.
A Banksy Mural
Everywhere we go, it seems like there's always a Banksy mural behind us. If Banksy ever had a partner in graffiti crime, it would definitely be Kylie. 
The Star-Spangled Banner
Oh say can you see, by Kylie's iPhone light... Francis Scott Key didn't live through the Fort McHenry bombardment for nothing. G'bless.
The Head of a Sphinx
All hail King Kylie for all of eternity.
Loch Ness Monster
Somewhere in the Scottish Highlands, the Loch Ness Monster was spotted. Her name is said to be Nessie, but we're pretty sure it's Kylie.
Neil Armstrong Walking on the Moon
In 1969, Apollo 11 landed on the moon and Neil Armstrong became the first American astronaut to set foot on the natural satellite. "That's one small step for man, one giant leap for mankind," he said. President John F. Kennedy's mission was to beat the Soviets to the moon—Kylie's mission would have been to beat the Hadids.
Kim's "Breaking The Internet" Cover for PAPER
Because it wouldn't be right if Kim got all the attention. Sorry not sorry!
Drake's If You're Reading This It's Too Late Cover Art
It's pretty obvious that Kylie brings out the worst handwriting in everyone. First Drake, now Kanye... A pattern is developing here.
The Statue of Liberty
Little did Frédéric Auguste Barthold know what his neoclassical sculpture would become in the present day.
The Constitution of the United States of America
We the people... If there's one document that Kylie is going to get her hands on, it's our nation's supreme law.
The Monkey Version of Elías García Martínez's Ecce Homo
The image speaks for itself. #kyliewashere.