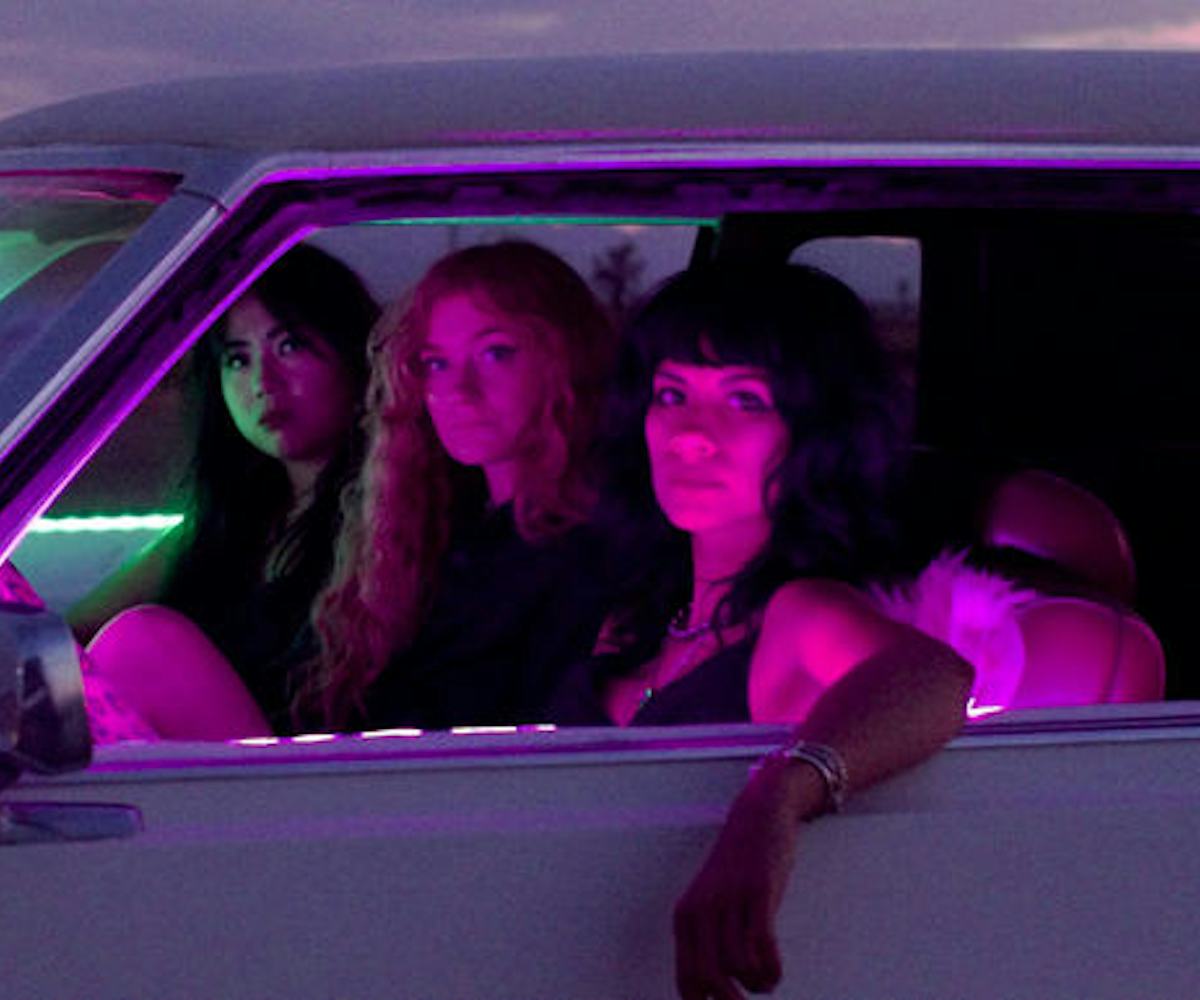 L.A. Witch Is Casting A Spell With Their New Single
"Baby in Blue Jeans" is premiering here
Listening to L.A. Witch is like willingly being put under a spell. One that transports you to California in the late '60s, when the air was ripe with magick and the music was felt, not just heard. Los Angeles has always been a home for misplaced souls, and L.A Witch has the sound to go with it, dripping with nostalgia, heavy reverb, and glamour.
With Sade Sanchez's crooning vocals and melodic guitar, Irita Pai's pulsing bass, and Ellie English's striking drums, L.A. Witch's eponymous debut full-length album is a tour through an unseen Californian landscape. 
The album, which will be released on Suicide Squeeze records on September 8, comes after almost three consecutive years of touring for the band, who never expected to release a full-length. "All the songs on this album are songs that we've written over the few years that we've been a band. We were just excited to find each other, we weren't thinking, 'Oh, labels and albums.' So when we were writing, we weren't writing necessarily for an album, we were kind of just writing. So this is going to be some of our favorite and best songs," the band says.  
And while L.A. Witch is often name-dropped alongside artists like Mazzy Star and Gun Club, to draw comparisons like that is unfair. Instead, the band refers to their sound as "dark and fuzzy," the sort of music that would soundtrack a cinematic murder spree, as proven by the album intro "Kill My Baby," or just a late-night drive through Hollywood, as with "Drive Your Car," windows down and neon lights twinkling. This is the sort of album that transports you to an unfamiliar place that feels familiar, with a sound that's both evocative of and nostalgic for the golden days of rock 'n' roll. 
The album, which was recorded at Hurley Studios in Costa Mesa in three days between tours, has soul to it—a grit and energy that can't be fabricated. "It was really hard [recording this] because in that little bit of time, you're doing something that's such a permanent thing and you want to nitpick it because you're your own worst critic and you want it to be perfect. And maybe there is such thing, but in our mind, it's never going to be perfect," the band says. But these so-called imperfections are what makes the album so much fun to listen to. Whether you're blasting "Baby in Blue Jeans," a slower ballad that gives Lana Del Rey a run for her denim, or "Good Guys," with its spiky and punctuated chorus, these songs are best left unpolished, exposing the dark underbelly to sunny Californian life.
Technically, there's no underlying theme to the assemblage of the album, though the down and dirty and inherently rebellious spirit of these songs make a statement with each play, especially when seen and heard in person. The three women all have their own distinct sense of style, in what could be described as a hodgepodge of "mod goth glam rock." They're reminiscent of iconic bands like The Cramps, whose unapologetic aesthetic and sound created an experience one had to see to believe. Their sartorial inspiration also comes from icons like Johnny Thunder and "his suit era," Kurt Cobain and his "just not giving a fuck" attire, and Jeffrey Lee Pierce and his "gothic cowboy" style.
Although it's easy to assume L.A. Witch has been put in a box for being an all-woman band, they think about it differently. This is a band that isn't meant to be put in any category, especially not one that denotes gender for the sake of it. To simply think of L.A. Witch as a "girl rock band" severely underestimates their scope and talent. To put them in a box is to beg them to break out of it. "Personally, I don't pay attention to gender, I pay attention to what you're actually doing," Sanchez says "I've never been phased by, 'Oh that's a girl doing this, or a girl managing a band.' I don't necessarily agree that it's a male-dominated industry. I think there's a lot of women involved, and there just hasn't been as much attention on them as there is now. I don't know if it's a fashion thing, I don't know what it is."
After a few years in the making, L.A. Witch is setting the scene to cast their spell. With tours across the United States and Europe this year (see the details below), not to mention their debut full-length, the three-piece is finally weaving their magick with their old-school southern California charm. As for what we can expect from the band going forward, the answer is pretty simple. A sophomore album in the future, plenty of more touring, and the sort of dark rock that tempts you to unleash your inner vixen. 
You can pre-order the album, here, and listen to "Baby in Blue Jeans," which we're premiering, below.
Tour Dates:
08.04.17
– Palm Springs, CA @ Ace Hotel
08.31.17
– Los Angeles, CA @ Levitt Pavillionin MacArthur Park
09.04.17
– Groningen @ Vera
09.05.17
– Amsterdam @ Paradiso
09.06.17
– Ghent @ Kinky Star
09.07.17
– Berlin @ Kantine am Berghain
09.08.17
– Köln @ Burger Invasion: Cologne
09.09.17
– Hamburg @ Burger Invasion @ Molotow
09.11.17
– Olten @ Le Coq D'Or
09.13.17
– Zurich @ Gonzo Club
09.14.17
– Clermont-Ferrand @ Le Baraka
09.16.17
– Paris @ Le Batofar
09.17.17
– Lille @ DIY Cafè
09.18.17
– Bristol @ The Crofters Right
09.19.17
– Brighton @ Acid Box
09.20.17
– London @ Moth Club
09.21.17
– Glasgow @ Mono
09.22.17
– Liverpool @ Psych Festival
09.23.17
– Rotterdam @ Rotown
10.02.17
- San Francisco, CA @ The Chapel
10.03.17
- Santa Cruz, CA @ The Catalyst
10.05.17
- Arcata, CA @ Miniplex
10.06.17
- Portland, OR @ Mississippi Studios
10.07.17
- Vancouver, BC @ Fox Cabaret
10.08.17
- Seattle, WA @ Chop Suey
10.09.17
- Bellingham, WA @ The Shakedown
10.11.17
- Reno, NV @ Jub Jubs
10.15.17
- Joshua Tree, CA @ Desert Daze
10.17.17
- Albuquerque, NM @ Sister Bar
10.18.17
- El Paso, TX @ Monarch
10.20.17
- Dallas, TX @ Club Dada
10.21.17
- Austin, TX @ Sidewinder
10.22.17
- Houston, TX @ Walters Downtown
10.23.17
- New Orleans, LA @ Ace Hotel
10.25.17
- Orlando, FL @ HENOA Contemporary Center
10.26.17
- Miami, FL @ Churchills Pub
10.27.17
- St Petersburg, FL @ The Bends
10.28.17
- Atlanta, GA @ Drunken Unicorn
10.29.17
- Asheville, NC @ Mothlight
10.30.17
- Richmond, VA @ Cary St Café
10.31.17
- Baltimore, MD @ Metro Gallery
11.02.17
- Philadelphia, PA @ PhilaMOCA
11.03.17
- Brooklyn, NY @ St Vitus
11.04.17
- Asbury Park, NJ @ The Saint
11.06.17
- Boston, MA @  Middle East Upstairs
11.07.17
- Montreal, QC @ The Ritz
11.08.17
- Toronto, ON @ Garrison
11.09.17
- London, ON @ Call The Office
11.10.17
- Columbus, OH @ Ace of Cups
11.11.17
- Detroit, MI @ UFO Factory
11.12.17
- Chicago, IL @ Beat Kitchen
11.13.17
- Minneapolis, MN @ 7th Street Entry
11.14.17
- Davenport, IA @ The Mill
11.16.17
- Denver, CO @ Lost Lake
11.17.17
- Salt Lake City, UT @ Urban Lounge
11.18.17
- Las Vegas, NV @ Emerge Music + Impact Conference