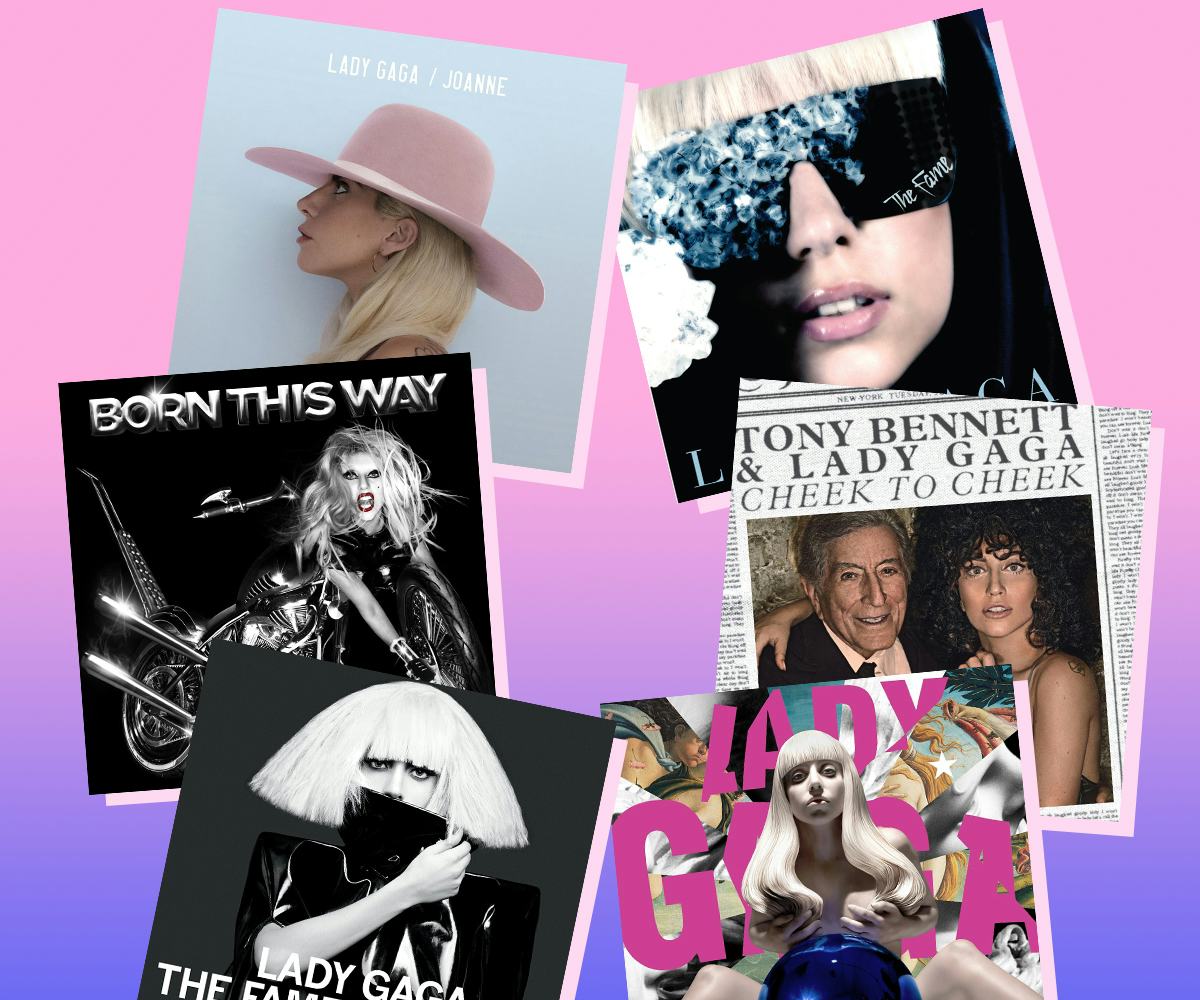 Photos courtesy of Interscope Records
Every Major Lady Gaga Album, Ranked
Lady Gaga needs no introduction. She is, after all, the real deal: the over-the-top pop star our generation was waiting for back in 2008, who would go on to shake the industry with a disco stick. Now, five albums (and one extraordinary EP) later, she's back on top with Joanne. The country-pop bop of an album is going to take time for its influence to sink in, but as we saw with "Just Dance," the influence will come.
How, though, does Joanne stack up to Lady Gaga's other musical projects? It's the second time she's veered away from the traditional pop productions that shot her to ridiculous success, but something about the entire Joanne mystique puts it in the same lane as her previous electronic efforts. Read on for our not-so-scientific ranking of Lady Gaga albums, albums that will never not have us dancing in circles. 
6. Cheek To Cheek
Cheek To Cheek is Lady Gaga's vanity project, something she needed to get out of her system before throwing herself into the next phase of her career. Having just come off the convoluted ARTPOP era, Gaga decided it was high time she did a proper "fuck it" and deliver an album no one expected, but one she needed to make for herself. She's always been vocal about her love of jazz and her 2011 duet with Tony Bennett fostered such a strong friendship between the pair that an album of jazz standards was unavoidable. It's a fine LP, really, and it even scored her another Grammy. It is the outlier simply because it leans so far away from her pop tendencies that it doesn't hold a candle to everything before and after it. 
Best Songs: "It Don't Mean A Thing (If It Ain't Got That Swing)," "Anything Goes."
5. ARTPOP
ARTPOP is what happens when the pressures of fan expectations and a muddy music scene come together. As an album, ARTPOP is all over the place and not in a constructive way. When looked at as a bunch of stand-alone songs, however, it finds Gaga raging against the powers that be and pushing herself and the electronic sound she's courted to inconceivable heights. She flew too close to the sun, though, and her wings melted. The album did not land on any Best Of year-end lists nor did it rake in the awards. It marks a time in pop culture where we all collectively stood back and wondered, "How fair is it of us to expect our favorites to produce the same type of music over and over again?" The answer is easy: It's not fair, and it prevents artistic growth. It's unfortunate Gaga had to be the one that fueled that question.
Best Songs: "Gypsy," "Dope," G.U.Y.," "Venus."
4. The Fame
Lady Gaga's debut album The Fame sounded like nothing else on the radio when it came out. "Just Dance," the album's lead single, reintroduced the four-to-the-floor beat to the radio. But, for all its provocative qualities and Top 40 influence, The Fame sounds like an album from 2008. It's great from beginning to end, but functions more as an album of singles rather than an album that begs to be listened to from beginning to end. (The same can be said for Born This Way, but Gaga elevated her sound even more with that project.) The Fame is the album that perked up the ears of many and challenged our common culture to think about the future of pop. 
Best Songs: "Just Dance," "Paparazzi," "Lovegame," "Poker Face."
3. Born This Way
Born This Way, Gaga's second proper album, is ambitious, to say the least. It's over-the-top and a little extra at times, but as the years go by and hindsight gets clearer, Born This Way sounds more progressive than ever. Unlike The Fame, whose sound had an immediate effect, Born This Way's impact is taking time. It's the album that found Gaga dipping her feet into her rock 'n' roll past while maintaining her supreme rule over all things pop. The result is a textured mix of dark techno productions peppered with Bruce Springsteen-esque guitar riffs and arena-filling anthems. Born This Way gets better with time; we are only now just beginning to feel its influence.
Best Songs: "Born This Way," "Edge of Glory," "Marry The Night," "Government Hooker," "Heavy Metal Lover," "Yoü + I."
2. Joanne
Lady Gaga wasn't joking when she announced she was quitting pop music back in April 2015. Her latest album, Joanne, dances across and blurs the lines of more genres than ever before. Miraculously, though, it works. The country-rock-pop fusion she and her team have created is as unique sounding today as The Fame was when that debuted. It is, perhaps, her most cohesive sounding album since The Fame Monster. More importantly, however, it shows that Gaga still has the power to surprise us and do so with great success.
Best Songs: "Diamond Heart," A-YO," "Joanne," and "Dancin' In Circles."
1. The Fame Monster
So The Fame Monster is technically an EP, but it's so iconic within the Gaga canon, that it deserves to be treated as a proper LP. This is the project that made Lady Gaga Lady Gaga. She took her forward-thinking dance pop to new heights, peppering in more dark themes and packaged it all with high fashion. "Speechless," the one piano ballad sandwiched between lush electronic productions never sounds out of place, and now that Joanne is out in the world, will fit even more perfectly in her future tour setlists. This is the album people will think of when they think of Lady Gaga.
Best Songs: All of them, but if we had to choose, it'd be "Bad Romance," "Telephone" feat. Beyoncé, and "So Happy I Could Die."