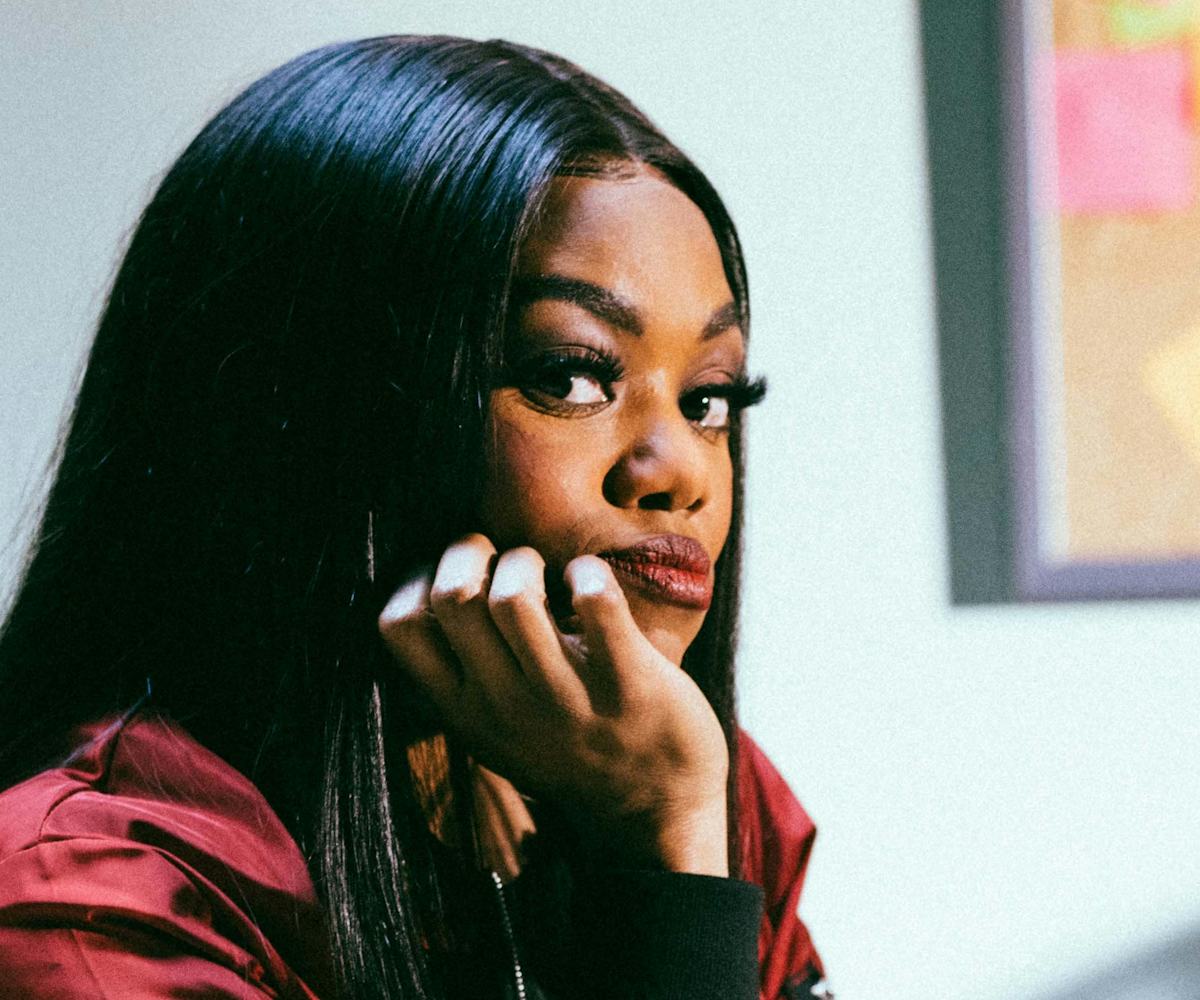 Photo via Captain Morgan
Lady Leshurr Is Not Here For Your Nicki Minaj Comparisons
The viral rapper speaks out
Lady Leshurr is no stranger to virality. Back in 2015, she hurtled into public consciousness with her rap battle-inspired, one-take video "Queen's Speech 4" in an attempt to remedy what she saw as dour and humorless rap—and trust, it's very different from what you're likely used to.
With lines admonishing you to "brush your teeth" and telling Kylie "you weren't that color, stop," she's got a comeback for every situation. One of the sharpest rappers working in the U.K. right now, Leshurr is often referred to as the U.K.'s Nicki Minaj. However, she's quick to correct the "lazy" assumption—noting that they're actually two very different artists with distinct stylistic proclivities. But, always one to relish a challenge, Leshurr's ready to show the world what exactly separates her from Minaj via a brand-new album this summer. 
In anticipation of that and in honor of her campaign with Captain Morgan to promote drinking responsibly, we spoke to her about everything from those ghostwriter rumors to grime's reckoning in terms of recognizing female talent. Read our Q&A below.
You've spoken before about being the only girl who was learning to write and produce at the youth club across the road. What was that experience like?
I always hung out with the lads. It was a great experience because every guy knew I was too focused and too serious on music, so they wouldn't bother me in the sense of flirting. I wasn't there for all that.
You recently put out this track with a few other big female grime artists—Lioness and Shystie, and Little Simz, and it was really this powerful celebration of emerging female talent in the industry. Have you noticed a change in the way people are receiving you all?
Not a change, but it's getting better. That track was needed, and it's very hard and rare to get so many women on the same track.
Your flow is one of the best in the game, but what do you think about the "U.K. Nicki Minaj" comparisons?
That comparison has always been a massive compliment, but I also think it's a lazy one. Those type of comments come from the media blogs and spectators that just want more clicks on their site, so they associate Nicki's name [with my work]. It's never from someone that thoroughly listens to an artist and finds depth and content in their lyrics. You're always going to be compared to who's on top [though], so I don't entirely mind. But I also want to show people I'm bringing something different to the table and all female rappers are not the same. I have my accent and my sense of humor—that's a different advantage. 
It's nice to see that collaboration rather than something like that situation where you said you were going to be strategically pitted against Nicki Minaj. Why do you think people are still so quick to cause a catfight in the midst of all these conversations about female solidarity and support?
Without drama, certain media outlets wouldn't be getting attention or paid. The people need gossip. Some thrive off it, others do it intentionally to create tension. It's sad and really not nice for us women that are only in this for the music. 
Are there any ways you're trying to amplify/boost up other female MCs you think are talented? Or just inspire young girls in some capacity?
I always show love to girls that I feel [are] talented. I haven't been brought up to turn a blind eye. I discovered a woman from my hometown called TrueMendous that I saw about six, seven years ago, and she's been working with my business partner to create a project in our studio. It's just the little behind-the-scenes things people don't know [about that needs] to be bragged about.  
Why do you think your Queen's Speech freestyles struck a chord with an international, viral audience?
Nobody has done or seen anything like it, and I'm just so happy I can say I am a great addition to U.K. music culture and [a testament to] how far it has traveled. Back in 2015, I was in America a lot, and the majority [of people] did not know the most popular names [in U.K. grime]. Out of [that though, they knew] me, Skepta, and a few knew about Stormzy. I was so shocked because I thought they were the biggest. But when you come out of your country, you realize how unknown you actually are. I remember being in studio with Timberland and he said he hadn't heard of Skepta, Stormzy, or Krept & Konan. I was so confused. I made sure I played him the best of the U.K. that night.
You also tweeted the other day that some people think you have a ghostwriter? Why do you think people assume that?
Because apparently, it's impossible to be a really good writer as a woman... [laughs] Smh. 
Watch the video for Lady Leshurr's song "Live Like A Captain."