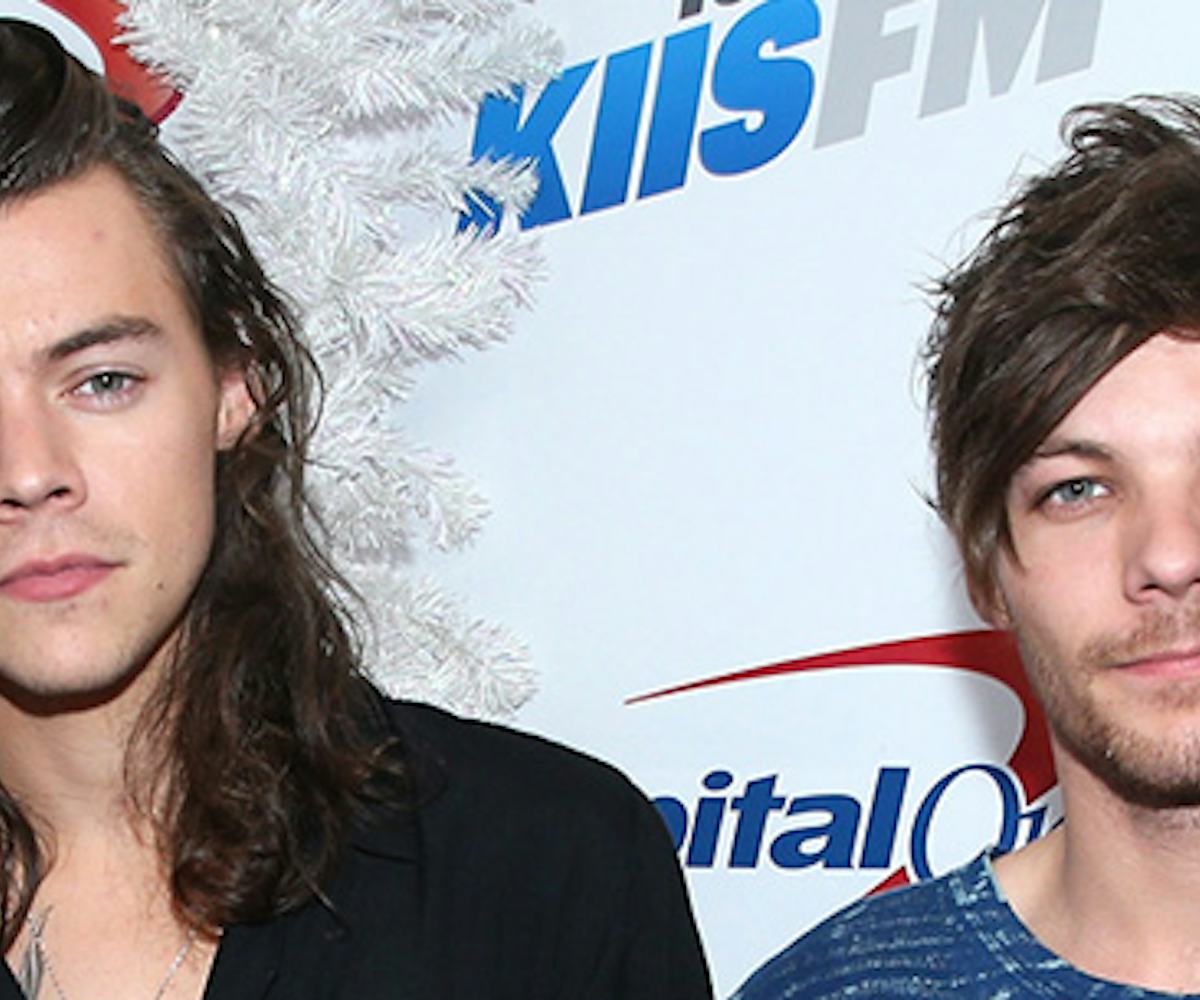 Photo: Jonathan Leibson/Getty Images for iHeartMedia.
People Really Wanted Harry Styles + Louis Tomlinson To Date This Year
y'all want that one thing.
Way before it was announced that Louis Tomlinson was going to be a dad, a small but influential group Directioners shipped he and another One Direction member, Harry Styles. ("Shipping," if you don't know, is the act of romantically pairing two people, real or fake.) Like all celebrity relationships, Tomlinson and Styles' (alleged one) was dubbed "Larry Stylinson." You could say they've been not-so-secretly together since 2010 or 2011, when the nickname started buzzing on fan blogs. And this year, their (fan-fictional) romance was the number-one most reblogged ship on Tumblr. What a sweet, rainbow-y icing on top of the already-pretty, rainbow-y cake that is 2015!
How did this ship set sail? Detectives across Tumblr have been tracking their relationship since the then-group of five strapping, young British lads, with nice hair and tight pants, burst on to the scene, claiming to know what makes you (read: us, everyone) beautiful. They analyze every look, glance, finger graze, and giggle; they've somehow dreamed that the two have two couple's tattoos, too: Styles' ship and Tomlinson's compass relate to one another, just like Styles' "hi" and Tomlinson's "oops" do, because those were the first words they supposedly said to each other. It's all so absurd and surrounded by conspiracy-theory fluff that you start to believe it after tumbling down the hole for a while. Hell, you may even enlist in the Larry Army.
Real or fake, Larry Stylinson, and over half of the top 20 most reblogged ships this year, are homosexual ships. That's pretty fascinating considering fandoms, up until the past five years or so, have typically lusted after individual characters and/or members, rather than imagining a relationship between their idols. The fact that the majority of these ships stray from the heteronormative spectrum makes it that much more fascinating and a sparkling sign of the times. Real or not, the most popular couple on the Internet, according to Tumblr, is a gay one. That's what makes the youth beautiful.