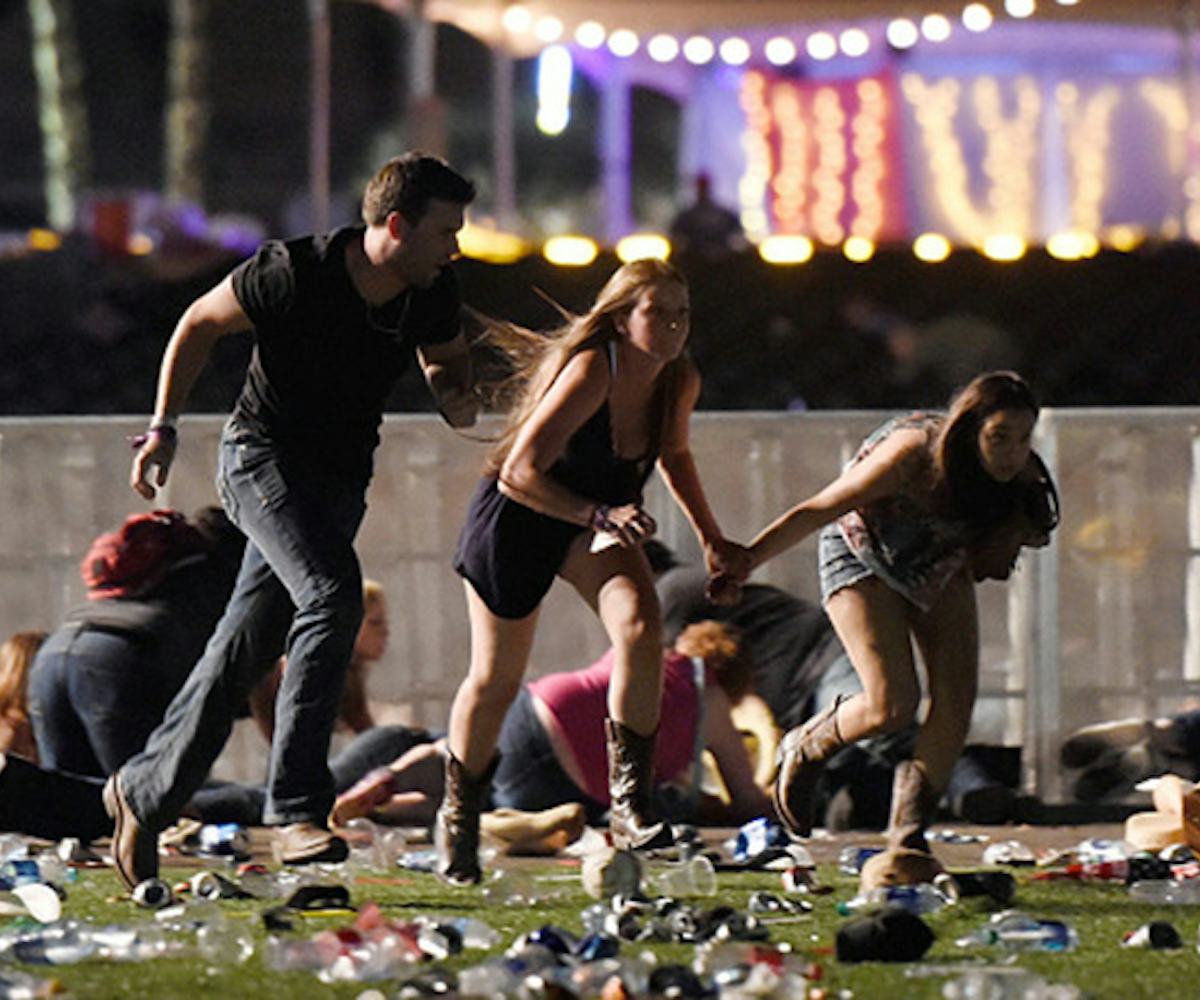 Photo by David Becker/Getty Images
Americans Don't Need "Warm Condolences," We Need Gun Laws
More than 50 people were killed in a mass shooting in Las Vegas
On Sunday night, a gunman opened fire on an outdoor music festival near Mandalay Bay Casino in Las Vegas, killing more than 50 people and injuring more than 200, the New York Times reports. It is one of the deadliest shootings in U.S. history. The gunman has been identified as 64-year-old Stephen Paddock. He was shooting at victims from the 32nd floor of the Mandalay Bay, overlooking the concert. Paddock shot and killed himself in his hotel room before police could reach him. Officials are now searching for Paddock's girlfriend, Marilou Danley. On Monday morning, Donald Trump issued a statement on Twitter, sending his "warmest condolences" to the victims and their families.
But, it's hard to appreciate his warm condolences when he's said before he'd like to get rid of gun-free zones on schools and believes all states should allow concealed carry permits. He also doesn't think there should be a limit to the number of guns a person can buy, according to OnTheIssues.org. Since he's taken office, nothing has been done to make Americans feel safer. 
Automatic assault rifles are just as easy to obtain today as they were a little more than a year ago when the second deadliest mass shooting in the U.S. took place at Pulse nightclub in Orlando, Florida. The gunman left 49 people dead. 
In the wake of the tragic shooting, there was, as there usually is, a debate about gun laws. However, no laws were changed. In Las Vegas, it's possible to buy a rifle, shotgun, or handgun without a permit, according to Metro. The House is expected to vote this week to ease laws on silencers, according to CNN Chief National Security Correspondent Jim Sciutto, which will make it even harder to detect the source of gunfire in the case of mass shootings. 
And we still continue to hear the same refrain from gun-loving Republicans: "Guns don't kill people, people kill people." But if that's true, then why is the GOP doing nothing to improve access to mental health care in this country? In fact, with every new health care bill it proposed, people with mental illness would receive less coverage for more money, Huff Post reports.
This cannot be a politicized conversation. Tens of thousands of people die every year due to gun violence. This also can't be a conversation we put down and pick up again only in the wake of a horrific tragedy. 
It only took 35 people to die in a mass shooting in 1996 before Australia's government decided to prohibit automatic and semiautomatic assault rifles, according to the New York Times. They also "established a 28-day waiting period for gun purchases, created a national gun registry and instituted a temporary buyback program that removed more than 20 percent of firearms from public circulation." The country hasn't experienced a mass shooting since. How many people will have to die in the U.S. for us to take the same action?
We need to demand that our government do something to seriously address automatic assault rifles in the U.S. and, more than that, to properly address mental health in this country. We can't make guns easier to obtain, while at the same time making health care harder to access. We can't allow these shootings to become an annual event. We can't become numb to this.