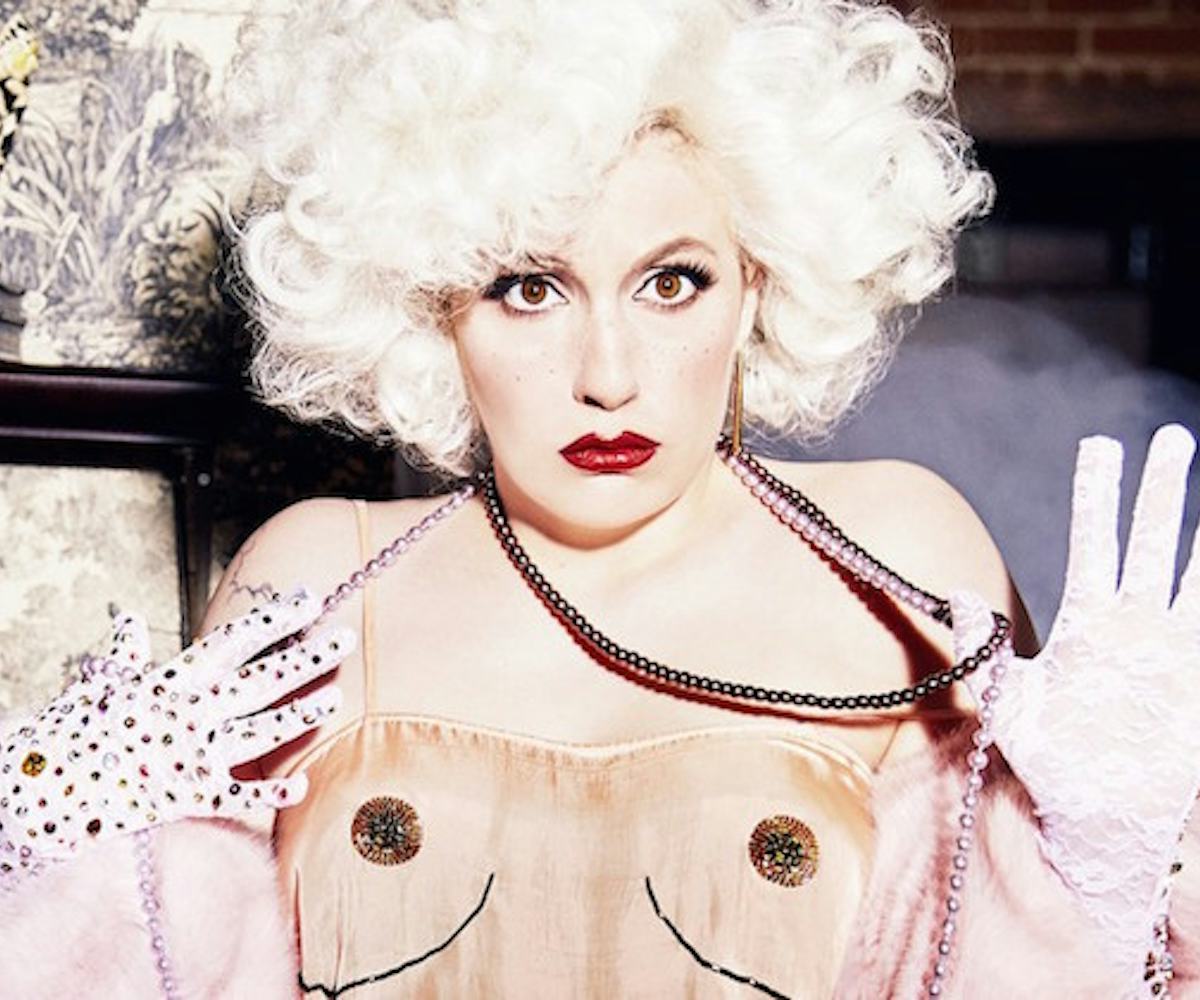 Image Via Paper Magazine
Lena Dunham Talks Children, Looks Awesome In Paper Magazine
Lena Dunham sat down for an interview with legend Jane Fonda for the March issue of Paper and, as is her style, opened up a whole can of sharing. As the centerpiece of the mag's "Girls Girls Girls" issue—an edition made by and dedicated to young women out there changing the world—Dunham opened up on all manner of things from Hollywood's weird relationship with depicting real sex, the way some celebs have a problem with the "F" word (that's "Feminism"), and, yeah, much more. Also, her love-fest with Fonda is a mutual-admiration explosion you kind of have to read.
What really raised our eyebrows, though, was her talk about getting down to the business of maybe, possibly starting a family with her current bae of quite some time, Jack Antonoff. When asked about the possibility of children by Fonda, Dunham replied, "Well, you know, it's interesting—I have a boyfriend who I adore and I love him so much and I know he's gonna be a really great father and that's not the reason I love him, but it's a reason I love him." Oh, do tell. 
"But that being said, I've often said to him, 'you know, I'm kind of getting towards the point in my life where I want to have children and whether I was with you or whether I wasn't with you, that's what I would want to do, but let's find a way that you want to do it.' And it's interesting: I always knew that if I didn't find somebody who made sense for me as a partner that it was something that I was going to do on my own." Interesting, yes? With or without a guy, Dunham has made a decision.
She brings up the possibility that things may not go altogether smoothly. "I have endometriosis," she says about the issue of adoption, "and I've said to my boyfriend, 'If fertility ends up being a challenge for me, I'm not gonna be the person who spends six years in IVF because while I'm really intrigued by the possibility of carrying a child in my body, and I don't judge anyone else's choices, for me, years and years of hormones and body manipulation wouldn't work for my psychology and my body and it's not important enough to me that my child come out of my body and it's not important to me, really at all, that the child belonged to Jack and me on a genetic level." She concludes, "It's important to me that we have the right child for us and take the right kind of care of them. There's so much talk of infertility like, 'Am I gonna be able to have a baby? Is my body broken?' and once that fear was gone, the whole prospect of having a baby actually got so much more exciting to me." Sounds like she's thought this one out down to the tiniest detail. Let us know how it goes Lena. Oh who are we kidding? Of course you will.
For more of the interview and all the gorgeous photos by Ellen von Unwerth, hit Paper stat. For a quick taste of the images to come, click through our slideshow.