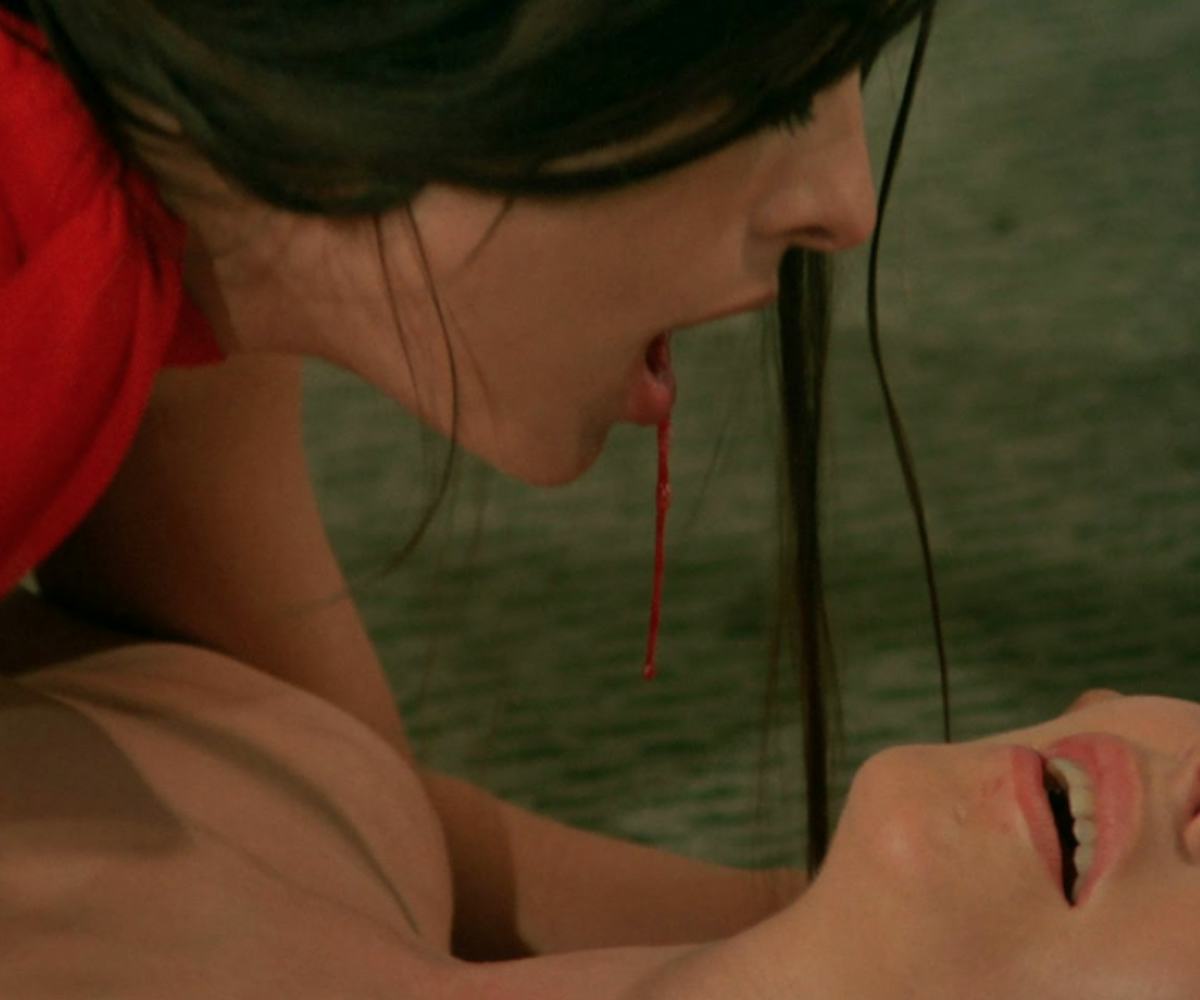 Why Lesbian Vampires Are The Ultimate Style Icons
Costume Party: 'Vampyros Lesbos'
Few cinematic figures are as stylish as lesbian vampires. With their air of seductive mystery, vampires pull mortal women into their dangerous world. The cinematic world of lesbian vampires flourished in the '70s, with many a stylized, panting tale. Now that Halloween's just around the corner, it's an ideal time to embrace sheer, billowing fabrics and bloodlust. New York's Quad Cinema is currently featuring "A Woman's Bite: Cinema's Sapphic Vampires," a luscious collection including such titles as Vampire Ecstasy (1973) andLust for a Vampire (1971). Most lesbian vampire films are united by gratuitous flesh and archetypal plots. Innocence is lost and lithe bodies are revealed, and it's all a bit formulaic—if you've seen one sexy '70s lesbian vampire film, you probably have a pretty good idea of the aesthetic of this series—but the formula is undoubtedly effective.
Some of the most stylish vampires of all time, Catherine Deneuve as a new wave noir goddess in The Hunger (1983) and Delphine Seyrig as a loungewear queen in Daughters of Darkness (1971), are featured in the Quad series, and I've already paid tribute to their sartorial excellence. One of the best-known, most influential lesbian vampire films, the aptly titled Vampyros Lesbos (1971), playing on Thursday evening, elevates its flimsy narrative with revealing costumes presented in fetishistic tableaux. Countess Nadine Carody (Soledad Miranda), the vampiric seducer, is first seen in her nightclub act, which features sheer black lingerie and a flowing red scarf. Nadine moves gracefully against the black background, the scarf around her neck foreshadowing her bloodsucking.
Nadine is entranced by her own reflection and uses fashion as a means of domination. In the nightclub act, she puts one of her truly fabulous red pom-pom-topped stockings on the leg of her silent, nude subordinate. The pom-pom may initially look frivolous, but taking off the stocking and putting it on another woman's leg is one of the many ways that Nadine asserts her hypnotic power.
Like any good lesbian vampire, Nadine lures a victim/lover, and the power dynamics gradually shift throughout the film. Linda (Ewa Strömberg) is haunted by the vision of Nadine, the brunette libertine foil to her more straight-laced blonde self. Her comparative innocence is telegraphed by a white sweater and pants, which she wears as she sits across from a black lace-clad Nadine at a long table.
The shot quickly conveys the obvious contrast. Nadine's bell sleeves add a touch of bohemian exoticism, and she has another dress with a similar silhouette.
The bell sleeves are used as part of her seduction. In one moment of inspired voyeurism, she holds up her arm, letting the sleeve fall in front of her face, and peers at Linda's nude body through the crevices of the black lace. The camera lingers on the unique perviness of the lace sleeve's eye view.
Nadine tops her outfit off with the scarf from the nightclub act (gotta love a versatile accessory!), and when she and Linda become intimate, the long, hanging blood red scarf falling down between her legs becomes a phallic symbol.
Once Linda is turned to the bloodsucking life, she goes from the comparative innocence of the white outfit to a long black evening gown, which she wears as she looms over Nadine, who lays there in a black-and-gold robe.
Vampirism gives Linda new sexual power, and as is the case in so many films of the genre, the student ultimately becomes the master. Linda ends up killing Nadine, and only the red scarf remains, a vivid tool of seduction left limp on the ground, though the bloodsucking spirit never dies.