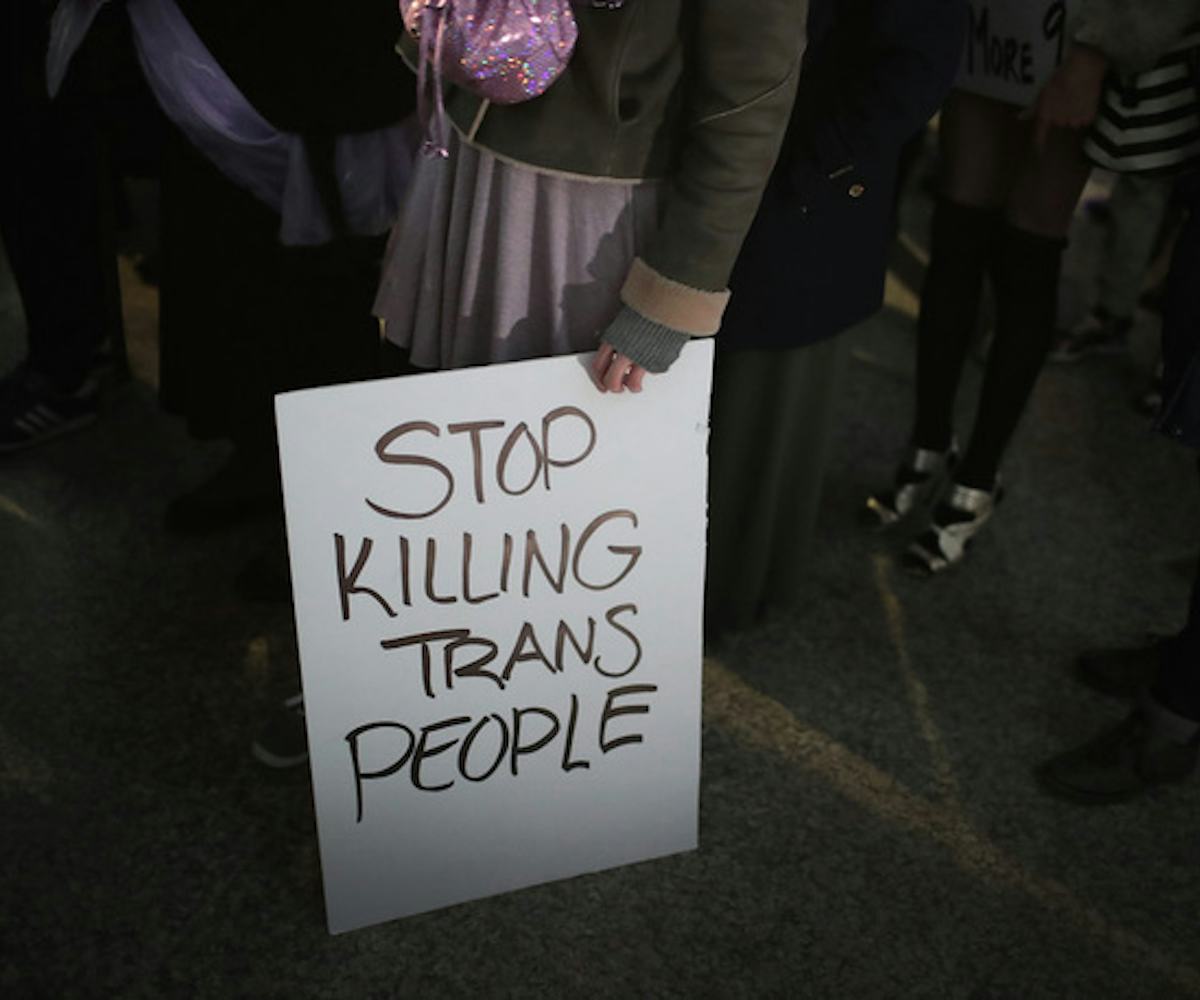 Photo by Scott Olson / Getty Images
2017 Is Already More Deadly For LGBTQ People Than 2016
The first eight months of 2017 have been more violent than all of 2016 for queer Americans.
A new statistic from the National Coalition of Anti-Violence, a group which tracks hate related homicide, has revealed a horrific truth about the year 2017. The data shows that the first eight months of this year have been more deadly for LGBTQ people than the entirety of last year.
According to Buzzfeed, there have been 33 hate killings of queer people in the United States since January 1, 2017. Excluding the shooting at the Pulse nightclub in Orlando, in which 49 people were killed, 28 queer people were murdered in 2016—meaning that 2017 has already proven to be more deadly for sexual minorities than the year many of us jokingly derided as the worst of all time.
That means that in 2017, a queer person has been killed for being queer every six days. In 2016, it was closer to every 13 days.
Fifteen of the 33 that have been murdered are trans women of color. Twelve were cisgender gay males.
A few obvious reasons can be cited for the uptick in LGBTQ killings, and they actually aren't all bad. NCAVP says that because of increased awareness of LGBTQ issues and experiences, media is more likely to notice the deaths, whereas in other times the killings may have simply gone unreported. Police are now more accurately identifying people as LGBTQ, as well. Unfortunately, these factors come paired with an overall increase in hate violence across the country.
"I think whether it's an increase in reporting, an increase in violence, or some combination thereof, it should be a wake-up call for us across our communities that hate violence is not going away, it's certainly not decreasing, and it's symptomatic of larger and deeper problems in our society that we still haven't addressed," said Beverly Tillery, executive director at the New York City Anti-Violence Project, which put together the recent report alongside NCAVP.
Some experts concluded that the rise in violence is likely the result of backlash against the progress of LGBTQ civil rights. 
NCAVP says its stats are by no means definitive but are the most accurate set of data that exists on the subject at the moment. The government does not keep track of this kind of data. They also note that criteria for "hate violence" is different from the legal definition of a hate crime. The organization categorizes a homicide as "hate violence" if it appears that the victim was targeted because of their gender identity or sexual orientation. 
In reality, the stats on anti-LGBTQ violence are actually a lot higher than what is being reported here. "They don't report generally from communities that are smaller or where cases are not easily identifiable as LGBT homicides," Dallas Drake, senior researcher at the Center for Homicide Research, said. 
Another factor at play in the under-reporting could be the long, fraught history between LGBTQ people and the police. "The challenges that we do face with members of the trans and gay community is that members are reluctant to come and speak to us for obvious reasons that they're either afraid or they don't trust the police," Sgt. Frank Robertson, the New Orleans Police Department's LGBT liaison, said.
Last year, Mic created the Unerased project in order to collect more info on the deaths of transgender Americans. "At every stage there are bias-based obstacles ... and those levels reinforce each other," said Shannon Minter, a transgender attorney who serves as legal director of the National Center for Lesbian Rights, about the need for such a project.
"Our institutions of recording death—coroners, death certificates, police reports, hospital records, obituaries — are unprepared to represent transgender," added Alexis Dinno, a transgender social epidemiologist at Portland State University. "The boxes labeled 'was transgender' do not exist to be checked off or not. Also, that someone is transgender, whether surgically or hormonally transitioned or not, is not necessarily apparent to individuals and institutions that record deaths."
"For many people, and especially people in positions of power who create policies and run institutions, a prerequisite for recognizing a problem as a problem is to be able to quantify it," said Mic contributing editor Meredith Talusan to Out, explaining the need for the effort. "And because the federal government has so far not collected data on trans-related murders systematically, LGBTQ organizations and activists have been doing so, in order to try to demonstrate and quantify the crisis."