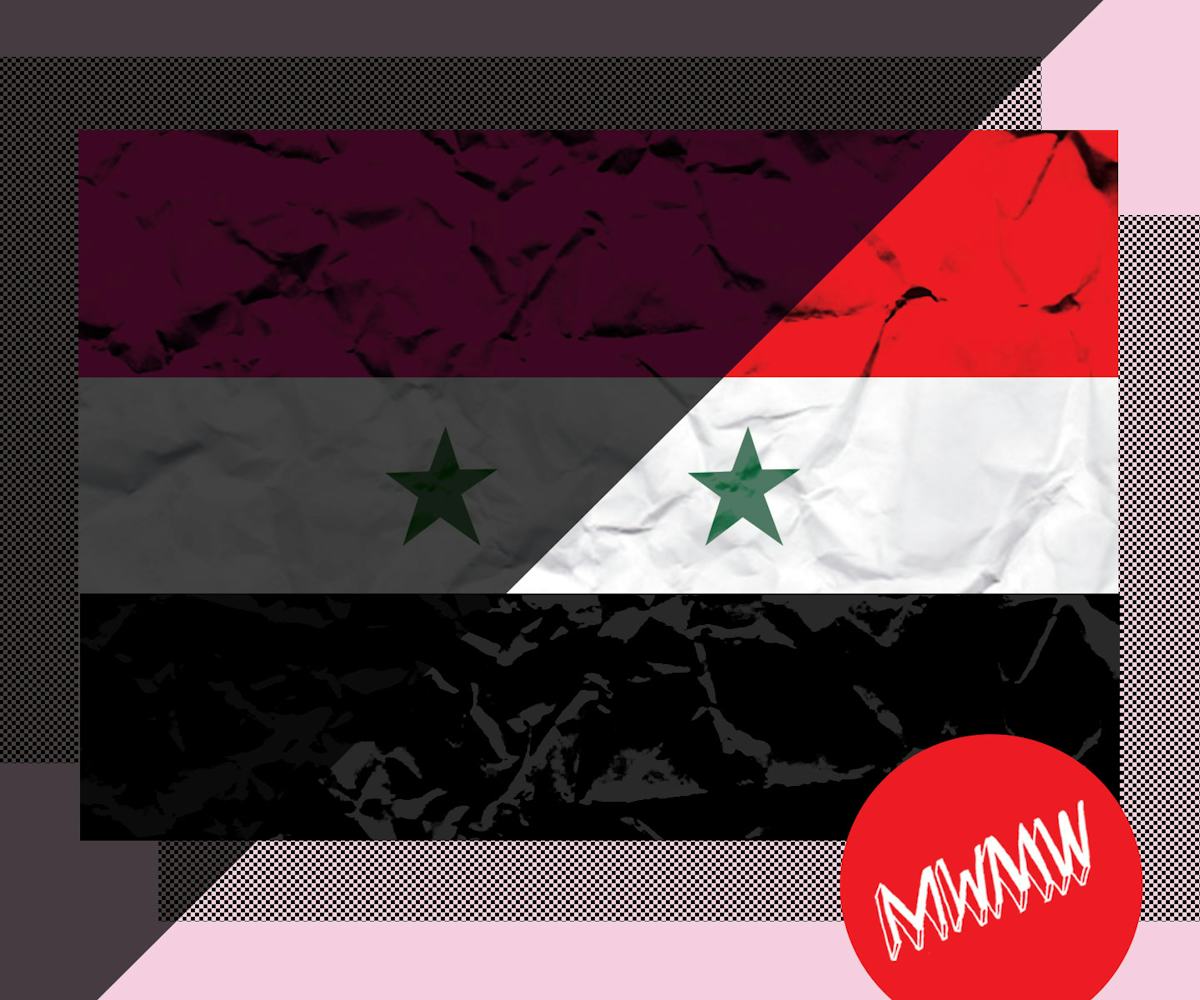 What It's Really Like In Syria Right Now
Being half Syrian while growing up in Los Angeles, California, was never something I thought much about. That is, until 2004, when I visited my dad, stepmom, and grandparents in Damascus, Syria for the very first time.
I was born in Northridge, California and raised as an only child. My mother and father divorced when I was two, and my father subsequently moved back to Syria. I then lived in a number of affluent suburban neighborhoods throughout the U.S. with my mom and stepdad. When I was 13, my mother suddenly passed away, and I spent the remainder of my teenage years divided between living with my aunt in Sweden and my maternal grandparents in Arcadia, California. It was during my fourth and final year as an undergrad at the University of California, Santa Barbara, that I finally met my father and his family in Damascus.
I arrived in July of 2004 when Syria was considered one of the safest countries in the Middle East. My father and stepmother reflected on the complicated fabric of cultures and classes within Syrian society. My father had grown up with five siblings in a wealthy part of Damascus with an educated background. My grandfather, Ibrahim Hamzawi, was a minister of justice as well as mayor of Damascus in the 1960s, and my grandmother, Hayat Malas Hamzawi, was a teacher, author, and a prominent feminist activist. The two of them lived in a nice apartment building that stood next to one of President Bashar al-Assad's homes. My father's side of the family was from the ruling Shia Alawite minority, but they were mostly atheists.
My stepmother, on the other hand, grew up in Dummar al Balad, one of the poor areas where most of her family worked in construction and were practicing Sunni Muslims. Her brother, sister, and their children lived together in small quarters nearby, and I remember them being so sweet, loving, close-knit, and such a pleasure to meet and spend time with. Each day was spent with either my stepmother's family or with my paternal grandmother who had a chauffeur and drove us around to see the various parts of Damascus: the open air markets, the shared spaces, the mountains, and the mosque minarets. We saw the beautiful city at night and in the day enjoyed picnicking in the parks with family friends. While the two sides of the family lived radically different lives, they were both very kind and lived side by side in peace.
The city seemed peaceful to me, however, there was palpable underlying tension and unease. Family members on both sides spoke a great deal about Assad's regime and criticized his authoritarian way of governing. One of Assad's soldiers stood at almost every city street corner holding a machine gun. My grandmother's driver was stopped frequently at checkpoints where we all had to show identification. My father explained that the government had lists of people they targeted for arrest—their crime was government opposition. Assad's photo was posted throughout the city. I remember seeing his image on billboards as well as on the front covers of my younger half-brother's and sister's notebooks, which they told me were required at school. One day while my half-brother and I were on the street, I pointed at one of Assad's pictures and he quickly pushed my hand down, explaining that any suspicion of mockery could have me arrested. 
In 2007, my father moved his wife, my half-brother, and two of my half-sisters to Indiana, as he wanted his kids to have an American education. A few years later my father's parents passed away and the rest of his family moved out of Syria. My stepmother's family, on the other hand, remained there, as they could not afford to leave. 
In March of 2011, Syria began to capture the world's attention when pro-democracy protests erupted and security forces opened fire on the demonstrators. As a result, thousands took to the streets across the country to protest and demand Assad's resignation. The country eventually descended into civil war as rebel brigades were formed to fight Assad's forces. Since the start of the Syrian Civil War, it is estimated that around 220,000 have died and more than five million have left the country seeking refuge elsewhere.
My stepmother's entire family is a victim of this war. Some of her relatives have been able to escape, walking more than 150 miles to Turkey and traveling an additional 2,000 miles to Germany where they have sought refuge. But her sister and nine children cannot afford to leave, so they remain in Syria and live near a military unit to be safe from air raids. My stepmother is able to talk to them daily via Skype. She says they live in constant fear and have minimal access to food, water, and health services. One of the nine children, my stepmother's 18-year-old nephew, ran away when he was 14 to hide with the rebels. He has minimal conversation via texts with her as his phone can be traced.
This year my stepmother received the news that her brother and her three nephews were tortured and killed by Assad's regime. There is not a day that goes by that she doesn't cry now. When I heard the news, I was devastated. I remember meeting the four of them and being greeted by their friendly smiles. Photos had apparently surfaced of the nephews participating in anti-government protests three years prior. They were therefore hunted down, jailed, and tortured to death.  My stepmother was sent a photo of her brother with his eyes gouged out. 
My step-aunt's neighbor's daughters have been raped and their father was set on fire for hiding from authorities in his house. Yesterday, my father sent the news that one of his former students was tortured and killed for posting a cartoon about Assad on Facebook.
My father and his remaining family can only communicate from afar and there is a sense of hopelessness and loss—not only for their family but also for the country that they called home. While we are here worrying about our safety, there are millions of Syrians, like my family, that are living in fear every day. If they do not support Assad's regime or run away to join the rebels, they are left with only one option: join the Islamic State (ISIS), which continues to grow out of the instability from the country's civil war. The other half of Syria has been displaced and is seeking refuge anywhere it can find it.
I am terribly saddened by the harsh rhetoric against accepting Syrian refugees that is in vogue among many candidates in this presidential election. The majority of Syrians are living in terror and just want a safe place for their families to be able to live in peace, send their children to school, and watch them grow up without the fear of torture, bombs, death, and destruction. I want so much to help my family come to the U.S. or to a safe democratic country, and I plead with anyone reading this to consider the desperation of my family and so many others attempting to escape the horrors of everyday life in Syria.