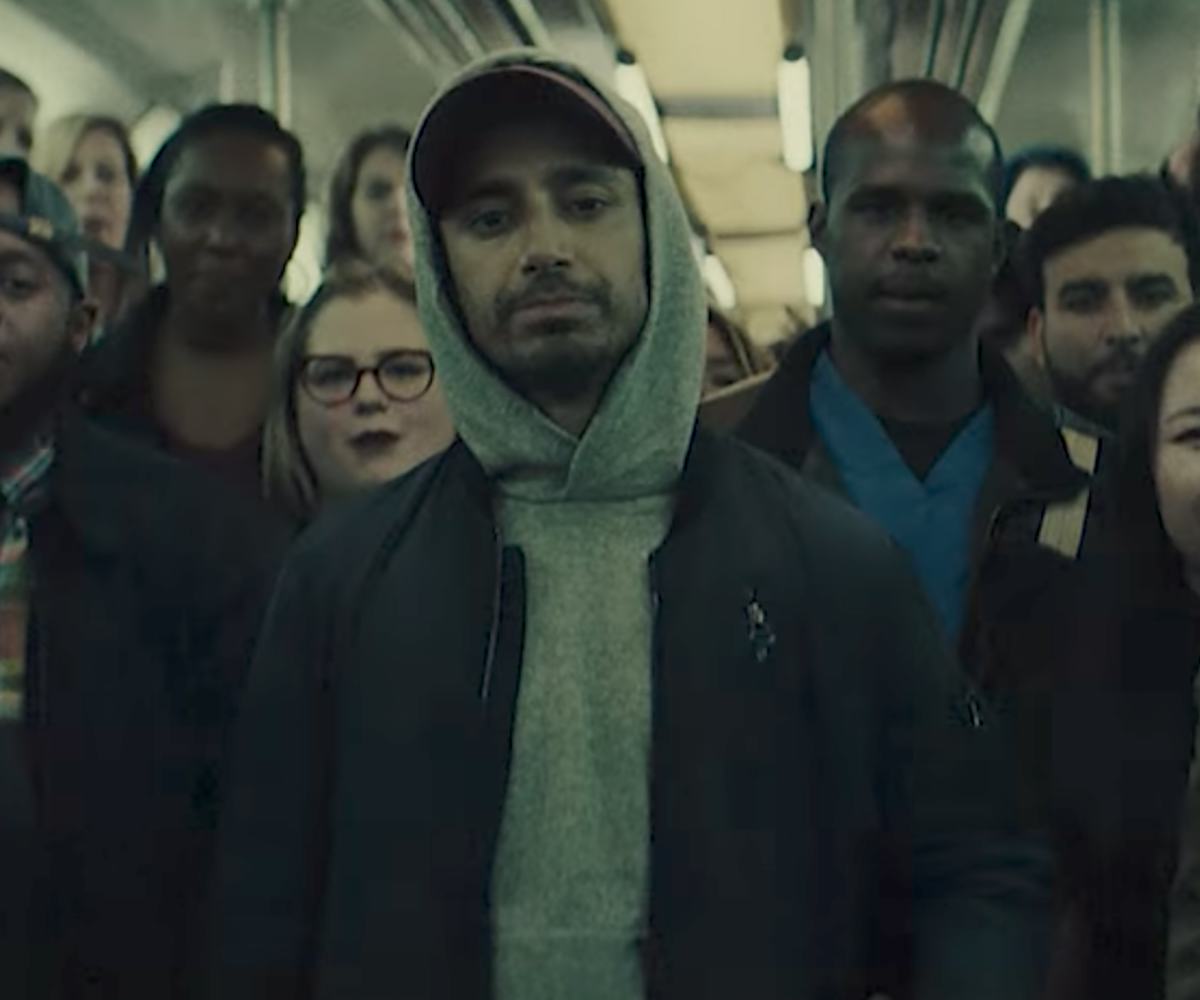 Image via YouTube / Hamilton: An American Musical
Lin-Manuel Miranda's Powerful Music Video Shows What It's Like To Be An Immigrant In The U.S.
Huddled together in the back of a train car, a group of immigrant families sits listening to a transistor radio. Through static, the DJ discusses the current debate about "border security" happening in the House and the Senate. "It's astonishing how in a country founded by immigrants," he says, "'immigrant' has somehow become a bad word."
That's how Lin-Manuel Miranda's powerful new music video for "Immigrants (We Get the Job Done)" opens. The song appears on The Hamilton Mixtape and centers on the experience of being an immigrant in the United States. In the video, we see immigrants sitting in rows at sewing machines, stitching together American flags. "Immigrants, we get the job done," K'Naan sings. "Look how far I come." 
"Racists feed the belly of the beast/ With they pitchforks, rich chores/ Done by the people that get ignored," Snow The Product raps. The Mexican-American hip-hop artist also raps in Spanish as she walks through lines of immigrants picking oranges off of trees and slinging large slabs of meat on hooks. 
"Who these fugees what did they do for me," Riz Ahmed raps in a subway car. "But contribute new dreams/ Taxes and tools, swagger and food to eat/ Cool, they flee war zones, but the problem ain't ours/ Even if our bombs landed on them like the Mayflower." 
The final performer in the video is Puerto Rican rapper Residente. He raps entirely in Spanish, but translated he says, "By land or by water/ False identity/ We jump over walls or float on rafts/ We fight like Sandino in Nicaragua/ We are like plants that grow without water."  
Watch the powerful video below.