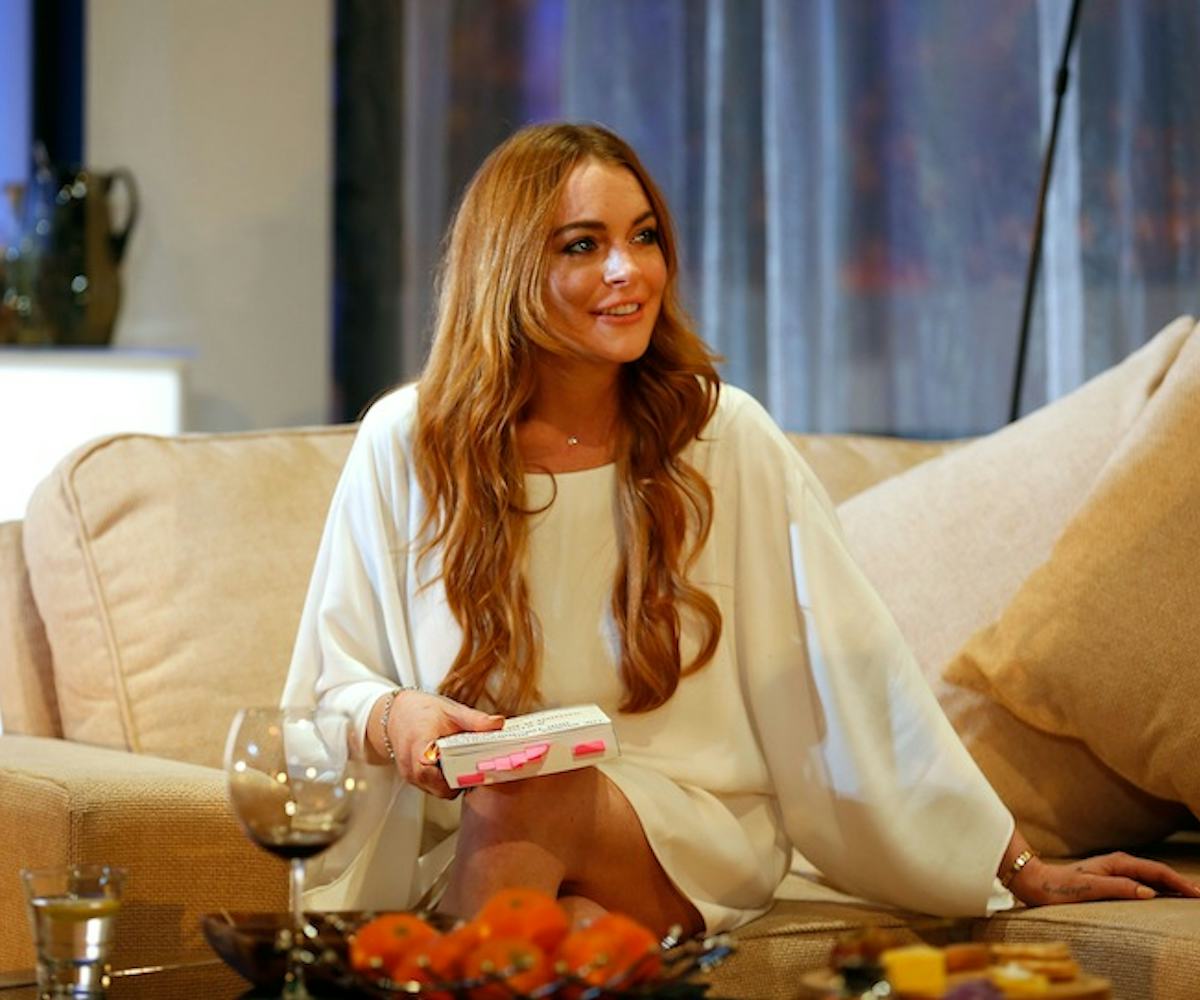 photo via getty images
read all of lindsay lohan's reviews for her new play
the good, the bad + the ugly.
For those who grew up watching Lindsay Lohan dominate the film industry from The Parent Trap to Mean Girls to everything in-between, the last few years may have seemed a bit off-putting. After failing to deliver in second-chance roles in Bret Easton Ellis' The Canyons and the Lifetime original Elizabeth Taylor biopic Liz & Dick, Lohan decided to document her post-rehab recover on Oprah's OWN Network. After cutting the series short due to alleged complications, the actress relocated to London to star in a stage revival of David Mamet's Speed-The-Plow, a satirical view of the Hollywood film industry. 
It seemed like the perfect role to revive Lohan's acting career, especially since she's playing the temporary secretary Karen (originally played by Madonna). Unfortunately we couldn't make it over to London for the show's opening night, but we were there in spirit (stalking the Internet for any and every review). Whether or not this is Lohan's comeback role is still up for debate, as there were extremely mixed reviews. Check them out for yourself and you decide—Do you think Lindsay Lohan will make her way back to the top?
Lohan brings a naivety to the role that is refreshing despite, her chaotic past few years. She adds a freshness to the role "by suggesting Karen is less a manipulative witch than a figure of genuine missionary zeal." She "holds the stage with ease." (The Guardian)
Lohan wasn't the right pick for the part. "Miss Lohan's husky voice does not suit her character, and while this would have seen off other actors in one audition, her celebrity status got her a spot on stage...Her acting is that of a not specially gifted schoolgirl." (The Daily Mail)
Lohan's performance is impressive despite people who doubted her. "A good but by no means a great night out whose value does not depend on the swirl of publicity occasioned by the female lead." (The Independent)
The show as a whole is mediocre. "Although she seemed sometimes to be rushing the lines and failed to make the material sing, overall she demonstrated presence. However, none of that changes the fact that this is a tepid, underwhelming production in which Lohan is just one of several mediocre elements." (Hollywood Reporter)
Lohan was surprisingly not bad. "By the closing curtain, Lohan had proved she could hold her own with two top-notch male actors." & "A few of Lohan's lines brought knowing laughs from the audience, including: "I know what it is to be bad, I've been bad." (London Evening Standard)
Lohan is "not a car crash on stage." It isn't one of her best performances, but it isn't as terrible as everyone thought it was going to be. "The audience collectively winced for her, but in road-accident terms, that's no more than a broken rear light." (Express)
"Lindsay Lohan holds her head up high." Still, the show as a whole isn't great. "Yes, her flat delivery needs more work, but so does the rest of the show – saddled with overlong scene-changes and not a patch on the Old Vic production that starred Kevin Spacey and Jeff Goldblum." (The Telegraph)
She's not awful, but not great. She lacks confidence on stage. "She has stage presence and a voice that's appealingly smoky even if sometimes flat. Her performance isn't confident — but then, Karen is meant to be a nervous young woman whose naivety evaporates when she finds a cause worth advocating." (London Evening Standard)