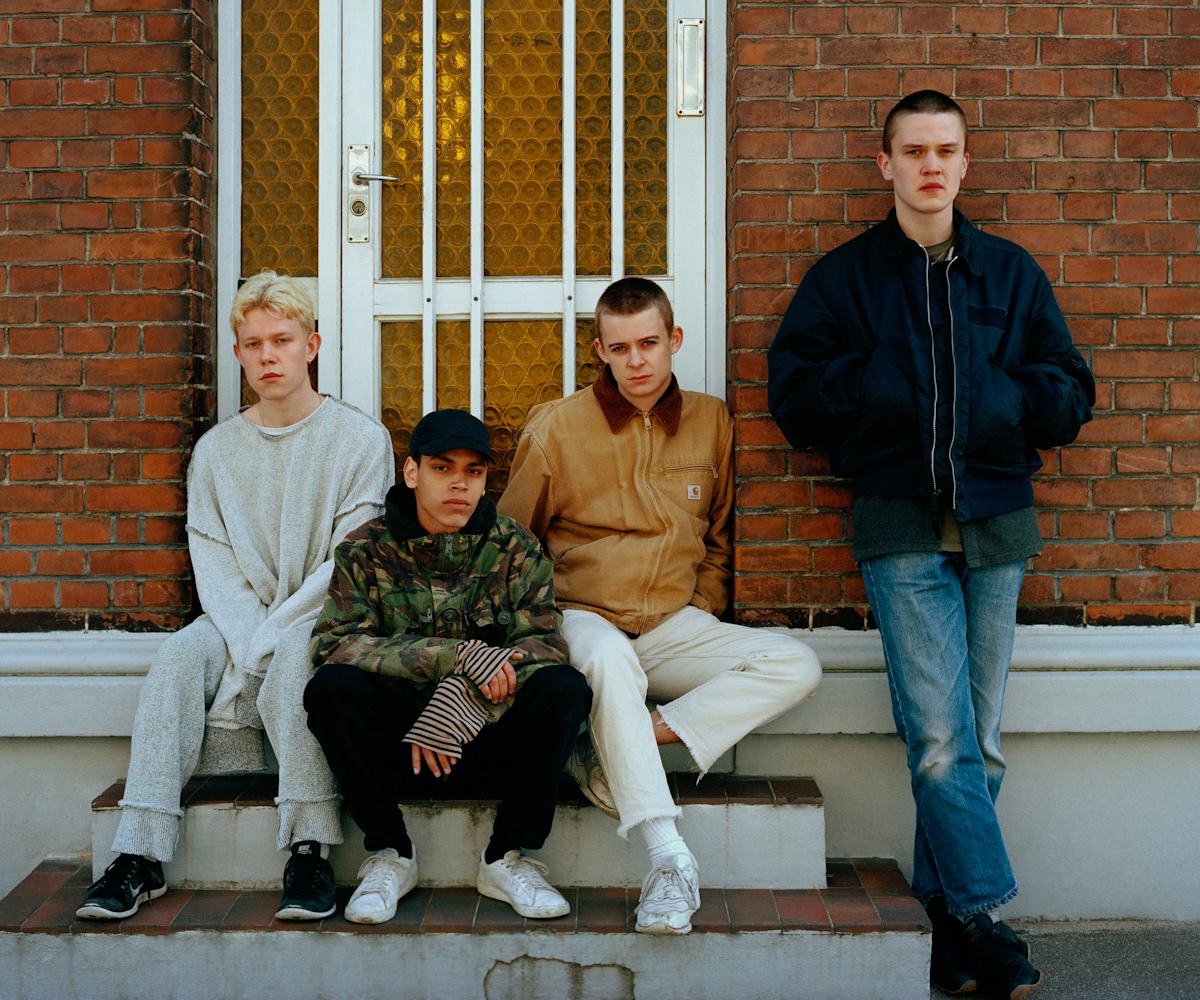 Photographed by Simon Birk
You're Going To Love The Sound Of Liss
Meet the Danish boys that stole our hearts
Pop music takes different forms depending on the country of origin, but you know it's good when the language barrier doesn't matter. When I first heard the band Liss, my friends made fun of me for instantly falling for Danish pop. I couldn't help it, though—the quartet made up of Søren Holm (vocals), Villads Tyrrestrup (bass), Vilhelm Strange (guitar), and Tobias Hansen (drums) had me hooked the moment I pressed play on their debut single "Try."
In all honesty, there is nothing I love more than a guy expressing his sincerest apologies for messing up behind some melodic, synth-infused beats, which can be heard loud and clear on the catchy track "Sorry." Liss' charm is that their music is a combination of pop, electronic, soul, and R&B—their experimental sound can't be defined in one single category, making it all the more appealing.
Over the past year, Liss has been busy in the studio working with producers like the xx's Rodaidh McDonald and Vera on their debut First EP, which is out today via XL Recordings. The band also released a music video for their new single "Miles Apart." Last month, I had the opportunity to chat with the lads via Skype from the place where it all started: Aarhus, Denmark. "All of the songs were finished in this room where we are now," said Hansen.
Stream Liss' self-titled EP on Spotify now while you read the interview, below.
How did the band form?
Tobias Hansen: We started playing in September of 2014, one and a half years ago. We knew each other before though—we went to the same school.
Villads Tyrrestrup: We had a rehearsal space in Aarhus, where we live. It's like an old garage. And then you met Vilhelm…
TH: Yeah, I met Vilhelm, and he played me some demos he had made with Søren, and they needed a drummer. So we met at our rehearsal space and then we started playing. Then we started a band.
Can you guys recall your first memory of music?VT: My dad, he gave me a disc at a very early age. It would play MP3 and CDs. I got the whole Beatles collection on one CD, and every night, I was just listening to the CD in bed. I think that was the first memory of falling in love with some music.
Vilhelm Strange: I remember when I got my first guitar and I played with my friend. We were writing songs, but we couldn't talk in English. So we made songs in English without... We just didn't say anything. [Laughs]
What is it like living in Denmark? Is your hometown different from Copenhagen?Søren Holm: Yeah, it's a lot smaller.
VS: It's the second biggest city. It's very centered. There's not that much of a suburb. It's more like, you can go from one end to the other in five miles. It's really small and there's not that much to do, so it's easy to make music because we don't go out that much.
What do you guys usually do when you're hanging out and not making music?SH: We like to party. Drink beer. Dancing.
TH: The last couple of months, we've been on tour and around. So when we're not doing music, we're trying to see something. Like going to museums.
SH: Or sitting on a plane. Doing that quite a lot. We go out sometimes.
The press release says that you're all teenagers, but how old are you guys really?TH: 35 years old.
SH: 10 years old.
VS: There's only one teenager left, and that's you.
TH: That's me. I've got to enjoy it.
VT: He's 19.
SH: We're 20, he's 21... Don't tell.
Would you say that there are any specific musical influences for your band?TH: I don't think for the band, but I think we're influenced by a lot of different artists, each. But we didn't start the band like, "We want to make music like so and so…"
VT: I think, with this band, we don't really want to be labeled as anything. We just want to be open to what makes the song the best.
How did you come up with your band name?VT: It's a Danish girl's name for a typical older woman, back in the '50s or something... I think it was a fitness product, as well.
VS:
Yeah, it's some kind of special workout.
Catch Liss on their North American tour this summer at the following dates:
June 2- Brooklyn, NY @ Baby's All Right
June 3- Toronto @ The Drake
June 4- Chicago @ Lincoln Hall + Schubas
June 9- Los Angeles @ The Echo
June 10- San Fransisco @ POPSCENE