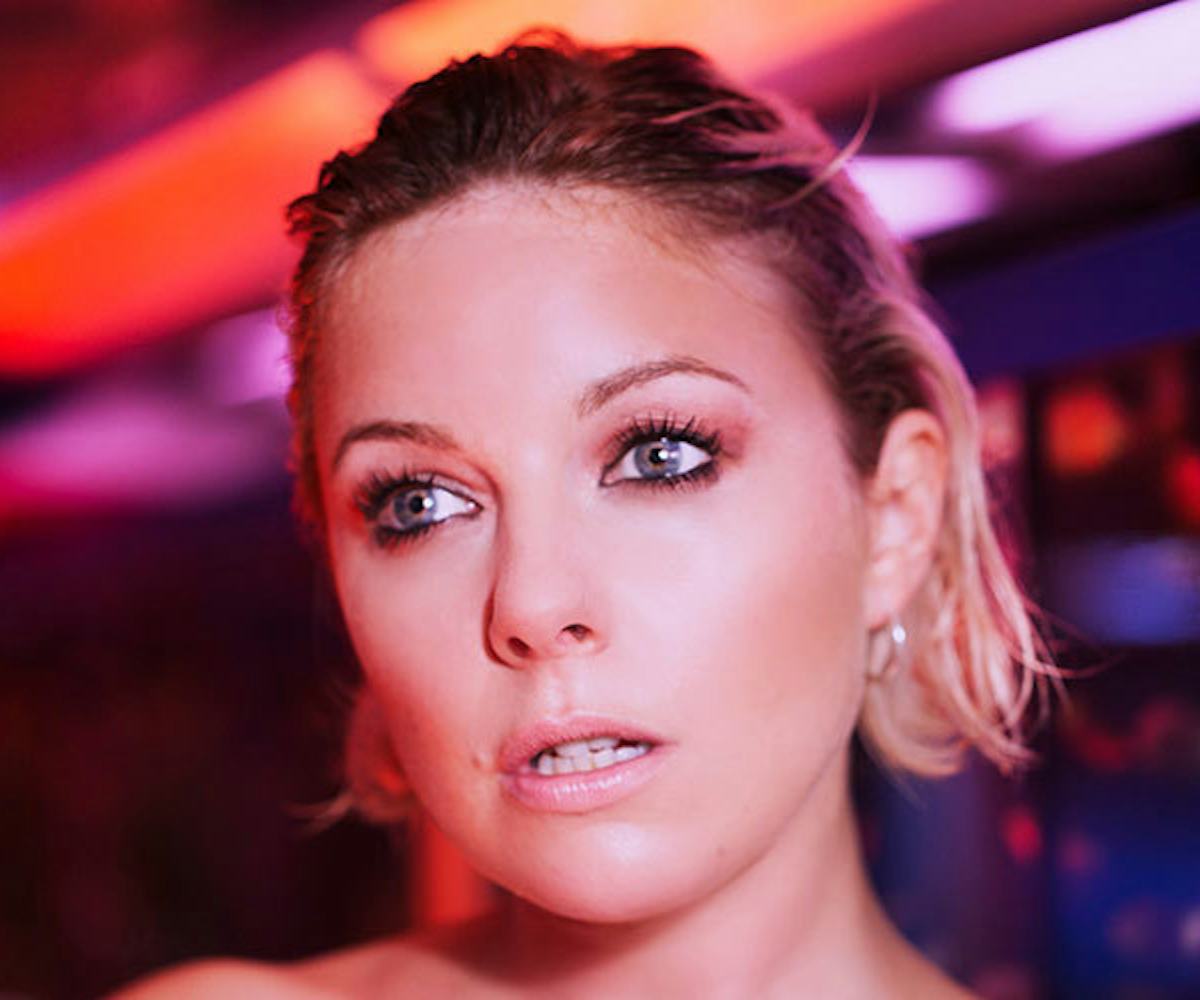 Photo by Lucrecia Taormina
Little Boots Kicks Off A New Era By Dancing In The "Shadows"
The working girl goes clubbing once and…
Victoria Hesketh is in a period of rebirth right now. "I feel like a sponge," she says. The artist, better known as Little Boots, is gearing up to release her new EP, Burn, and, with it, unleash what she considers to be "the most personal collection of songs I've written" to the world. The four-track project, created exclusively with other female/femme artists, finds Hesketh ruminating on her past and making peace with it. It's an exercise of vulnerability that just so happens to be danceable. It's a project Hesketh could only have made right now, in this very moment.
"I've been living in reverse," she says. "Like, I didn't really do my 20s the way we've been conditioned to do our 20s. I was just so obsessed with work, I never really went out." Now, Hesketh's more than down to hit the town. "Now, when someone says there's a warehouse party downtown, I say, 'Sign me up!'"
It's that bit of personal liberation that scratched Hesketh's itch for DJing and, in turn, exposed her to the underground nightlife techno scene. It's there that she's discovered a deeper sound and new friends and collaborators who help imbue her music with her most vulnerable experiences. "I've often hidden behind things, like tricky lyrical metaphors, because I've been afraid of being brutally honest," she says. "But what I've really realized is, when you're the most honest, that's what resonates the best with people and when you can really, truly reach them."
Burn is the result of Hesketh allowing herself to ask for help and letting her guard down. "It's not a sign of weakness," she says. "It's actually a sign of strength." And, in Hesketh's case, she pays it forward. Hesketh shares a credit with each of the four female/femme artists she collaborated with on the EP. Apart from one female producer, Hesketh's primarily worked with male producers as Little Boots. "I wanted to do something reactive which is why I wanted to work with women, but, in the process, I kept asking myself, Where are all the women producers?" she says. "I couldn't name very many and eventually reached out to this female collective of women in the music industry called She Said.So, asking to be pointed in the direction of female collaborators." The response was overwhelming, inspiring, and comforting, to say the least.
Eventually, Hesketh wound up working with Joyce Muniz, Lauren Flax, Planningtorock, and Cora Novoa—four female/femme artists who've made sizeable waves in the electronic scene. "Shadows," produced by Muniz, is the EP's first single; Flax's "Picture" is the second. 
Today, we're focusing on "Shadows," whose Marion Bergin-directed video we're premiering right now, right here. It's the first of four videos Hesketh has planned for this era. "What I wanted to do is intro everyone to the darker, sexier, sophisticated vibe," Hesketh says. The video, she says, is more of a portrait than a narrative with a beginning, middle, and end. For Hesketh, it's the closing of one chapter and the start of a new one. 
Ladies, gentlemen, and all you non-conforming stars, the new era of Little Boots is here. May you dance, cry, and dance some more. Watch it come to life, below. 
Burn drops April 6.