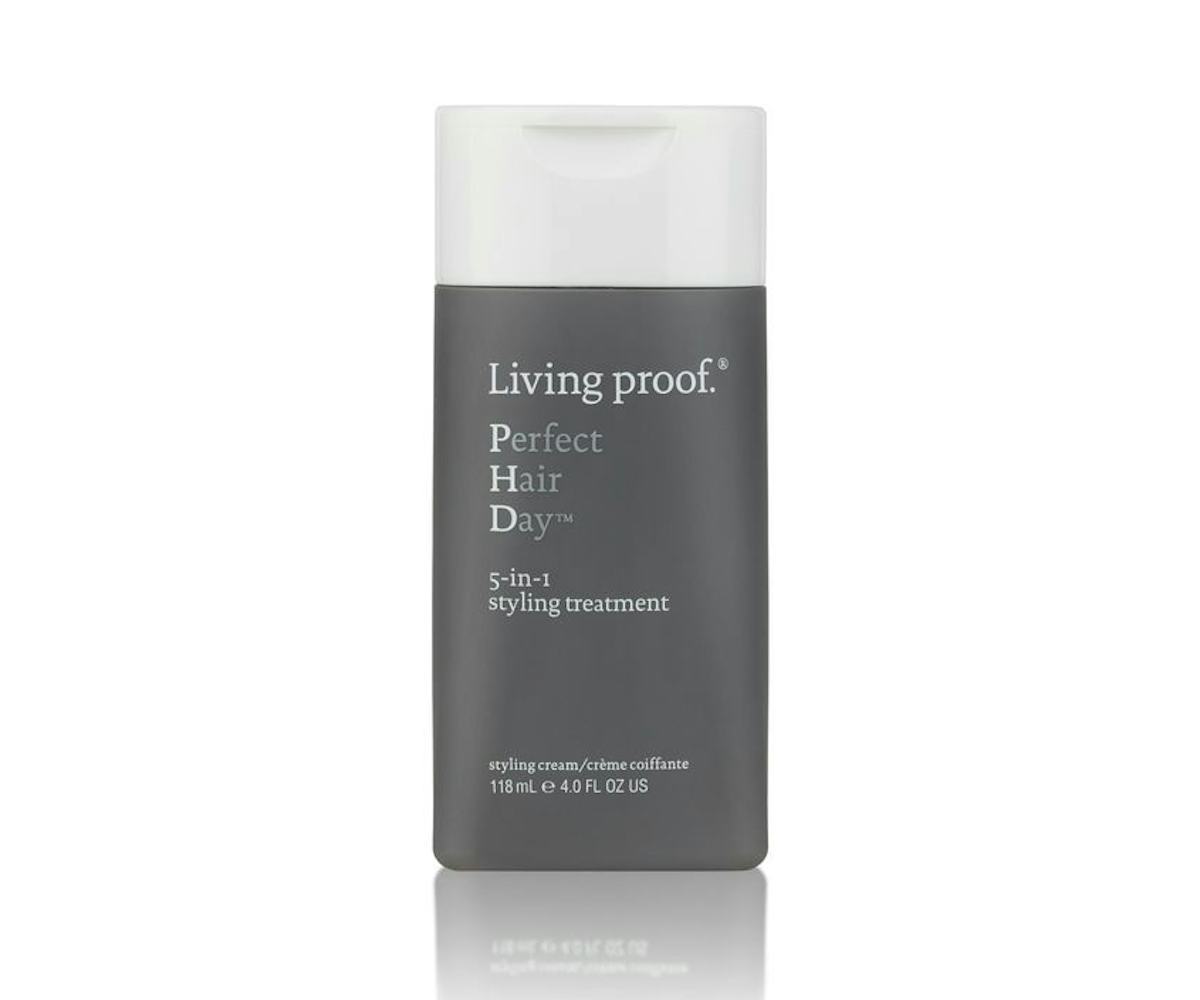 high five
this hair product promises perfect hair—so yeah, we had to test it out.
After world peace and endless summers, the thing I'd probably wish for next would be perfect hair. You know, the kind that looks good when you roll out of bed (or, even better, while you're still in bed).
Seems like I'm not alone; Living Proof had their scientists research what, exactly, a perfect hair day means to most women, and then used their findings to formulate the ultimate product that addresses it all in one. So meet Perfect Hair Day, a five-in-one product that promises to add smoothness, volume, and shine while also conditioning and fighting damage. Although the research behind it makes sense--for this product, they developed a way to combine their two patented molecules that prior to now physically couldn't work together--for me it comes down to how hair looks. So I came up with a simple test: Give Living Proof's Perfect Hair Day to four editors, all with very different hair types, to test them out.
Turns out, while perfection may be impossible, perfect-enough-that-I-feel-like-I'm-in-a-hair-commercial totally is.
Keep reading for our results--and pick up your own bottle of Living Proof Perfect Hair Day for $26 here.
The Editor: Liza Darwin, Senior Web Editor
How She'd Describer Her Hair: "Long, thick, and wavy."
How She Used The Product: "I applied it on my damp hair two ways: once while brushing through afterward, and once without. I definitely recommend the latter!"
The Results: "It only took one time to learn that the running the cream through my damp hair and then brushing afterward wasn't the best idea--it left my hair feeling too slick and weighed down. But once I tried it again, this time going au natural, I was sold. My hair held the wave better and seemed shinier, sort of like the best version of itself."
The Editor: Steff Yotka, Associate Web Editor
How She'd Describer Her Hair: "Very thick, very straight, and very shoulder length."
How She Used The Product: "I combed a palm-sized amount through my towel dried hair and then left my locks to air dry."
The Results: "My hair never felt softer or more voluminous--seriously! When I was using the product my hair was cut perfectly to the same length, Margo Tenenbaum-style, meaning it did not have much movement or body. With the Living Proof product, though, I was able to make tiny waves and tame the either too-straight or too-Hermoine Granger mop I had going on. I could do with a lifetime supply of this stuff, for sure."
The Editor: Liz Riccardi, Digital Design Director
How She'd Describer Her Hair: "My hair is long and kind of wavy-frizzy, depending on the weather and styling effort. I's also been dyed before (ombre experiments, etc.), so it's a little on the dry side--especially the ends."
How She Used The Product: "I used it on damp hair, the first time blow-drying it and the second time letting it air dry in a loose bun."
The Results: "It smelled good and made my hair feel smoother as soon as I put it in--awesome! When I blow-dried my hair, it was definitely shinier with fewer flyaways than usual, but I actually liked it even better when I let it air dry. My waves were smooth, shiny, and piece-y in a good way."
The Editor: Rebecca Willa Davis, Executive Web Editor
How She'd Describer Her Hair: "Super thick and curly with a touch of frizziness if I don't treat it right."
How She Used The Product: "Like most curly haired girls, I'm a little, uh, protective of my routine. So rather than ditch my go-to products, I decided to combine them: While my hair was wet I mixed a dime-sized amount of the Living Proof Perfect Hair Day with a dime-sized amount of my usual styling product (Ouidad Climate Control, in case you were wondering) in my palm and spread it through the bottom two-thirds of my hair, before letting it air dry."
The Results: "My curls were there, but a bit shinier than usual. The one thing I didn't see as much was the volume; but then, when you've already got hair that triples the width of your head, you really don't need much help in the volume department anyway."