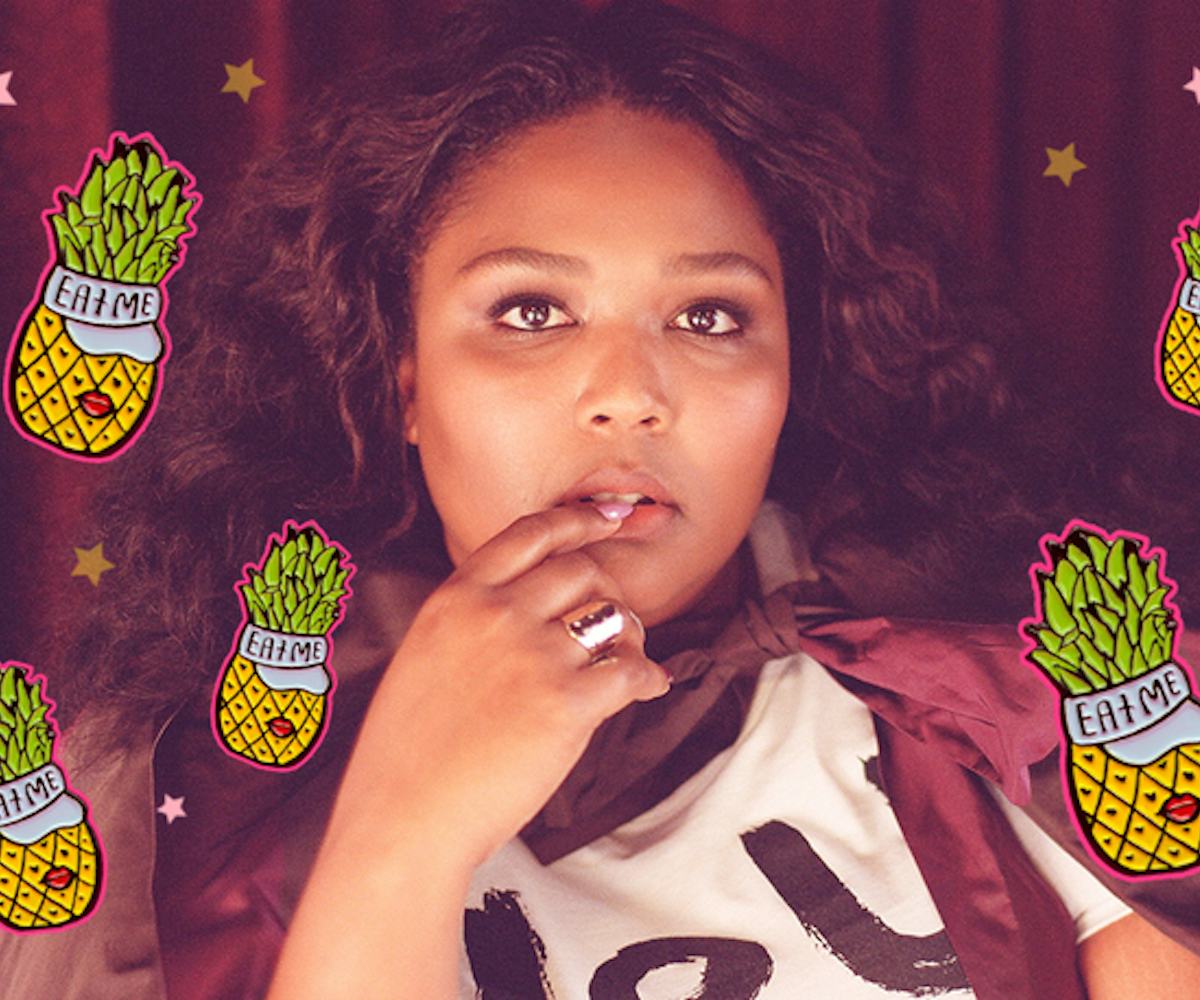 Lizzo photographed by Carissa Gallo / Pin Photo courtesy of Wildfang
Lizzo Explains Why Eating Pineapple Makes A Certain Part Of Her Body Feel Really Good
The singer is partnering with Wildfang for its You Got This collection
Wildfang is back at it again with the second running of its You Got This collection. Teaming up with female empowerment movement I Am That Girl and Portland-based artist Chelsea Snow, the shop worked with nine inspiring female celebrities to design pins meant to give its wearers an extra confidence boost. From Olympic gold medalists to actresses and singers, the unique designs are based on where each powerhouse draws their power from in times of need—making them the ideal adornments for our denim jackets and totes this fall.
We chatted with Lizzo, one of the artists participating in this year's project. A longtime friend of the ladies of Wildfang, Lizzo's pin design, a pineapple that reads "Eat Me," reflects the singer-rapper's love for the fruit and the way it makes her feel. "One of the things that makes me feel good is eating fruit, and I love pineapple," she says. "Despite the sexual connotations, it's mostly about how happy my vagina is when I eat fruit!"
Of course, eating fruit isn't the only thing that gets her ready to take on anything. Whenever Lizzo needs a pick-me-up, she has a ritual to get her in the right mindset. "I clean my room and take a shower, getting my surroundings in order. There are always external factors that affect my happiness, so I focus on myself first and find that when I'm happy, everything else falls into place." Of course, when it's before a big performance, she looks no further than her friends, crew, and dancers to pump her up and create good energy.
One thing Lizzo points out is that the media, and the way our society revolves around it, has a lot to do with the way we perceive ourselves, which, according to her, is what really contributes to a lack of confidence and self-doubt. Though she feels it's natural to feel afraid of the unknown, finding the strength in our vulnerability is what will help us overcome these fears.
How does one build this foundation of strength? She feels that one surefire way is through self-love. "Self-love is important—you're talking to a girl who wrote an album about it!" she says. "The world, and culture we're born into, has manipulated the idea of self-worth and the standards of self-worth into something commercialized. Self-love is a discovery—more than a tool—in the modern world. Until things change in popular culture and the media, it's very important to find self-love and have a solid love of self."
The new You Got This collection is available starting today at Wildfang.com. You can purchase each pin for $10 a pop (or snag all nine for $70), with 10 percent of all proceeds going directly to I Am That Girl.
Click through the gallery to check out Lizzo's design, as well as the rest of the pins from our favorites ladies such as Yvonne Orji of Insecure and Bethany Cosentino of Best Coast.
Wildfang, The Eat Me Pin by Lizzo, $10, available at Wildfang.
Wildfang, The Underdog Pin by Bethany Cosentino, $10, available at Wildfang.
Wildfang, The Make Some Noise Pin by Mona Tavakoli, $10, available at Wildfang.
Wildfang, The Buster Kitten Pin by Natalie Morales, $10, available at Wildfang.
Wildfang, The Havin' Vision Pin by Yvonne Orji, $10, available at Wildfang.
Wildfang, The I'm With You Pin by Megan Rapinoe, $10, available at Wildfang.
Wildfang, The It Was Inside All Along Pin by Jackie Cruz, $10, available at Wildfang.
Wildfang, The Love Yo'Self Pin by Rachel Platten, $10, available at Wildfang.
Wildfang, The Hella Legendary Pin by PJ, $10, available at Wildfang.