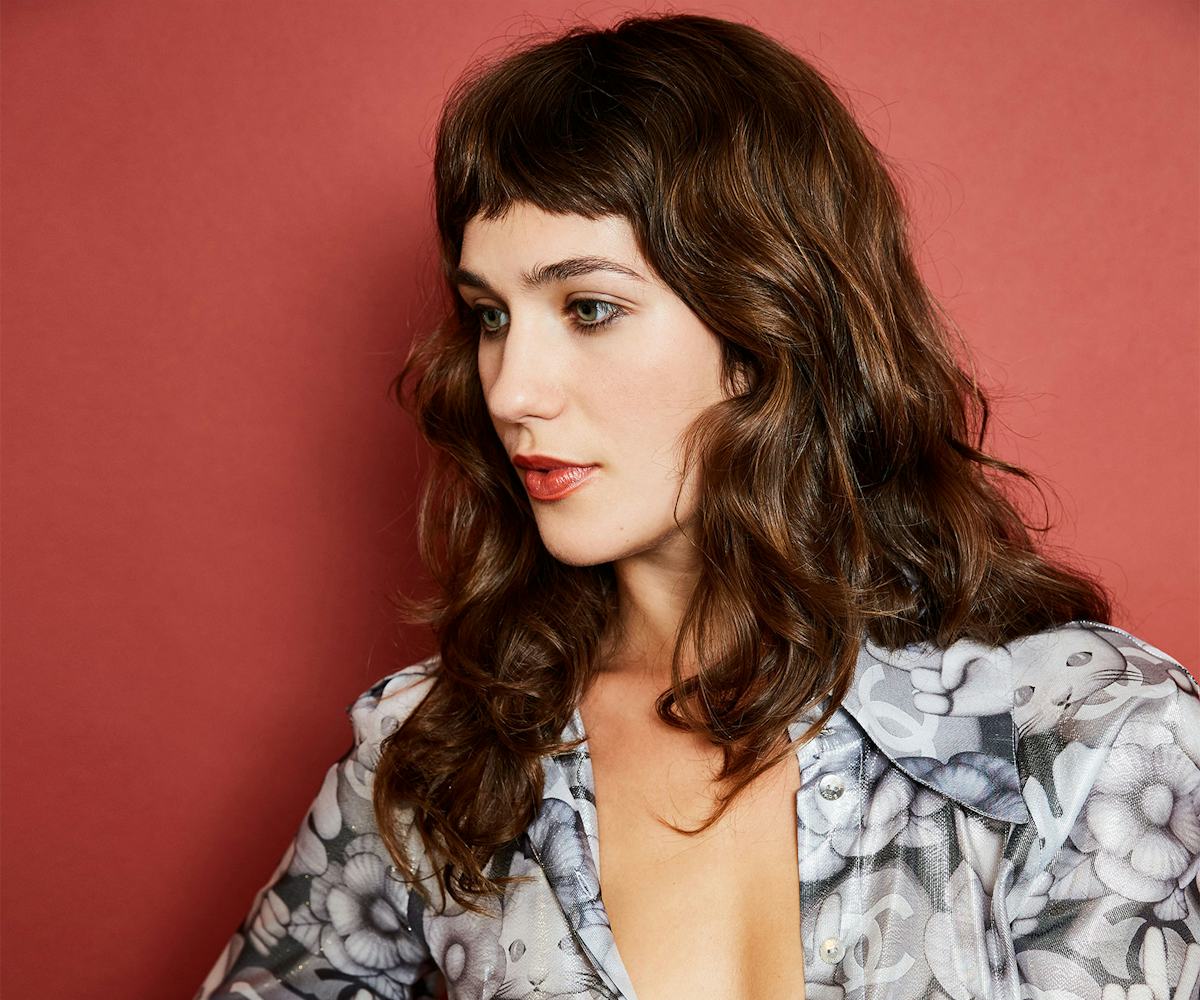 Photographed by Lauren Perlstein, Styled by Jenna Igneri, Hair by Blake Erik and Make up by Regina Harris, Props courtesy of ACME Brooklyn
With Her Acting Career On Fire, Lola Kirke Is Now Turning To Music
"Picking up a guitar and playing it is actually kind of like a tiny political act"
Late last month, Lola Kirke took the stage at Baby's All Right in Brooklyn, New York, to celebrate the release of her debut, self-titled EP. Flanked by five other musicians (including her boyfriend, Wyndham Boylan, who also produced the record), she played bleeding-heart, country-dusted rock, marking her official foray into a professional music career. In that world, Kirke is still a relative unknown. For the tour she just completed—an 8-stop jaunt between New York and Los Angeles—she traveled in a small van with friends and collaborators, playing at intimate clubs along the way. And yet two weeks prior to the show at Baby's All Right, the 26-year-old performer found herself on the cover of The Village Voice. That's because, in Lola Kirke's other life, she happens to be an actress on the cusp of stardom.
Kirke, who grew up in New York City to artistic parents (her father is the former drummer for the rock bands Free and Bad Company; her mother owned a popular clothing boutique in Manhattan's West Village), wanted to act since she was young. But when she left the city to study at Bard College in New York's Hudson Valley, other artistic pursuits began to take hold. While majoring in film theory, Kirke took up music, guitar, and singing with friends, and eventually formed an alt-country band, She Rose. But when Kirke returned to the city after graduation, with her sister Jemima a star thanks to her role on HBO's Girls, the acting bug took over, and Kirke quickly found work, first in a small but pivotal role in David Fincher's Gone Girl, and then as one of two leads in Noah Baumbach's well-received indie, Mistress America.  
Now, Kirke sits at the top of casting lists across Hollywood and is one audition away from the role that will launch her to rarified movie stardom. But until that happens, Kirke is thrilled to follow her artistic muse wherever it leads her. She just wrapped her third season as the ambitious oboist Hailey on Amazon's Mozart in the Jungle, and will next star opposite Jemima in writer Emma Forrest's directorial debut, Untogether. We recently spoke with Kirke, who splits her time between New York and Los Angeles, about why she felt the need to start her music career now, how her college experience changed her life, and what she's learned about Hollywood. 
Photographed by Lauren Perlstein
Styled by Jenna Igneri
Hair by Blake Erik
Makeup by Regina Harriss
Props courtesy of ACME Brooklyn
Your acting career is taking off. Why focus on music at this moment?
Because I'm psychotic. [Laughs] No, that's a really, really great question and one that I've kind of been asking myself. Music has always been a really deep hobby of mine, and I kind of separate it from the professional life that I am grateful to have. I was always writing music, and it was just such a great way of figuring out how I felt and making something great out of how I felt, instead of just feeling uncomfortable.
And how do you feel now that your music is out there in the world for people to hear?
I wanted to record, and then I was like, "Oh, I should put this out." And then I got terrified, which is kind of where I am now because it's jeopardizing my relationship to the music that I make by taking it out of the realm of hobby and fun and putting it into a place where it could be scrutinized. I was actually talking to Zoë Kravitz about it, who is a good friend of mine and who is also an actress and musician, and I was like, "Do you ever get scared?" And she was like, "No, you just have to remember that you're doing this music for you." And so I'm trying to remember that.
It must be nice to express yourself with your own words because as an actress you're saying someone else's.
Totally. It's funny, I was actually sitting next to the clarinetist for the New York Philharmonic the other day, and we were talking about the difference between being an accomplished jazz musician and an accomplished classical musician. His gripe with being a classical musician reminded me so much of what it was like to be an actor, because as a classical musician, he's so good at interpreting other people's work, and as a jazz musician, you have to be really good at improvising all the time. As a musician, you're improvising with what life gives you and you're creating something of your own within those circumstances.
Would you describe your sound as country?
I'm preferring Cosmic American as the genre. I stole that from another musician friend of mine.
You grew up in New York City with a father who was in a rock band. How did you settle on country?
I don't know, I think, it just settled on me. I just connect to it the most. I don't necessarily even think that it is fully country—I think that there are elements of country in the music. For whatever reason, the people that I identify with most musically come from a different time and a different place than I do. I think there's a simplicity, and an honesty, to the kind of lyrics that end up in country music that for some reason never sounds tacky or anything. Gene Clark is kind of my favorite musician and the person I'd like to sound most like. He's actually the person that coined "Cosmic American." I think he has a way of being profound and simple all at once.
When did music enter your life as a performer?
It was when I was at Bard. I think, I had aspirations to be a musician from a much younger age, but it always seemed like a very gendered pursuit, and that there wasn't room to be a young girl playing music in like the early 2000s, even though I had the opportunity to. It just wasn't in the air, and I do think that that's changed a lot. I know a lot of younger girls for whom it's very casual to, like, sit in a circle and jam with their girlfriends, which sounds great, but for me, I think that picking up a guitar and playing it is actually kind of like a tiny political act that I did to myself, because it was like, "Why the fuck can I not play?"
What was your time at Bard like, and how has it shaped who you are today?
I think Bard gave me the tremendous gift of moving out of New York City and living in a place where you can hear birds and there are trees. Living a rural lifestyle is a really beautiful thing to be able to do. I think that a lot of my hobbies exist in that landscape, as opposed to an urban environment. It drove me to not be so stimulated and obligated to do things all the time as you are in college. It gave me a lot of time to sit down and play guitar, or sit down and be an artist, or stand up and be an artist, and it kind of spoiled me with an audience all the time, because you're in this tiny community where no one really has anything to do except watch other people perform.
You've said that growing up, you wanted to be an actor. Did that desire last throughout college as well?
Yeah, I wanted to be an actor growing up, and that was something I always pursued. I did everything in my power to make that happen, within the realm of doing school plays and reading lots of plays and going to see lots of plays and watching lots of movies and giving myself that kind of education. But then when I got to college, I think there was something too small about being an actor. That's not something I feel at all anymore, but my sense when I got to college was, like, that it wasn't going to be enough, and in order to be interesting I had to do other things. Also, I genuinely was and still am interested in making films, but I studied filmmaking in college and it was really great. I had never acted for film before, and I didn't have a belief that anybody was going to put me in their films or in their TV shows or whatever, so I thought if I wanted to do acting at all, I would have to put myself in my movies. I ended up making a score of very art school videos, of me brushing my teeth and all sorts of things you definitely don't need to pay $250,000 to do, but I did.
Did your sister's success make an acting career seem more palpable to you?
Honestly, no. It's a really difficult thing to succeed in, and I think in a lot of ways it felt like there's only so many slots, and if she's doing this, maybe I won't be able to.
When was the moment you felt you had broken through in your acting career? Was it Mistress America?
That movie actually took a really long time from its conception and shooting to it coming out into the world, so I think Gone Girl was the moment where I was like, "Oh, this might happen."
Now that you've seen how Hollywood works from the —and how so much of the work you get is predicated on work that you've already done—insidewhat has surprised you the most about it?
That's the business. I always thought that I'd be exceptional to those bizarre rules, just because everybody feels like they're exceptional to a certain degree, and then when you get older, you realize that like you aren't. But talent doesn't matter, necessarily. I mean, it does, and it's an amazing thing to have, and by god, if you do have it, run with it and be grateful and do everything that you can with it.
As someone who grew up in New York City, it must be a trip to find yourself on the cover of the Village Voice.
It is and it isn't. I try to stay really grateful, and I'd never be jaded by that type of stuff, but I also try and stay off the internet as much as I can because otherwise, I'd get too obsessed with myself, and I don't need to be more obsessed with myself than I already am. Also, people are people—I think that gets forgotten a lot. I think the media wants us to forget that, and make people into these other things that we can shit on or elevate, and I don't want to forget my own humanity nor anyone else's.
Does being on a movie set feel like work to you? How about being on stage?
[Being on set] feels like work because it is fucking work—you work for fourteen hours a day. But, as a musician at this moment in my life, I get to call the shots, and it is still much more in the realm of passion and hobby. On set, I'm learning lines, I'm getting ready. I'm doing all these things you don't necessarily think go with acting—I'm doing press, I'm doing ADR. There are so many other elements to it, and the actual time you get to act is probably like three hours out of the 14 hours.
You just finished shooting season three of Mozart in the Jungle. How does it feel now as opposed to the first season? Do you enjoy revisiting the same character again and again?
I grew to love that person so much more this season than I had before. Her journey and mine are something that is beginning to—not coincidentally because I play her—intersect. This season, she becomes the conductor, while this year, I decided to pursue music. We're both expanding who we want to be in the world and for ourselves, and it's so cool to get to try that all through her before I do it myself. Also, I think that this season there's a level of comfort that I felt being on that set. It's such a great set to be on. All of the actors are incredible, the people who make the show are just so fun, it's like a big, big family. I know it sounds really corny when people say that.
You're about to act opposite your sister for the first time. How do you feel about that?
I'm so excited because Jemima called me and was like, "This lady wants us to do a movie together," and I was like, "Okay, sure, whatever." And then I read the script, and I was like, "This is incredible."
Are you going to find it weird?
Of course, it's going to be weird, but I want to expand as an artist and as a person, and this is how that's happening for me, so I'm gonna roll with it.