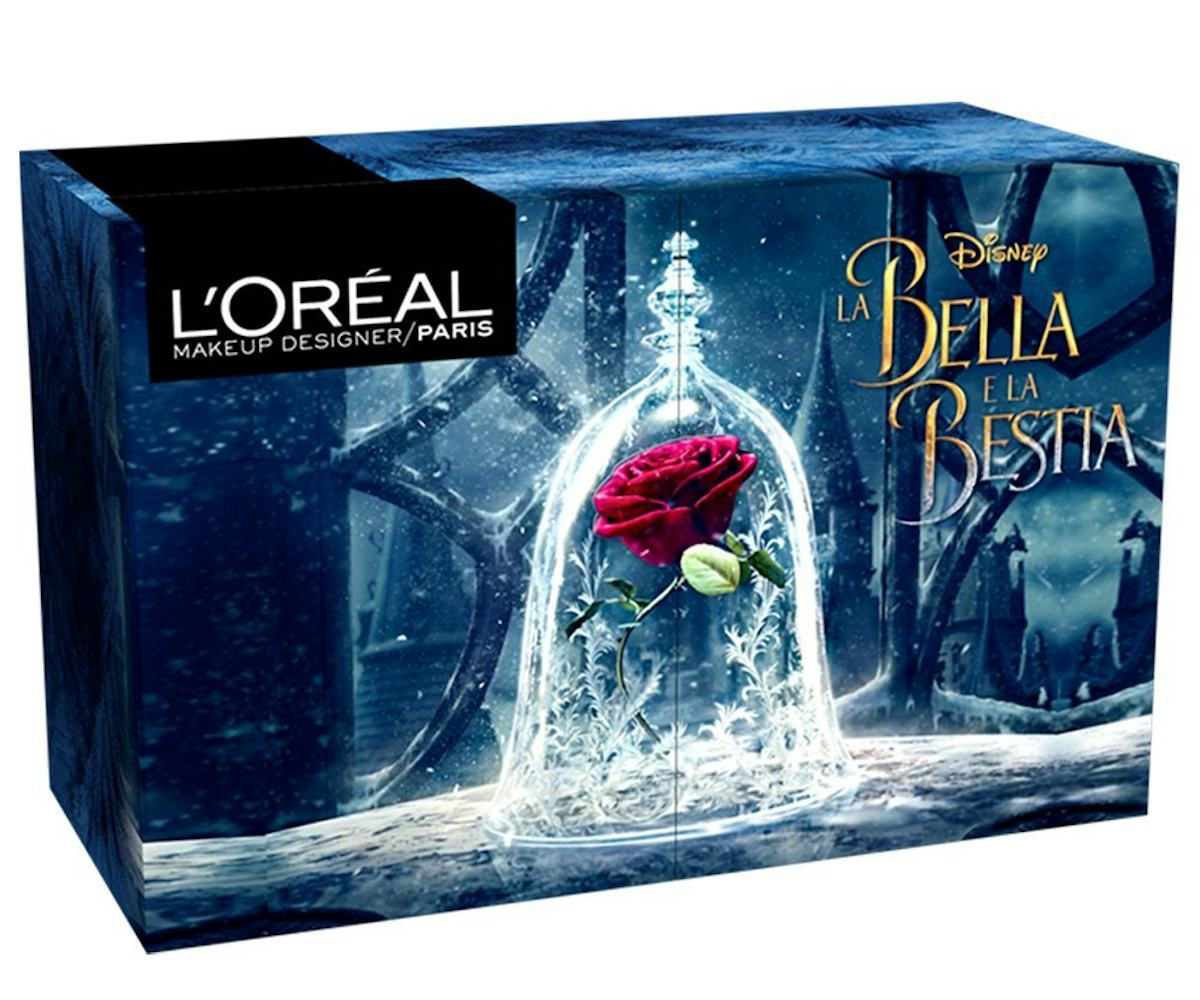 Amazon
L'Oréal Drops 'Beauty And The Beast' Inspired Makeup Line
A tale as old as time gets a 2017 product line
Disney fanatics have been eagerly anticipating the reboot of their favorite furry fantasy story for a while now. In anticipation of the Beauty and the Beast reimagining, L'Oréal just launched a line of limited edition lipsticks and nail polishes inspired by the baroque romance.
The main characters from the classic fairy tale are getting their own colors, with products taking chromatic cues from Mrs. Potts, Lumière, and Cogsworth along with the Belle and her hirsute hero. According to Popsugar, you can already buy the products on Amazon Italy, with the full, ornately packaged collection available for $97 and the individual nail polishes and lipsticks available for $9 and $11, respectively. It's unclear when the products will be available on sites for American audiences, but they're technically purchasable on Amazon Italy right now, so smash that translate button if you want to get your paws on it. We're sure they'll become rare collector's items in the near future. Perhaps some day they'll gain sentience and even begin singing.
Check out the designs on the fashionable memorabilia, below!
L'Oréal Color Riche Lipstick Collection Beauty and the Beast, Belle
L'Oréal Color Oil Enamel Collection Beauty and the Beast, Belle
L'Oréal Color Oil Enamel Collection Beauty and the Beast, The Beast
L'Oréal Color Riche Lipstick Collection Beauty and the Beast, The Beast
L'Oréal Color Riche Lipstick Collection Beauty and the Beast, The Rose
L'Oréal Color Oil Enamel Collection Beauty and the Beast, The Rose
L'Oréal Color Riche Lipstick Collection Beauty and the Beast, Lumiere
L'Oréal Color Oil Enamel Collection Beauty and the Beast, Lumiere
L'Oréal Color Riche Lipstick Collection Beauty and the Beast, Tockins
L'Oréal Color Oil Enamel Collection Beauty and the Beast, Tockins
L'Oréal Color Riche Lipstick Collection Beauty and the Beast, Mrs. Potts
L'Oréal Color Oil Enamel Collection Beauty and the Beast, Mrs. Potts
L'Oréal Color Riche Lipstick Collection Beauty and the Beast, Spolverina
L'Oréal Color Oil Enamel Collection Beauty and the Beast, Spolverina