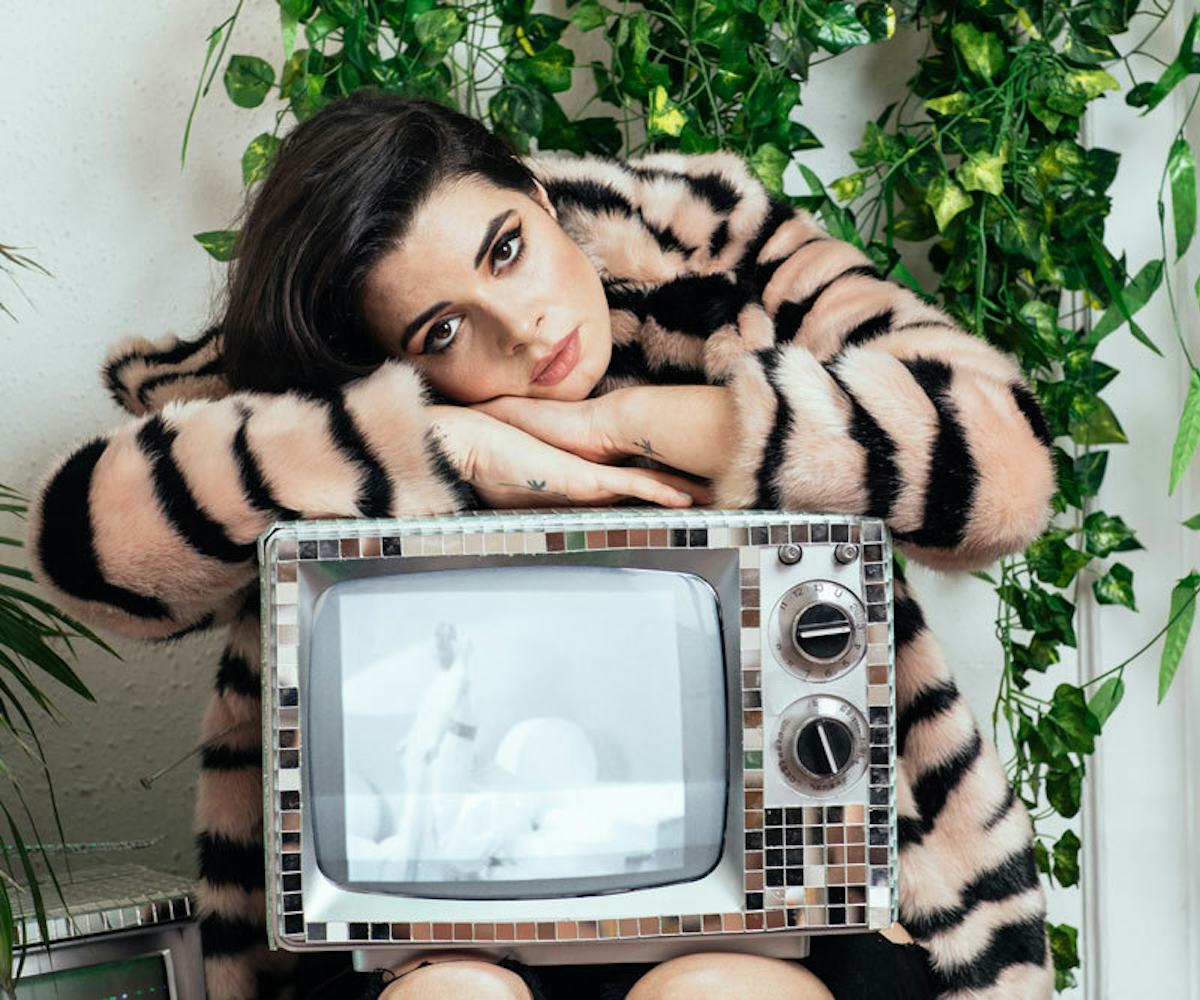 Photo courtesy of Genius
This Art Show Brings Your Favorite Song Lyrics To Life
Music is a universal language because it resonates on a level deeper than its textual meaning. In fact, words aren't even necessary to elicit musical catharsis. This is probably why our interpretations of a song's lyrics often vary widely from listener to listener, making the same song mean something totally different to two separate people. It's that ambiguity that makes exploring a website like Genius, which offers lyrical breakdowns of just about every song ever written, so exciting. We get the chance to experience music the way someone else experiences it, and thus broaden our own experience, as well.
Beginning March 2 and running through the 5th, Genius and Dropbox will bring their lyrical game to the three-dimensional world with "Lyrics to Life" in Downtown Los Angeles. Expect to see Nicki Minaj and Biggie bars in the same space as The Weeknd's and Sia's lyrics. We caught up with Genius' marketing strategist Alexandra Blalock ahead of the show's opening to chat why now, the future of lyric consumption, and their hope to bring more lyrics to life in cities across the globe.
How long has this show been in progress? What was the seed that started it all?
Things really kicked into high gear late last fall, right after Thanksgiving. We were thrilled to join forces with Dropbox to make this idea a reality—it complemented their spirit of creative collaboration and ours of deep music knowledge seamlessly. The Genius brand is all about bringing people behind the lyrics they love and celebrating how they interpret music. Whether you're the artist or a fan, your perspective matters. With "Lyrics to Life," we wanted to present lyrics in such a way that people would be able to physically experience and appreciate them.
Why exhibit now?
Genius closed out last summer with our first-ever music festival, IQ/BBQ, which really set the standard for our live events. We've been exploring ways to make the intangible tangible—as shown in the two music-inspired merch collections we dropped last year, Genius 1997 and 2017: The Year In Lyrics—and Lyrics to Life is a big next step in that direction. We're excited to keep the momentum going.
How did you go about choosing the artists to be included?
The Genius team came up with our wish list of diverse visual artists and curators from all over the U.S. to bring aboard this project. We wanted to collaborate with people who worked at the intersection of art and music. This whole experience couldn't work unless the visual artists shared a close connection to the music. We also wanted to work with visual artists who connected with different genres—hip-hop, indie rock, pop, and R&B.
One of the first people we approached was Mokibaby, whose installations for the music festival III Points were the exact sort of thing what we were looking for. From there, we brought on a couple of more Miami artists: Typoe, who I've always wanted to work with because of his massive impact on the Wynwood Arts District and Magnus Sodamin, who's a close friend of his and an amazing painter.
Next, we zeroed in on incredible L.A. artists who are really leading the charge in their respective movements. Peggy Noland and Devin Troy Strother were obvious picks. Genius was familiar with Aminé's music, but, also, his immense creativity shown in an episode of our show FRAMEWORK, where he broke down the extremely off-the-wall music video he directed for his song "Spice Girl." 
We had to show love to Brooklyn, where we're based, so we invited this super-dope collective Nitemind, who do lighting design for artists like Kelela and Dawn Richard. And to keep it pleasantly weird, we invited Joshua Tree-based artist Marina Fini, whose conceptual work has been seen on musicians like Miley Cyrus.  
Aside from giving artists spatial boundaries to exhibit their work, we encouraged them to ideate around their lyrics and manifest whatever ideas came to mind. We've documented their entire creative process on Dropbox Paper as well as through a mini-documentary we'll be releasing soon. 
And, it's just the beginning for Lyrics to Life. We hope to take it to other cities very soon.
This exhibition, in a way, seeks to do what CD booklets did: present lyrics in a way that honors the song. Do you see this type of art becoming more of a thing?
The way people connect with, consume, and collect music is always changing. When I was younger, I remember using the CD insert to sing along to Hanson's "MMMBop." Now, partly because of the extinction of physical liner notes, listeners are eager for new ways to keep up with what artists are actually saying—ways that complement how they're listening to the music. That's why Genius's integration with Spotify, Behind the Lyrics, is so successful. People are genuinely delighted to be fed a little bit of music knowledge on their morning commute or while they're on the treadmill. It doesn't distract from the listening experience, but rather, it adds to it.
That's what we were aiming for with the design of Lyrics to Life, too. Art inspired by the meanings and moods behind some of the biggest songs of all time is a new way for fans to interact with and learn more about that music. The art is spurring new kinds of revelations.
Devin Troy Strother
Magnus Sodamin
Mokibaby
Peggy Noland
Typoe