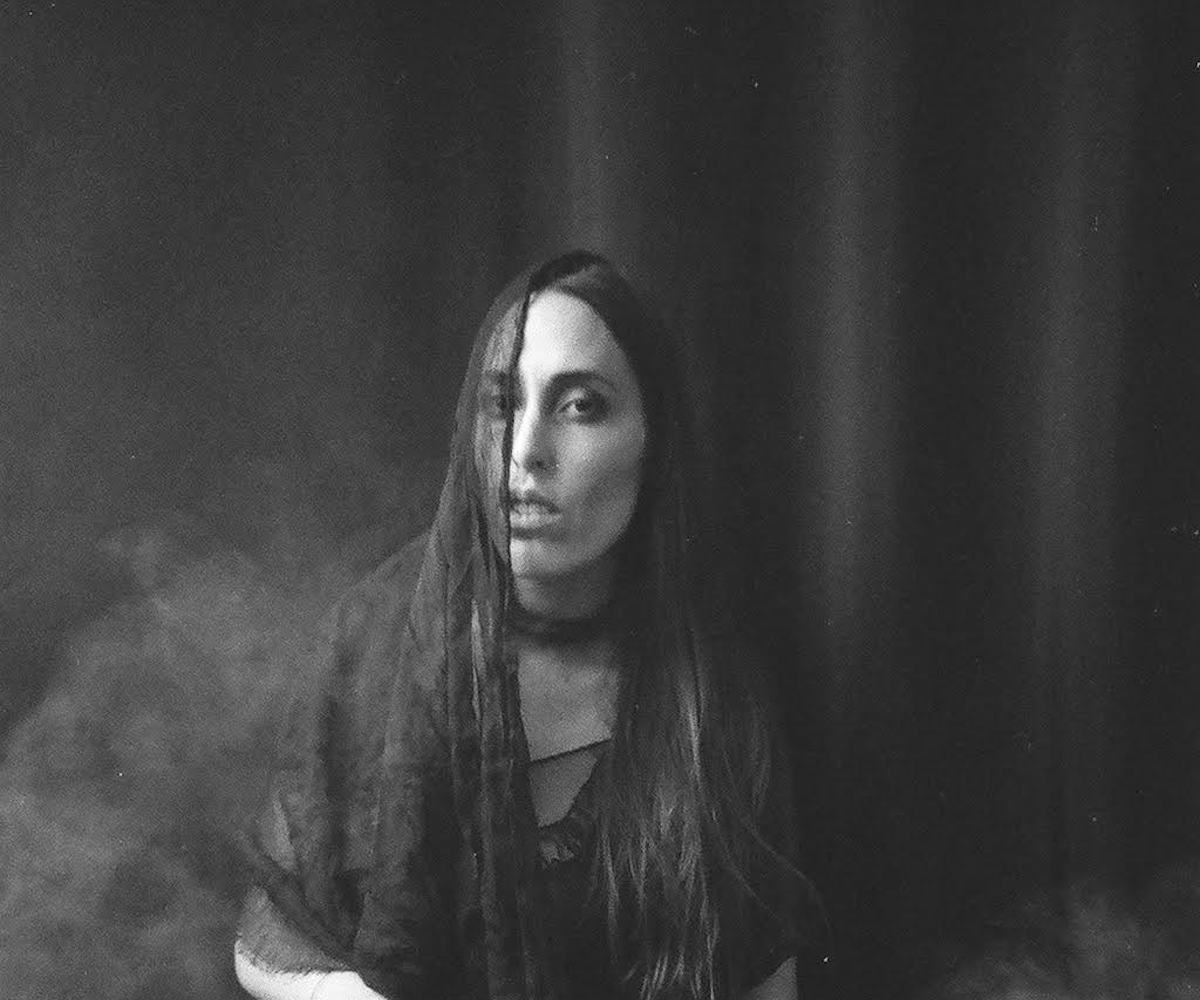 Photo courtesy of Nyxturna
Inside The World Of Macabre Maven Nyxturna
Meet the ultimate "woman of darkness"
If you saw Fay Nowitz on the street, you might not know who she is, although since the gothic creatrix would likely be clad in leather or lace, like a bat out of her cave, you'd probably be able to guess her witchy proclivities. And then upon closer inspection, you might recognize the artist from her pins or jewels. Depending on her mood, it may be anything from a butcher's knife with the words "femme fatale" sprawled atop it, or a coffin with "woman of darkness" under a crescent moon, spider webs dripping delicately from it. On her fingers, you may see a jewelry featuring bats and other things from the night sky, pieces that look like the lovechild of brass knuckles and blood milk jewels. You'll want to look closer. And you should: Nowitz is also known by her Instagram handle of Nyxturna; she's a queer artist from Chicago who's creating an empire of macabre treasures for all the magick-weaving women and men out there.
Born to artist parents, Nowitz grew up with a camera in her hand, apt to capture anything that caught her attention. With a training in fine arts, she's been able to combine her penchant for ethereal aesthetics with creation as a form of coping, fashioning everything from collage work, experimental videos, and sculptural pieces; she also engages in silversmithing and mixed media work. Her art is informed by many things—her time spent in Scotland, gothic and art nouveau architecture, and vintage films. But more than anything else, it's Nowitz's identity as a queer witch that lends itself to her work.
"Being queer isn't something I can turn on and off—it's something that's always there, it's ingrained into the fiber of my being, and I find power and inspiration in it. I fully embrace the term queer," she says. And since 95 percent of her friends identify as queer, there is an ongoing conversation on what that designation means right now and how it impacts them in Trump's America. One solution? To make queer art. "I especially enjoy making queer collages and video art; taking something traditionally heteronormative and spinning that on its head and queering up the conversation," says Nowitz. "I'm interested in the intersection of queerness and magick and what that means, especially in the current political climate." 
Nowitz is determined to use her own visibility as encouragement to other queer artists. She believes it's vital in this modern day. To support other queer witches, she started the hashtag #SupportQueerWitches so that building community and elevating one another could become a priority. "I also think as a queer person, we go through so much shit that heteronormative folks don't have to deal with or even think about, especially queer and trans people of color. There is this idea of psychic death, and that is part of what queer people have to resist and fight against in the growing fascist regime," she says. 
Nowitz's art has an unapologetic brashness to it; it's a little sexual, a little queer, and a definite identifier for the person wearing it. Magick and spirituality also weave themselves into the narrative of Nowitz's work, which all have the feel of a vintage occult pulp book or films mixed with the work of Victorian grimoires. There's a rawness that's only available to those who are willing to dive into the shadows, which the artist manages to do. She cites her long-term abusive relationship as a catalyst that sparked her to create work centered around magick, protection, and armor, both psychologically and physically. Most of the jewelry she makes doubles as a weapon, giving a new age double entendre to the notion of being "dressed to kill." 
And like many modern witches and artists, creation and magick go hand in hand. For Nowitz, this means creating her own ritual tools, altars, and instruments to use in magick and ritual work. "For me, my spirituality always ties back into my art practice. Art is a ritual for me. It's how I work through ideas and connect with the earth, the goddess, or anything that moves me. It's often how I center myself, and it can be so cathartic. I really consider my artist's practice a ritual in and of itself, and I'm so fascinated by that," she says. 
Art is also cathartic to Nowitz, whose next collection of jewelry-armor is tentatively set to launch in late May. The pieces have been in the works for two years, culminating in a treasure trove of items that are as delicate as they are fierce. Inspired by silver armor, the collection of rings and necklaces will feature Nowitz's penchant for duality; light and dark, soft and harsh, delicate but protective. These are emblems for the maiden, mother and crone; the woman who doesn't apologize to anyone and who's ready to save herself whenever danger beckons.
Perhaps more than anything, that's what Nowitz manages to do so well. Her art invites us to weave our own web of melancholic light, one that beckons us to dig into the deepest corners of our souls, dust off the cobwebs, and enjoy the beautifully somber shadows flickering on the walls, no judgment necessary.