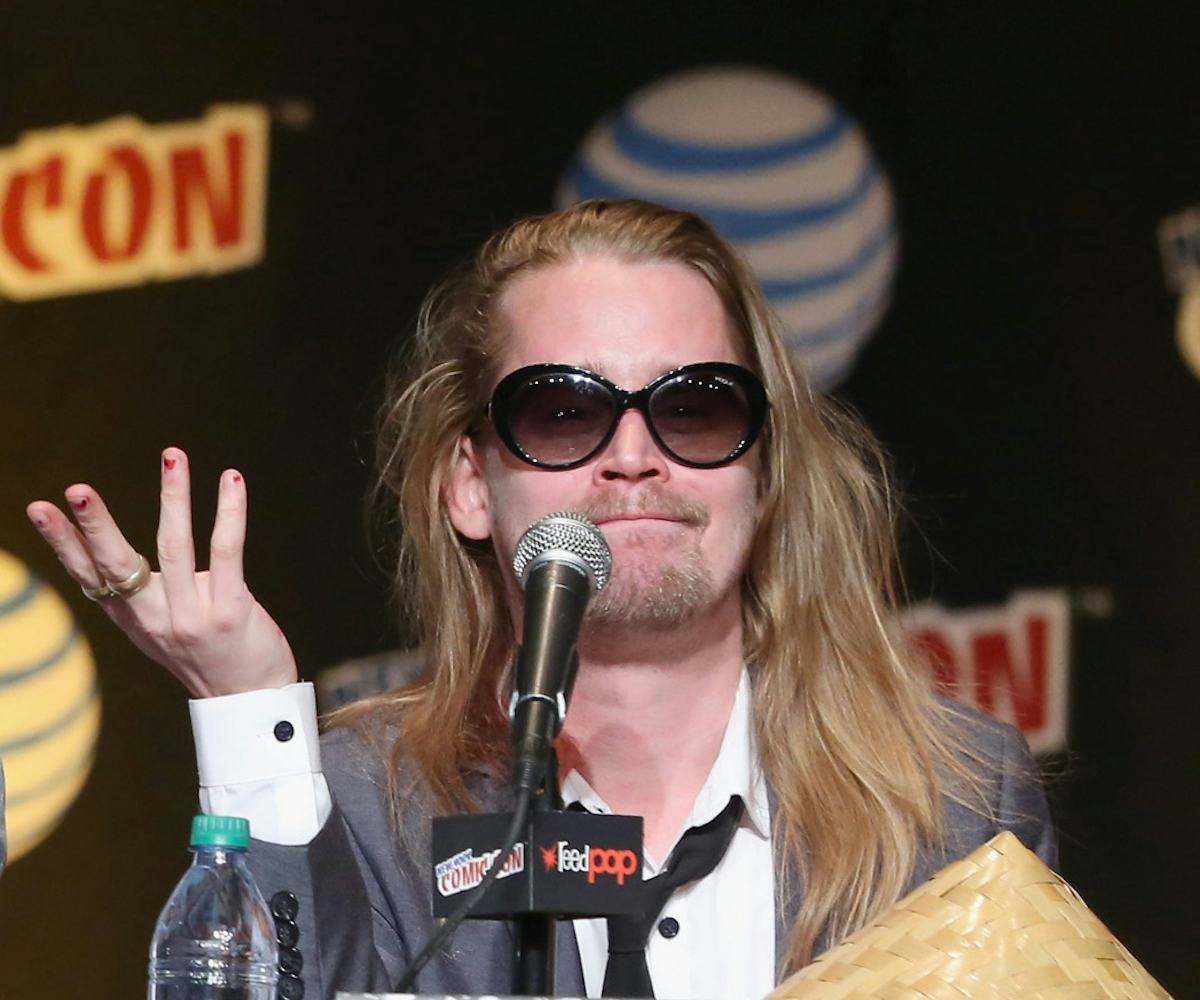 photo by Cindy Ord / Getty Images
Sorry, But Present-Day Macaulay Culkin Is The Best
Once upon a time, Macaulay Culkin was a prepubescent heartthrob who could outwit career criminals, secure his family fortune, and make us sob like no other. He was a millionaire by age 10, but his early fame led to a dysfunctional family setting. "My father was overbearing," Culkin said in the past. "Very controlling. He was always the way he is, even before my success. He'd play mind games to make sure I knew my place." After his infamous portrayal of club-kid-turned-convicted-murderer Michael Alig in the cult classic Party Monster, Culkin's career took a massive shift. With long, uncombed hair, scraggly facial hair, and a slender frame, rumors spread that Culkin was suffering from a severe drug addiction to heroin, Oxycodone, Percocet, and Vicodin. Though his reps denied that he was battling addiction, suddenly Culkin was no longer an actor—he was a marvel: a former child star "gone wrong" for the media and public to speculate upon and gawk at. 
As the years passed and the media found new subjects to focus on, Culkin faded into normal, everyday life, as I imagine every child actor daydreams about doing at one point or another. Still, Culkin is occasionally shot by the paparazzi while walking around Brooklyn, New York. And while everyone expects him to be a washed-up child actor, Culkin is odd, honest, and self-aware in a way that would intimidate most people.
He's climbed his way out of Hollywood and all of its vanity, and he's living his best life. If you don't believe me, just check out the gallery below.
He's just another strange guy in Brooklyn.
If you've never been to Brooklyn, New York, but have heard about it, you probably still have a pretty accurate picture of the misfit borough. Here, we all love pizza, good music, and probably don't wash our hair as much as is considered "socially acceptable." Also, we like to engage in a lot of strange, Internet-savvy behavior. So, to put it simply, Culkin is one of us. He couldn't care less about fame, or egotism, or any of that other nonsense that someone who was raised on Hollywood sets would probably inherently pick up. Instead, he decided to start a pizza-themed Velvet Underground cover band, aptly named The Pizza Underground, because, well, why not?
He's part of Adam Green's new indie wonderland.
Have you ever found yourself alongside Zoë Kravitz, Alia Shawkat, and Natasha Lyonne in a strange, drug-filled cardboard wonderland? Culkin has. In his first movie since 2007's Sex and Breakfast, Adam Green's Aladdin shows Culkin playing the head of an atheist rebel army called The Magical Americans. In the film's first trailer, his character states, "This place is starting to look like Hollywood. Though we fantasize about filling the stars to their brim, we must change the nature of what we wish for." If that isn't the most Culkin thing to say, we don't know what is.
He's totally cool with referencing his Home Alone past in the name of comedy.
Perhaps the most popular assumption about Culkin is that his early fame—one propelled by the Home Alone films—ultimately led him to spiral out of control. Culkin, who's somewhat removed from society but not completely blind to it, knows that. And so in his guest appearance in :DRYVRS' premiere episode, the actor played straight into others' "concerns" and launched into a massive rant about how his experience one fateful Christmas messed him up. "I had to fend off my house from two psychopath home invaders," he says, staring out the car window. "I was just a kid. I mean, I still have nightmares about this bald weirdo dude chasing me around talking like Yosemite Sam. 'I'm going to pull your fingernails out. I'm going to get you you little scamp!' They don't even curse, calling me 'louse' and shit like that."
He may have the world's most casual man bun.
Man buns are by far the most try-hard hairstyle of this day and age. And while millennial males everywhere have been striving to achieve the perfect bun, analyzing its height, product, and tension, Culkin actually doesn't care. For him, the man bun isn't a lifestyle choice—it's a necessity that doesn't require a second thought. Browse any of his recent paparazzi pictures and you'll see—it's not perfect, and yet the perfection lies in its inherent imperfection.
His Comic Con appearances are pretty fantastic.
Yes, Comic Con is an eccentric place but usually, panelists are pretty conservative. Culkin, though, has never been one to fit the mold. Back in October, he showed up in a straw hat and sunglasses that he kept on the entire time even though he was indoors. 
Oh, and his reaction to someone professing his love for him back in 2012 is pretty great, too. 
He pops up everywhere.
You know those people who seem to be everywhere and yet nowhere at the same time? That's Culkin. I'd imagine that one night I'd see him across the room at some random party, and then by the time I finished blinking, he'd be gone—disappearing into thin air. 
This happened.
Period. End of story. Shut down.