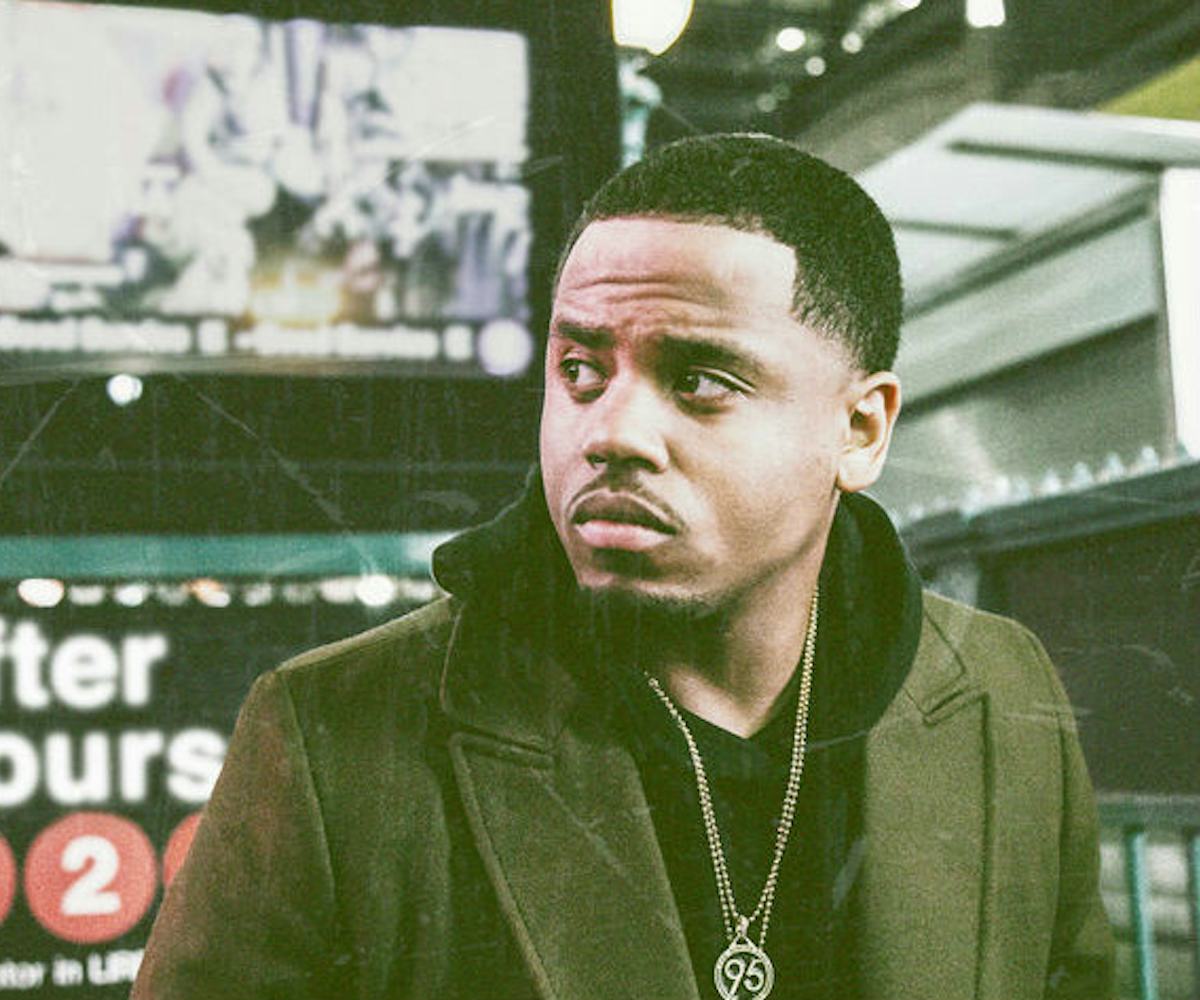 Mack Wilds Is Putting In Work 'After Hours'
How the artist and actor does it all
Back in 2008, I was sort of obsessed with Tristan "Mack" Wilds. To be more specific, the object of my obsession was Dixon Wilson, the character Wilds played on the CW's 90210. Fast-forward to 2017, and Wilds is strolling into the NYLON office, wearing a BAPE bomber jacket and Off-White x KITH hoodie with Acne jeans and Nike Special Force 1s, while a camera crew follows his every move for a BET documentary. But the 27-year-old is not here to talk about his life as portrayed on the television screen or to fulfill my teenage fantasies—we're meeting to go over the groundwork of his promising music and acting careers; Wilds has a new EP, After Hours, out and is starring in acclaimed FOX series Shots Fired, which centers around themes of racism, inequality, and police brutality.
Learn more about the projects and what Wilds is working on next in the interview, below.
You're involved in two different fields, music and acting. How do you balance them both?
If you care about something, you'll make time for it. So I just make time for both things. If you don't love it, it's gonna feel like a lot of work. But when you do and you appreciate everything that you're making, it gives you a different type of energy toward it. 
Given that they're both so different, it's kind of nice because you probably never get too burnt out.
That's one of the reasons why I love acting and music so much. The job varies; it's not a regular nine-to-five where you have to come in and do the same thing every day. Acting, you learn new things, you're playing different people, you have to learn new skills every single time. Music is the same thing, especially if you're trying to expand and grow.
I think people often forget that you were nominated for a Grammy because we always focus on your acting career. That's a huge deal!
It was nuts, and especially for the first thing that you come out with... that was amazing. 
Overall, what are you hoping to achieve as an artist?
Honestly, just creative freedom. You know, the ability to do anything, and for it to be respected. I think there's a few people who have achieved creative freedom on that level—Kanye, Pharrell of course, all my idols. I want to get an EGOT. And an EGOT is an Emmy, a Grammy, an Oscar, and a Tony. I want to get all four and kind of just be able to say—hopefully, at a young age—that I achieved that goal. 
With everything we have going on right now, Shots Fired is a very relevant program to have on air. 
It is. It's just sad that it's still so relevant and timely, but it's definitely a show that we all worked extremely hard on. Research, training, all of the man hours, and then shooting it at a time where there was a record number of police killings going on in America, it pulls a lot out of you. A lot of times with acting, as soon as they say, "Cut," you go home, turn on the TV, put on cartoons or whatever, to decompress and get your mind out of it. But the problem [while filming Shots Fired] was even when you'd try to decompress and you'd turn on your television, it's still right there. So it became very draining, and to do that for three or four months, it pulls a lot out of you. I just pray that all of the energy that was pulled out of us was left on-screen for everybody to see. 
I think that the positive thing about shows like yours is that they help us to interpret things and break it down in a way that gives us time to digest it.
And a lot of times it's your news versus someone else's news. The facts versus alternative facts. The reason why I even jumped at this show is because it was an opportunity to show what really goes on from every seat in the house. You get the chance to see everything. There's no such thing as a bad guy or good guys on this show; we're just flawed humans, and I think that's true to life. There are so many elements that go missing and are lost in translation, so I'm actually very, very happy for this show. I pray that it starts to spark conversations with people and sparks some compassion in people.  
What keeps you motivated to keep doing what you're doing every day?
It's a little bit of everything, you know? Looking out and seeing that nobody else is doing it, or that only one other person is doing what I'm doing. Shout-out to Childish Gambino. And being able to inspire people. I feel like a lot of times in our young lives we're told to pick a job and stick to that job instead of doing several jobs. I think we kinda get stifled by other people's fears, so I just want to be a beacon of light for those kids who feel stifled, for those kids who feel like they want to do more but they can't. There are no rules in this thing we call life.