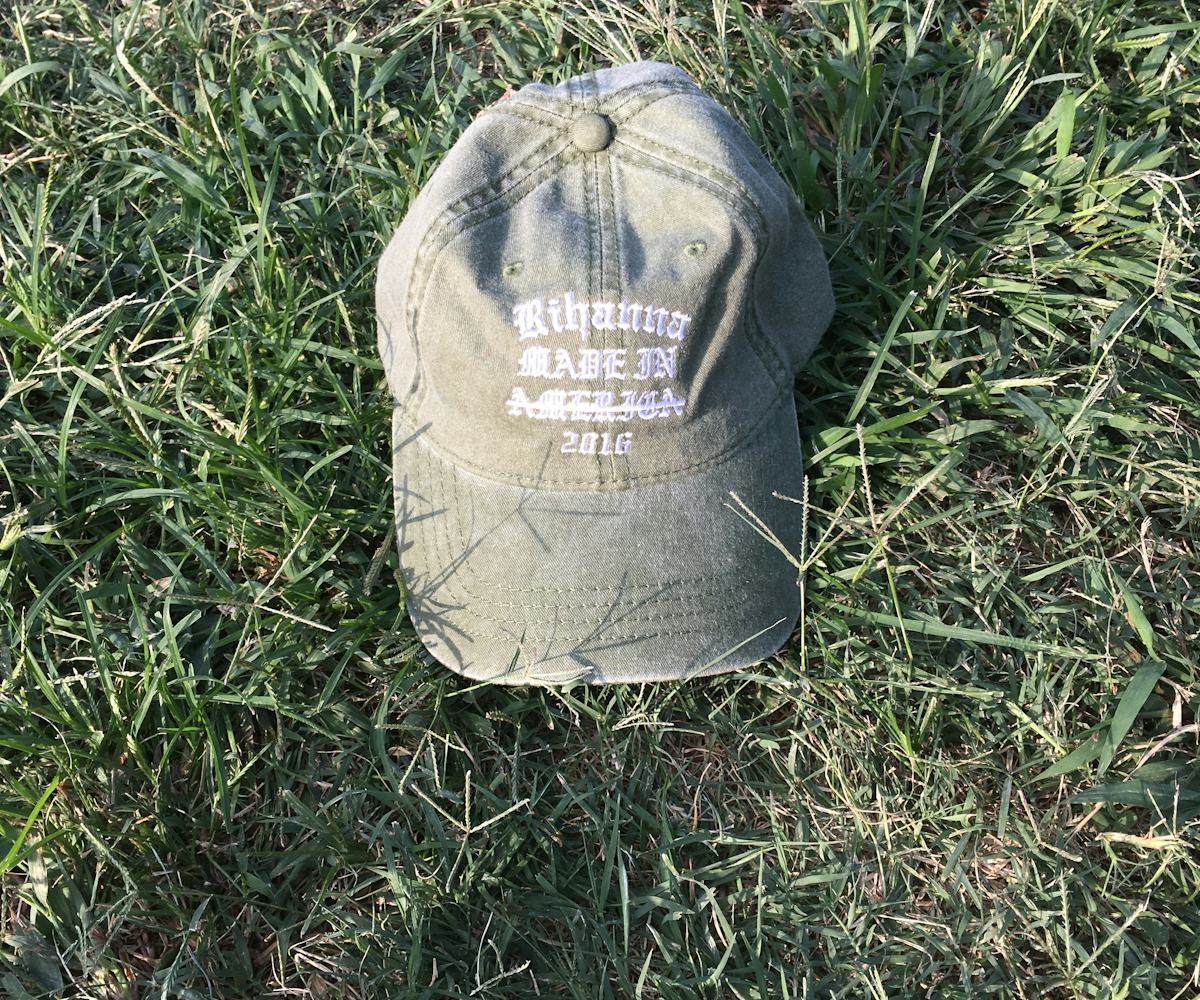 Photo by Sydney Gore
Budweiser Made In America: Where Music And Politics Come To Play
Who is making America great again?
At a festival like Budweiser Made In America, it's easy to get caught up celebrating the theme. Given that Philadelphia is one of the birthplaces of the U.S. and filled with important historical spots and artifacts, attendees have the opportunity to spend the entire weekend checking out exactly where this country declared its independence 240 years ago. It's hard to escape the patriotism; the first thing you see when you walk through the festival's gates is a sea of red, white, and blue. Sure, our country might be dealing with heightened tension surrounding its government, its police, and its citizens—not to mention an intense presidential election that is coming ever closer—but it is still clear that most people will opt for any excuse to be overtly patriotic.
And yet amidst all of the piles of crushed Budweiser cans and miscellaneous American flag paraphernalia, you'll also find a few articles of clothing with subversive references, both political and not; for example, this year's T-shirt offerings included the lighthearted "Dicks Out For Harambe" and "Vote For Pizza," as well as the more serious "Legalize Black," quotes. The festivalgoers are a similarly mixed bunch: Activist Deray McKesson tweeted about looking for an extra ticket, managing to get into the festival at the last minute, while former president Bill Clinton casually strolled the grounds, encouraging people to vote, promoting his wife's campaign, and taking a bunch of selfies with the public before being escorted to the VIP area where he chatted with a few of his favorite rappers and Beyoncé.
There have been times in our culture when many mainstream artists have refrained from being political. These are not those times. Now, artists are using their platforms to inform their audiences about the issues that matter to them most. When SZA emerged on the Rocky Stage, she sported an oversized "Fuck Donald" T-shirt as a dress. SZA originally had another outfit in mind for the festival, but felt like there wasn't a more appropriate occasion to have the shirt on.
"I don't really fuck with Donald Trump, he's just out of control," she said. "The shirt was a last minute decision, but it just spoke to how I feel. At first, [my manager] brought me this shirt and I was like, 'I can't wear this, I'm going to end up in jail.' But then I was like, 'I have to wear this shirt.'"
During her headlining set, Rihanna even took a moment to tell her fans—known as the Navy—to vote in the upcoming election. (She was dressed head to toe in army green, which was also fitting.) Keep in mind that as far as we know, Rihanna still isn't a legal U.S. citizen, but that doesn't mean she doesn't understand the importance of voting this year. On the festival grounds, there were several stations where attendees could register to vote if they hadn't done so already.
Rhenna telling the girls to vote, put her in office tbh pic.twitter.com/cz4QCDRvgZ — emma (@robynsfenti) September 4, 2016
Throughout the weekend, I approached artists with one simple question: Who is making America great again? The question was open to interpretation, so there was no wrong answer. Bibi Bourelly picked Frank Ocean without hesitation, pointing to the impact of his music on the whole world. 
SZA, meanwhile, thinks that locals are making a difference. "I did a project with the Camden Community Garden Center. They are planting community gardens [there] because Camden, New Jersey, is one of America's nine worst food deserts and they don't have a grocery store," she says. "It's community gardens all over the place like in Flint [, Michigan]. It's community centers in Chicago. It's the kids in Chicago. It's my homeboys who do open mics and poetry sessions and jams for the kids in Chicago. It's Kendrick [Lamar] who does things for the kids in Compton. I think it's everyday people that give a fuck."
Miya Folick thinks that the combination of Black Lives Matter, the internet, and the youth are all contributing to making America great. "I feel like it's too general to say that young people are making America great again—I think it's a specific sector of young people," she says. "Specifically in youth culture, the teenagers and college students who are speaking out on their campuses in ways that generations before them haven't. I think they're making America great again."
As an all-ages festival, Made In America is a place where the youth roam freely. In addition to being exposed to all types of music, like FKA twigs and Jamie xx, these teenagers also get a taste of what freedom feels like in the real world. 
"I see all kids walking around, literally. I think it's very youth-oriented," says Bourelly. "A lot of the festivals that I have been to haven't really been diverse. It's exciting to see so many different ethnicities and cultures unite and shit for their favorite artists."
Even though the lineup for Made In America is dominated by hip-hop and R&B, it also caters to many other genres. With the exception of Warped Tour, there really isn't another festival that designates an entire stage to artists from the indie, rock, and pop-punk sector. Located on the top of a hill, the Skate Stage is even complete with a constructed skate ramp. It's this inclusiveness that makes Made In America a great place for everybody no matter their race, gender, sexuality, or taste in music.
Made In America is a place where Lil Yachty pays tribute to Rocky by wearing a boxing robe in front of a crowd primarily made up of his peers (Michael B. Jordan was somewhere out there too) on the Tidal Stage while Travis Scott dares to climb a tree in the middle of his performance. It's also where Lil Uzi Vert willingly lets fans chase him around for the fun of it at full speed.
This festival allows 17-year-old Sophie Beem to appear in front of an audience made up of people her own age, rise up, and motivate her peers to follow their dreams just like she has. (Though not everyone can be as lucky to get signed to Beyoncé's label, Parkwood Entertainment.)
"Being able to do what you love at such a young age is really powerful. Nowadays people get to do that. They get to be whoever they want and do what they want. I'm living that right now and I'm so thankful that I can, and that I'm able," she says. "This has been my dream since I was a little girl so just the fact that I get to live this life of performing and making music, it's so special."
Singer-songwriter Kevin Garrett—an artist managed by Jay Z's label, Roc Nation—acknowledges that the young talent coming from this nation is making it great again, specifically G.O.O.D. Music signee Desiigner. 
"When I heard that he's 19, I almost didn't believe it," says Garrett. "To have the number one record on a beat that you bought... That is America. You buy a beat not anticipating anything, crush it, and then it goes to number one."
Similarly, Made In America is the sort of setting that allows Malia and Sasha Obama to almost blend into the crowd—even with a secret service team following them at all times. (Note Malia, spotted in a Harvard hat and a shirt reading "Smoking Kills," a subtle clap back to the backlash she received over certain activities at Lollapalooza.)
Made In America is a place where 23-year-old Chance the Rapper attracts a crowd as large as half the Benjamin Franklin Parkway and has everyone singing happy birthday to his Auntie Yoncé, who watches him perform from the crowd with her husband by her side.
Oftentimes, people lost sight of the fact that this whole festival is run by Jay Z. This is a man with a classic rags-to-riches story, who went from dealing drugs to being one of the most successful figures in the music industry of all time. While he and Beyoncé continue to be questioned about their loyalty to Black America, there is no doubt that they are heavily involved, sometimes in a public way and sometimes behind the scenes, quietly supporting specific causes.
By bringing together people from all walks of life, with all types of interests, history, and futures ahead of them, Made In America has the power to make you believe that some form of the American Dream still exists, even if it's the job of younger generations to redefine what the terms currently mean. And, hey, if you don't want to talk about politics, you can always listen to the music instead.