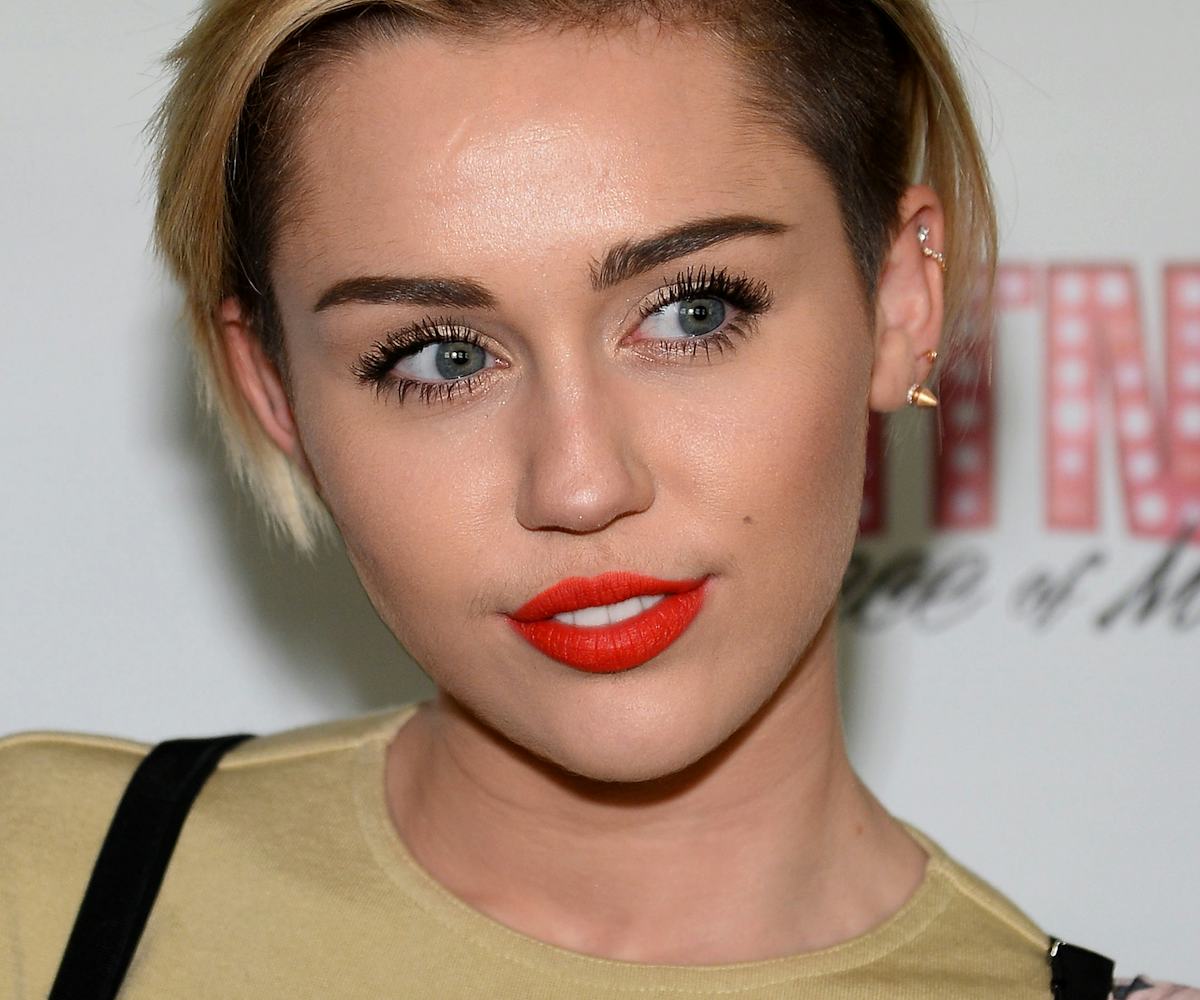 beauty queen: miley cyrus
your no-frills guide to having an awesome makeup routine in 2014.
If you're anything like me, January 1 was spent doing a major apartment purge. (OK, more like dragging myself to the corner bodega to pick up a coconut water and egg sandwich to get over a bit of a New Year's Day hangover, and then cleaning everything out.) It's like spring cleaning for people who are impatient and don't want to wait to get a fresh start--and the first pile I tackled was my beauty kit. Because I test out every single product I write about, there's a lot that accumulates over the course of the year. There are some products that just aren't that necessary...and in the process, I started thinking about the ultimate streamlined makeup list. If I only held on to three products, what would I keep?
I've come up with my list--and to help illustrate it is MIley Cyrus, who rocked a pulled-together but low-key look to the opening party for Britney Spears' Vegas show. (Side note: Hating on MIley is sooo 2013, so let's be a little nicer this year.) It's not too bold, not too boring, and edgy while still totally doable for work. Everyone can pull it off--yes, even if you're  a little intimidated of red lipstick--and you can put it all on in 60 seconds flat. As for doing that hair chop you drunkenly swore to your friends that you were doing come 2014? Well, that parts up to you.
HIGHLIGHT IT: Smashbox Halo Highlighting Wand - $32
I'm mildly (OK, really) obsessed with highlighting products--my fave new product of 2013 was an incredible brightening balm--so I'm a bit biased. But seriously, nothing makes you look perked up but not too made up like a highlighter. What contouring is for the Kardashians, highlighting is for cool girls. Dab this between your cheekbones and under eye area, the bridge of your nose, and across your eyelids.
LASH IT: Maybelline Great Lash Washable Mascara - $5.19
If you're too broke post-holidays to splurge on Diorshow mascara, then you really can't beat this classic. One swipe along your lashes if you're heading to work; two if you're meeting friends at your favorite cocktails-and-nachos spot (other people have those too, right?!).
RED IT: MAC Lipstick in Lady Danger - $14.50
Pink is awesome, purple is great, I'm even into gold. But if you're really clearing out your makeup kit then the one color you should stick with is red. Check out our guide for our 10 favorite options, but if you just want to pick up that one tube that will take you through the year, MAC's Lady Danger is your girl.