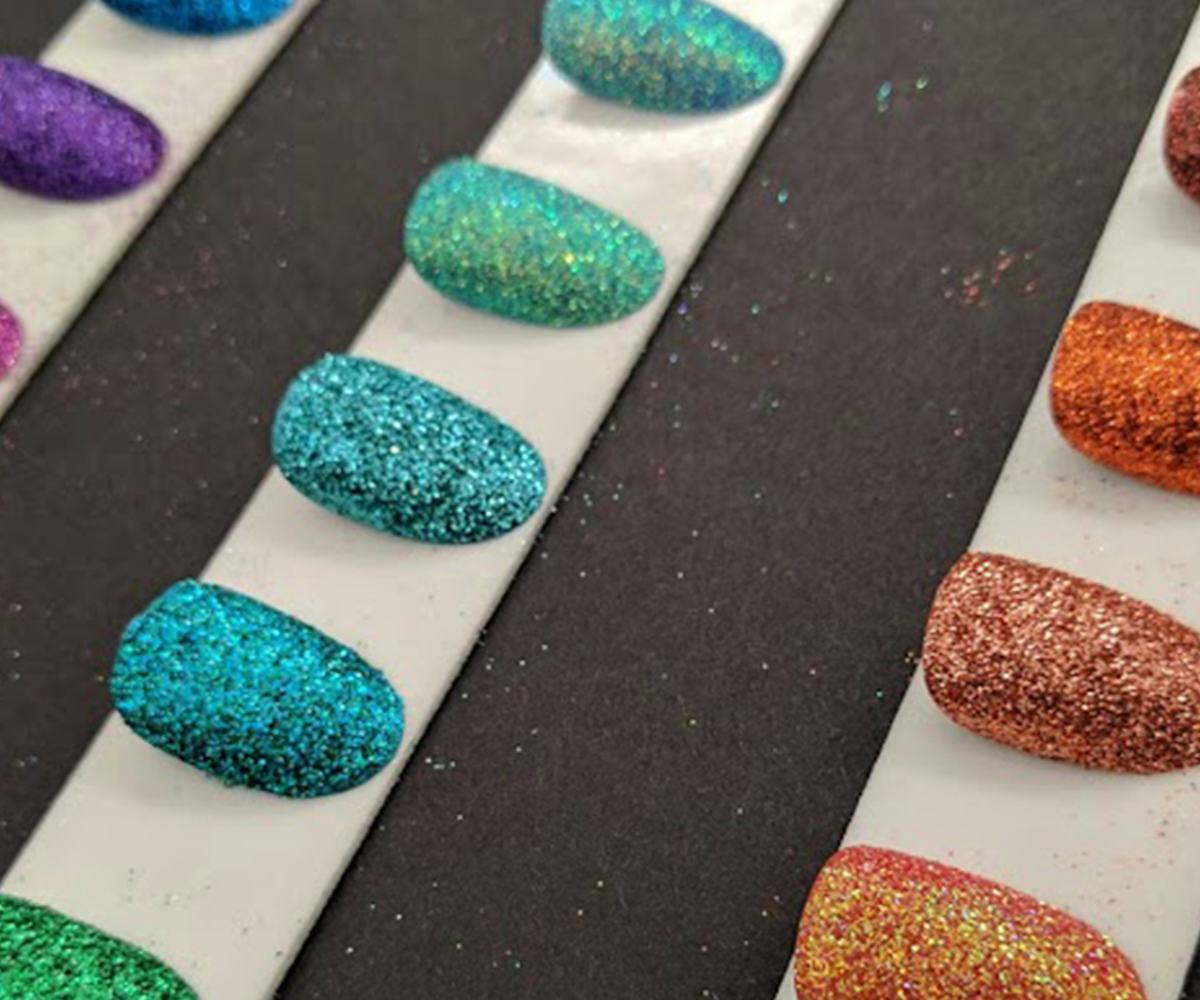 How To Get The Gorgeous, Glittery Nails From Jeremy Scott's Moschino Show
Shine bright like a Miss Pop manicure
Let's face it: News headlines have been pretty bleak as of late. Which is why the brighter-than-bright world of Jeremy Scott is more welcome than ever. So when the Moschino designer opted to show the 2018 resort collection in sunny L.A. last week—and against a backdrop of supersized neon lights hauled straight from the Vegas strip, no less—we knew we were in for some much-needed levity. Sure enough, Scott sent models like Miranda Kerr, Joan Smalls, Hailey Baldwin, and Slick Woods down the runway wearing metallic flames, pinup girl-adorned chiffon, and a rhinestone-studded suit paired with Playboy-esque bunny ears. It was pure eye candy, the equivalent of taking a handful of happy pills. We thought things couldn't look any brighter, and then we laid eyes on the models' nails. 
Super-saturated brights rendered in ultra-fine (and ultra-dense) glitter and splashed across each model's fingertips means halcyon days can be here again—if you know how to paint the tips. We talked to Miss Pop, the CND Ambassador and woman responsible for the bright AF looks, for deets. And guess what? Despite creating 32 unique manis, one for each model, all packed with Kesha's favorite finish, the celebrity manicurist didn't use a single bottle of off-the-shelf glitter polish to create the happy spectrum of looks. In fact, the nail pro, who's more known for her minimal and color-blocked designs, never even wore glittery polishes until very recently. 
"Six months ago, I was not a glitter girl," she says. "Now, I have my mom wearing it, my grandma wearing it, and $500 worth of glitter showing up on my bank statement."
Credit Scott's showgirl and Vegas-inspired collection for turning the typically minimal manicurist into an advocate for acid-house brights. "Glitter and these bright shades are so full of joy. It's really dynamic," the pro says. "Right now there's a lot going on that isn't full of joy. But if I can just carry that on my hands—even if I'm just typing on my computer or reading the news—then it gives a tinge of happiness." Even better, Miss Pop notes, the blingy look doesn't cost much to replicate. Here's how to do it, without having to invest in a single bottle of sparkle-filled polish.
Shape Up Like a '50s Movie Star: Since showgirls often opted for almond-shaped nails, Miss Pop went the same route. "This is the shape that showgirls were wearing, especially in mid-century Vegas," the pro says. "When you do a nail like this, it has that classic feel of elegance." Though the long, oval shape may be a throwback (it was a style worn by Marilyn Monroe and Elizabeth Taylor back in the day), it's seen a major resurgence as of late— just check the fingers of Katy Perry, Selena Gomez, and scores of other celebs for proof. The reason? "It's the most slenderizing and elongating shape for your finger," Miss Pop points out.
Paint The Upside Down: For Moschino's runway manis, Miss Pop started each paint job beneath the surface with a stroke of metallic silver or gold (she used CND Vinylux Weekly Polish in "Silver Chrome" or CND Vinylux Weekly Polish in "Locket Love") applied on the underside of the nail and sealed with a layer of clear topcoat.
Lay down a bright base: The CND Ambassador had her pick of the brand's bright shades to work with and used 32 different colors, including CND Vinylux Weekly Polish in "Electric Orange" and CND Creative Play Nail Lacquer in "Skinny Jeans," a poppin' blue, to create a bright base. No matter how big your polish collection, any bright color will work.  
Create your metallic topcoat: You know that old bottle of top coat that's a bit crusty along the edges and only half full? Miss Pop is about to make it relevant again. Grab it and add ultra-fine 0.8-millimeter, cosmetic-grade glitter into the bottle. "The topcoat really sets, so it's best to pour the glitter into the topcoat, instead of adding the topcoat to the glitter," she says. "This will help prevent the glitter from sticking to the bottom of your container." Another thing: When adding glitter to clear coat, make like a flirty bartender and give a generous pour. Miss Pop found that a 60/40 topcoat to glitter split created a consistency that was spreadable without being sparse. Finally, she suggests sticking to metallic glitter. "Iridescent shades are harder to mix," she notes.
Capture wayward shine: After painting nails with your homemade topcoat, use scotch tape on dry nails and around the nail bed to pick up any excess glitter.
The end result is a manicure so saturated with light, it can't help but lift your spirits. Shine on, you crazy diamond—and just try to resist posting your nail bling to Instagram.