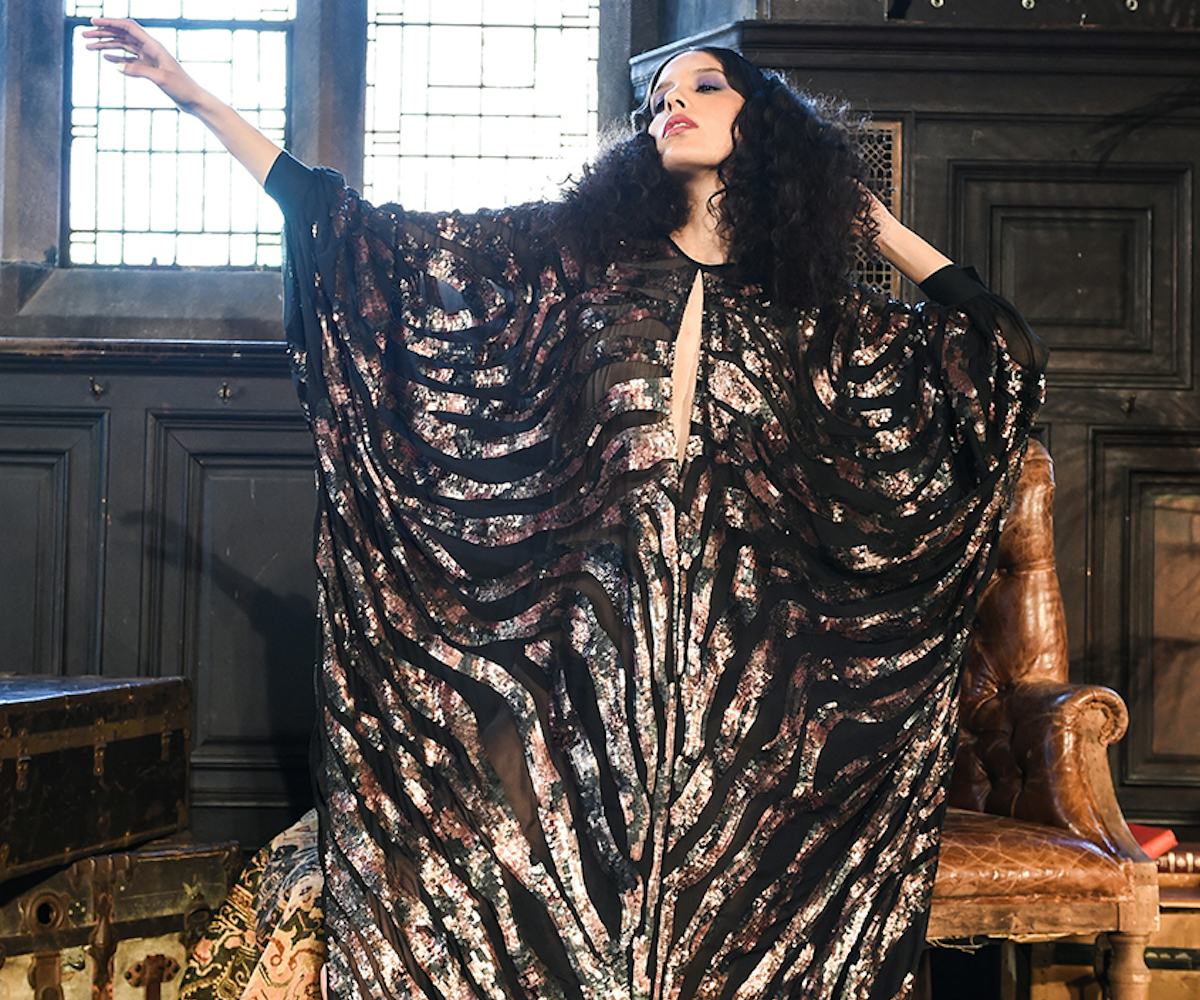 Photo by Billy Farrel/BFA.
Mara Hoffman Has Your Dinner Party Looks Down
in a Jerry-Hall-meets-1920s-French-parlor kind of way
Imagine walking into a 1920s dinner party where Bianca Jagger, Grace Jones, and Cher are the guests of honor. That's exactly what the vibe was at Mara Hoffman's Fall 2016 presentation. It was a scene straight out of French parlor, down to the antique couches and live violinists, except models were decked out in '70s-inspired cocktail attire. "It's definitely a '70s-meets-'20s eclectic evening of iconic women that I've always loved," Hoffman told us backstage.
She described this season as being "kind of a dressier moment," with pieces such as sequined zebra print gowns, velvet suiting, and plunging, flowing jumpsuits in a variety of Hoffman's signature tropical and tribal prints, interpreted in a darker fall color palette. Her beauty choices certainly added to the '70s disco theme. "The idea was for more of an individual vibe," she told me, with some models rocking Jerry Hall-inspired big hair, while others had a more natural wave. Eyes were inspired by peacock feathers, adorned with blue, tea, and purple hues, while skin was bronzed and dewy to achieve that glowing look that was all the rage in the '70s. Nails remained simple in either plain neutrals, muted greens and deep purples.
Hoffman commented that while working on this season, she decided to "push it to more of an editorial level and make it a little fancier," something that is certainly obvious when compared to her past collections. However, we could definitely see ourselves rocking the wide-leg jumpsuits and embroidered caftans by day, especially if paired with the berets and wide brimmed hats by Yestadt Millinery that were scattered throughout the presentation.
Click through to the gallery to see some of our favorite looks.
Mara Hoffman Fall Winter 2016
Mara Hoffman Fall Winter 2016
Mara Hoffman Fall Winter 2016
Mara Hoffman Fall Winter 2016
Mara Hoffman Fall Winter 2016
Mara Hoffman Fall Winter 2016
Mara Hoffman Fall Winter 2016
Mara Hoffman Fall Winter 2016
Mara Hoffman Fall Winter 2016
Mara Hoffman Fall Winter 2016