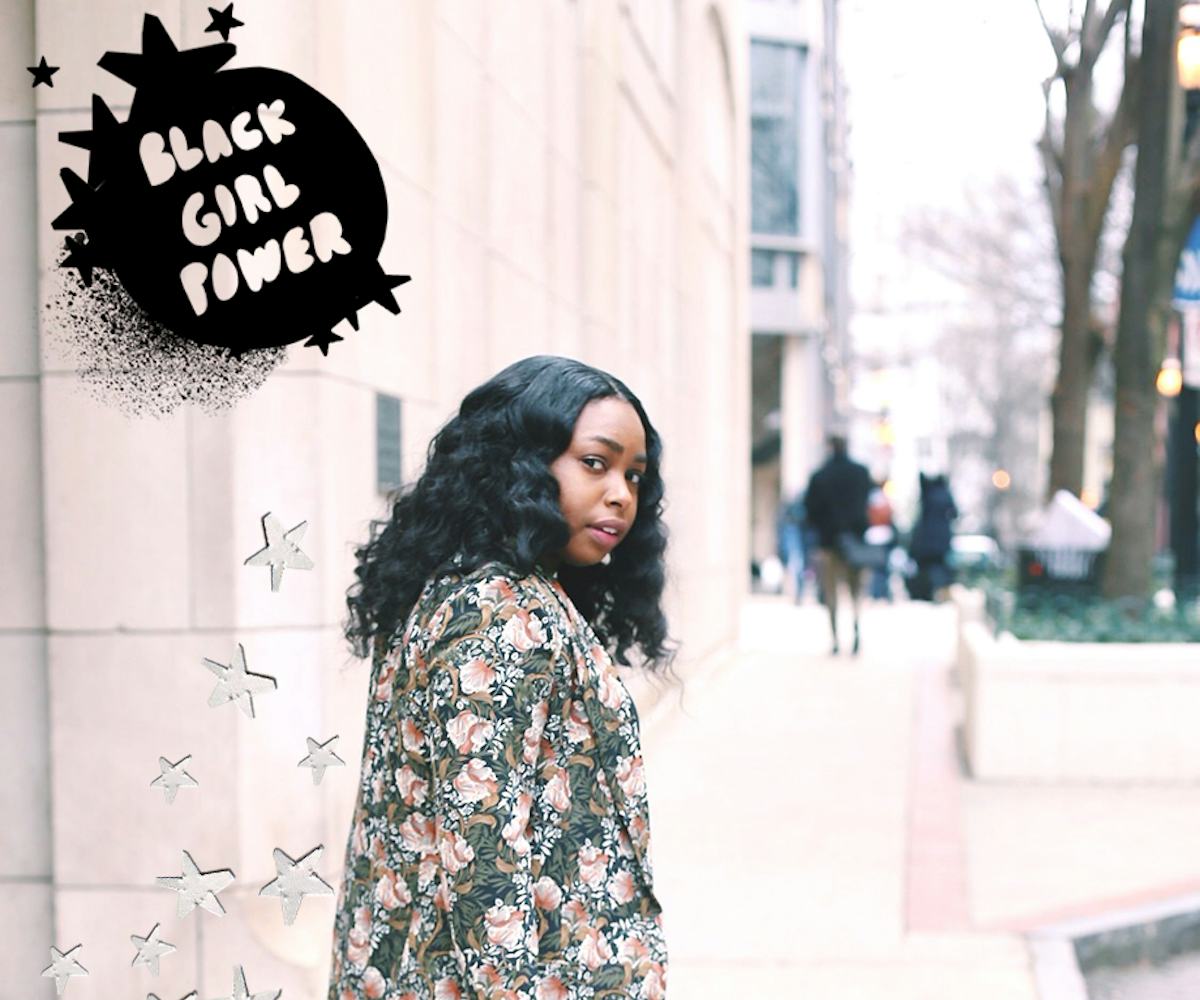 Photographed by Kaye McCoy
Maricia Josephs Shares Her Musings From The Industry
meet the face behind musings of krav
In celebration of Black History Month, NYLON is running a spotlight series called Black Girl Power... The Future Is Bright. Every day, phenomenal black women from different industries will be featured to tell their stories—revealing how they became who they are, showing what they have accomplished, and pinpointing how they navigated their careers. Black women deserve to be celebrated 365 days of the year, and we hope that this series will inspire everyone to believe in the power of #blackgirlmagic. 
Maricia Josephs is a 23-year-old journalist, writer, and ASOS Student Insider. She's currently finishing up her last semester at Georgia State University while continuing to run her innovative and resourceful site Musings of Krav. Established in 2011, Josephs' blog is geared towards career-curious young women. (The title of it comes from an old nickname that Josephs was given based on her obsession with Lenny Kravitz.) Essentially, it's an amazing resource where readers can go to learn all about career how-to's. 
"I decided to conceptualize a platform featuring specially curated interviews with professionals—mostly with women of color in fashion—career advice, and internships," she says. "But on Musings of Krav, we do it with 'style' and by that, I mean in a fresh, relatable, and fashion-forward way."
When Josephs was 16 years old, the first real interview she ever conducted was with Jessica Brown—better known as Angela and Vanessa Simmons' cousin on MTV's Daddy's Girls—when she was a guest at Josephs' high school (the Preparatory Academy for Writers in New York) for career day. "I somehow swindled my way into being her escort for the day, and I interviewed her as I walked her from class to class about her life and the show," she says.
Ever since then, Josephs hasn't stopped writing. We look forward to seeing where the talented blogger goes following graduation. In the meantime, gain some insight from her perspective in the interview, below.
How did you turn your blog into your brand?
Essentially, it's an extension of myself. As someone who was interning and finding myself professionally, I thought it was important that l share my own career process on MOK and on social media. Because of this, I have acquired a collective of peers who follow my journey. We ask each other for advice, network, and gain inspiration from our projects and accomplishments. That is what my brand is centered in, both personally and professionally. We're all trying to be successful in our fields, and supporting one another is crucial. 
What's your creative process like?
It's very organic. I literally just create based on what or who I'm genuinely inspired by or what I feel there is a 'need for.' It's a flow I go with. It's in the moment. If a woman moves me, I simply go ahead and interview her. That's my favorite part about having my own platform—it's my own voice and I can showcase my own taste. Reading my favorite magazines, books, and websites, like NYLON, Steal like an Artist, and The Coveteur, also helps get my creative process going. 
How do you maneuver your industry as a black woman? 
By staying equipped and fearless. I let my passion, talent, and experience speak for itself. "Be so good, they can't deny you," is one of my favorite quotes—it's what I repeat to myself every day. I know what I want to accomplish and I know that I want my journey to influence others in a way that pushes them to realize their dreams are attainable. I have to be fearless in all of my pursuits to do that.
Could you describe a moment where you felt like you defied the odds or broke a barrier? 
Thinking about it, I haven't had one of those moments yet. I'm still waiting for it. That big moment, you know? However, if I look at the bigger picture I believe my overall journey has been about me defying odds as a young professional. Every accomplishment I make before I even graduate college, and even just at my age, is me breaking a barrier and paving the way for other young women to do it at a younger age than me.
How did you grow into your black identity?
I didn't truly grow into my black identity until I moved to Atlanta and began my undergrad at an HBCU. I got an extensive and thorough lesson on black history and became acquainted with that piece of myself. I came to terms with what it means to be black in this world—a black woman, specifically. I finally experienced true black pride and gained a sense of it for myself. It was a shock to me how much I didn't know or understand beyond the watered-down textbook lessons I learned in my social studies classes over the years.
Growing up, where did you look for inspiration? Who or what inspires you now?
Growing up, I typically looked for inspiration in fashion magazines but mostly in my mom. She was young and at the time still experimenting with different elements of her personal style and career, and it was fascinating to me. The really cool thing was that my mom was inspired by women like Erykah Badu, Fiona Apple, Alanis Morissette, and the group 4 Non Blondes. Now that I think of it, I'd call her the 'alternative Jamaican girl.' She embraced every part of her and all of her interests without adhering to labels saying what she should be like. That is the kind black woman I'm growing to be. My mom still inspires me but what I'm inspired by has expanded. Now, I'm inspired by all of the women working and following their dreams, like the ones I interview for my website. A solid example would be Vashtie Kola—she literally does it all and she does it well.