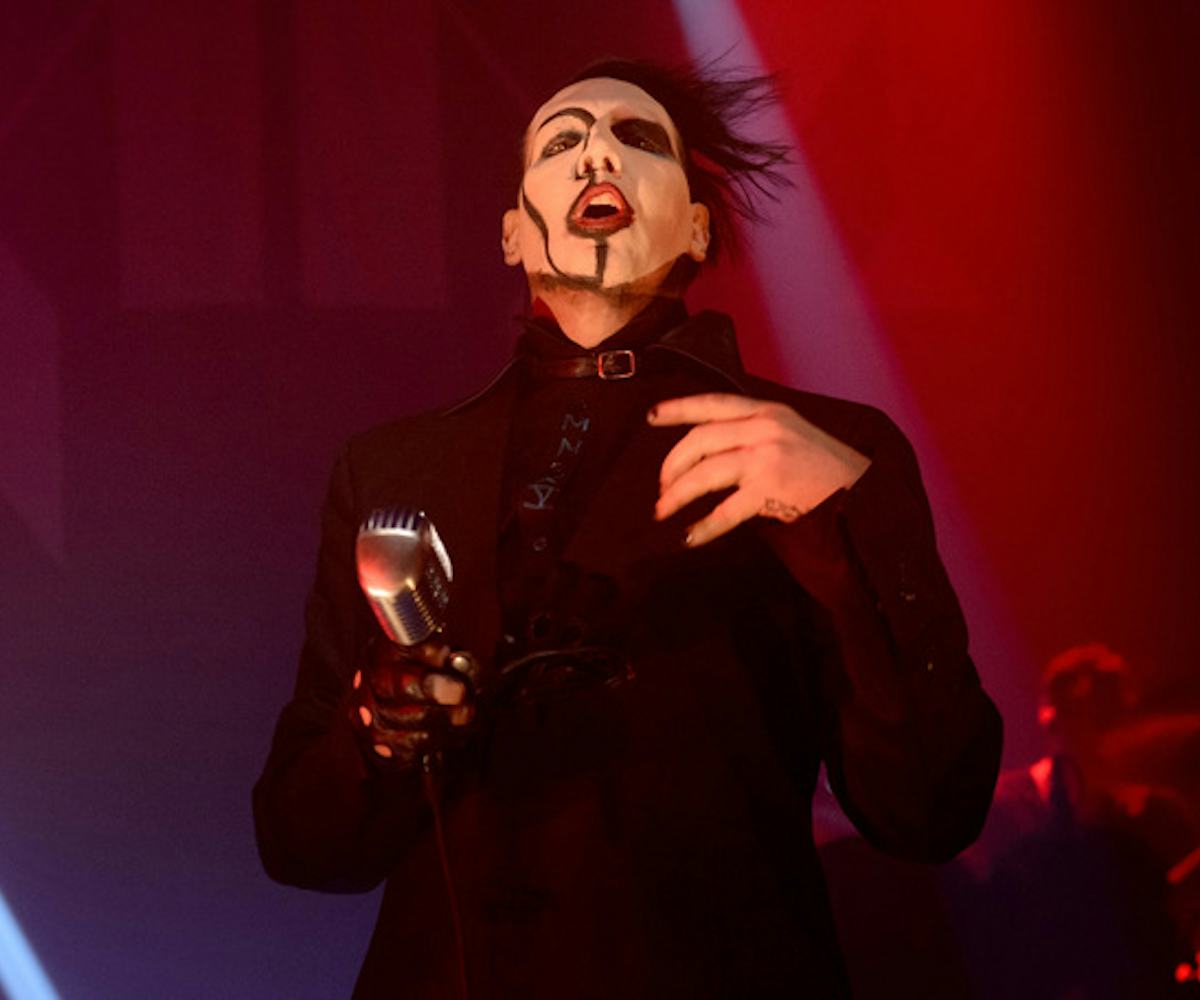 Photo by Daniel Boczarski / Getty Images
Marilyn Manson Says Columbine Shooting "Destroyed" His Career
This might be the goth-est (and most intimate) interview he's ever given
Perhaps the most telling detail of Marilyn Manson's recent gone-viral interview with The Guardian is that the legendary rock icon required the room he was interviewed in to be kept cold and dark. Setting the tone for an expectedly and delightfully bizarre dialogue with writer Alexis Petridis, Manson discussed his late-90's controversies, the death of his father, and the difference between his real life and his stage persona in anticipation of the release of his 10th studio album, Heaven Upside Down.
A series of eccentric incidences between the interviewer and the interviewee set the stage for Manson's more profound statements: Petridis was "flicked in the testicle" by the glam metal messiah early on in the discussion for no apparent reason. Then later in the conversation, apropos of nothing, Manson asked if he was "a poop man, a scat guy."
But Manson's shock tactics have always belied a much more thoughtful artist underneath, and it showed when the interview took a turn for the serious: Manson once again addressed the infamous Columbine shooting, which the extreme right blamed him for at the time. "Give them the money and let them make their own choice: guns or records," said Manson. "If [the Columbine killers] had just bought my records, they would be better off. Certain people blame me for the shootings at schools ... Honestly, the Columbine era destroyed my entire career at the time."
On his recently acquired fan base of both up-and-coming and established rappers, like Gucci Mane and Lil Uzi Vert, Manson said: "I don't know why rappers like me, other than what Gucci Mane told me. He said I was 'the only shit that's real in rock'n'roll'. Rappers are hardcore and they're real; rock'n'roll is so pussy and so lame. But I'm not saying I'm the realest thing in the world. People say: 'You're the last rock star.' Don't say that to me – shut the fuck up, man! I don't need that shit on my shoulders. But I'll take it. I'll own it."
And on the changes to his own personality over the years: "[I used to be] angry, confused and upset. Now, I think I feel more happy. Not like, Shiny Happy People. I think I'm just happy being myself. I think now, I'm much more charming and likable."
"I notice you're enjoying yourself," Manson says to the interviewer toward the end, but he might as well have been talking to us, readers. He concludes the discussion by telling the writer to write nice things about him, "or I'll find out where you fucking live."
Heaven Upside Down drops on October 6.